Shylet's umqhele (headband)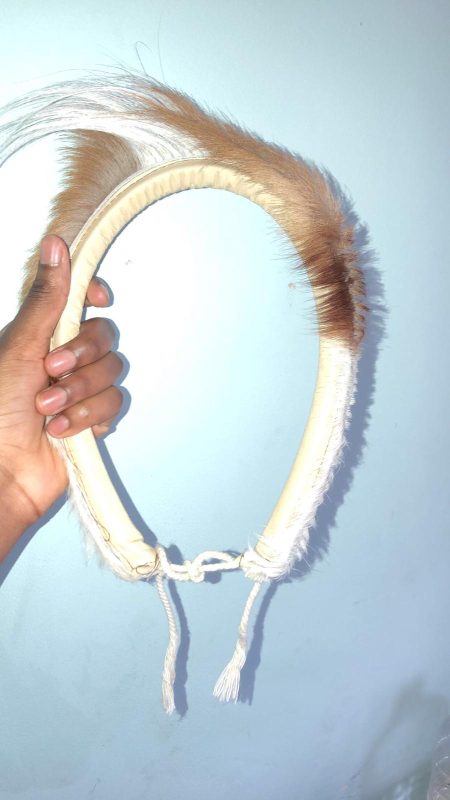 "The object is popularly known as a headband for men. The native name is umqhele. It is well known as a crown for the Ndebele and Zulu warriors; they used to wear it when they were going to war. In the modern-day, the umqhele is worn by both females and males. The umqhele is part of an outfit or a set; when attending the amachichi, we used to dress nicely. The costume consisted of a colourful skirt, colourful vest, white vest top, leg beads, hand beads, head beads, and black or white tennis shoes called tommy."
My mother's young sister, my aunt, has the original photo, and she is the one who gave me the picture through WhatsApp […] in the year 2016. I was lucky that a certain Galway-based photographer had a project to recreate old photos, and he edited and printed the photo for me; that's when I managed to get a hardcopy of the picture nicely done.
The picture connects me with my mother; considering that she could work hard on her farm and buy a boys' suit for me, I am humbled by that. I am still a smart person, and I like to dress up well. I have a gentle character, which was instilled in me by my mother's parenting style. I still have the same manner; I always put my hands in the pockets like in the picture. I realised that I started loving to put my hands in the pockets since childhood. By just seeing the photo, I always remember what was happening those days. The picture brings back the funniest childhood memories; for example, the photographers' camera used to have a strong flashlight when capturing photographs and I used to be scared a lot when I was a child.
I respect my mother for all her hard work. The background of a picture shows my mother's garden. My mother is a hardworking entrepreneur and a smallholder farmer for years in Zimbabwe. My mother supplies horticultural produce in the capital city's big market Mbare Musika Market and Lusaka Highfields Market, including tomatoes, cabbages, covo, rape and green peppers. The photo amazes me with my mother's hardworking because she generates sufficient income for her family through farming.
That is the only childhood photo I have with me. I keep the photo in a frame, and when people enter my house, that's the only photo they will see."
Get the latest Galway City Museum news directly to your inbox!