Fáilte. Welcome to Galway City Museum
Explore the archaeology, history and culture of Galway, a medieval city by the sea!
MONUMENT
exhibition at Galway City Museum
With a primary focus on the stone forts of Aran, and on Dún Aonghasa in particular, this innovative exhibition investigates some of Europe's most impressive stone monuments located on some of Europe's smallest islands.
Galway City Museum is a designated repository for objects of cultural heritage related to the city of Galway and its people. We collect so as to preserve the material heritage of Galway for future generations.
Enjoy our exhibitions on the archaeology, history and sea science of Galway from the comfort of your own home, by taking a virtual tour through our galleries. Of course there is nothing like setting foot inside the museum and feasting your eyes on the wide range of objects on display. Take this tour and get a glimpse of what there is to see at Galway City Museum. Enjoy!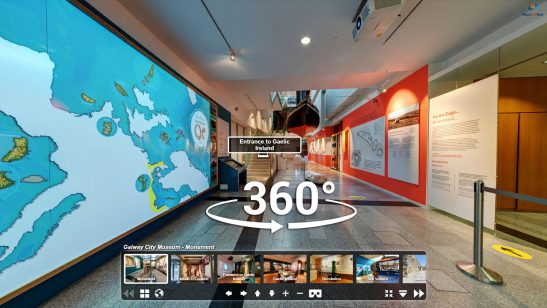 We have many resources that you can use to explore our collections from the comfort of your own home. Check out some new material on the tiles below; visit our past exhibitions; listen in to our podcasts; have a look at our vodcasts and browse some of your favourite artefacts. Enjoy!
Get the latest Galway City Museum news directly to your inbox!
My adult son (20) and I visited the museum and enjoyed it very much. It is very orientated to give you clear information through a good mixture of expiation material. The views from the museum out over the bay are a good reminder as you make your way around of the geography of the area. The staff are friendly and helpful. I was also impressed that they had a sensory room for children which is a nice touch and makes the museum inclusive.
The museum was way more comprehensive than I expected. It covered so many areas of local history with wonderful displays and multimedia presentations. It was not at all crowded, but very well situated. I would recommend the museum to anyone visiting Galway who has an interest in Irish history.
Really great way to learn about the history of Galway -- as with most places the staff were incredibly friendly and walking around and seeing how the city developed was great. A large part is set aside to cover the rising against the British and some of the atrocities committed by the British --- videos play with expert historians recounting what happened in an objective way -- it tears at your heart when you hear how a young mother was killed. Going to Galway, this is a must.
We were visiting the Spanish Arch area and decided to visit the Museum nearby. The feature were the Aran Islands and I wish we had visited the Museum before we visited the Islands. It was very informative. If you plan a trip to the Islands, visit here first. It will make your trip that much better.
Wonderful museum that really connects you to the history of Galway and Ireland. A mix of historical artifacts and crafts a well as traditional art. The layout and displays are varied and creative, and there are videos, 3D maps, and an underwater submarine area that children and adults will find delightful. The delivery of information has purpose and imagination, and it makes learning about history absolutely fascinating.
This was a super interesting and diverse museum. It covers the history of the region (including the islands), Irish independence and there is also an expo on the sea. I spent at least an hour and a half here, the information displayed is so rich and detailed. There is a small viewing deck on the last floor which is wonderful. I learned a lot and would recommend it to everyone that visits Galway.
A museum that's modern, informative and celebrates the culture and history of Galway and the rest of Ireland. It's free to enter and is a good place to see. There's quite a lot on display here ranging from samples dating from Ireland's ancient past to materials dating to the last century. Absolutely brilliant!
A really lovely museum - it's small, but that doesn't detract from it at all. There's a lot of thought put into the displays and it gives both a good overview broad Irish/atlantic history and more specifically local history. Kudos to the curators for a fantastic experience.