What's On
Galway City Museum's programme of events caters for a variety of audiences and interests, comprising gallery tours, illustrated talks, art and craft workshops, art classes and lectures. Enjoy our current series of online workshops here!

Tiny Mutiny
October 22, 2022 @ 6:30 pm

-

7:15 pm

UTC+0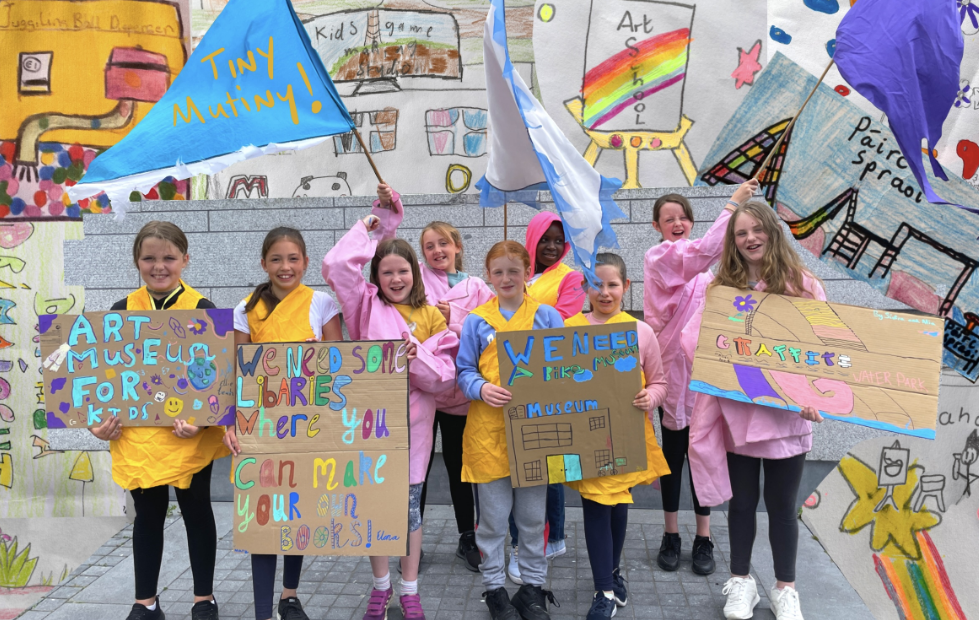 The children of Galway make a stand – join the rebellion! Two youth ensembles from Rosmuc and Galway City proclaim the need for a child-led cultural space in the West of Ireland. Working with local artists, each group will share their vision through boisterous protest performances accompanied by colourful banners, rebellious songs and digital projections.
'Tiny Mutiny' includes two ensembles of young Artists from Rosmuc, Co. Galway and Claddagh National School. Both groups have created their visions and proclamations for a child-led cultural space in response to the UN Convention on the Rights of the Child. Jojo Hynes, Midie Corcoran, Róisín Seoige & Atmos Collective in collaboration with the young artists will create two site specific outdoor events. The colourful energetic protest performances will amplify the voices of the children together with music and digital projection of their Art and Multimedia at Ionad Cultúrtha an Phiarsaigh and Galway City Museum.
No booking or tickets are required for this event. This is an outdoor event: audiences are advised to dress for the weather and enjoy the show!  For more information visit the Baboró website.
Tiny Mutiny/An Ceannairc Beag Bídeach was commissioned by Baboró International Arts Festival for Children through an Arts Council Commission Award, in association with Ionad Cultúrtha an Phiarsaigh, Galway City Museum and Music Generation Galway County.
Related Events