What's On
Galway City Museum's programme of events caters for a variety of audiences and interests, comprising gallery tours, illustrated talks, art and craft workshops, art classes and lectures. Enjoy our current series of online workshops here!

MAKING MONUMENTS
April 7, 2021

-

April 8, 2021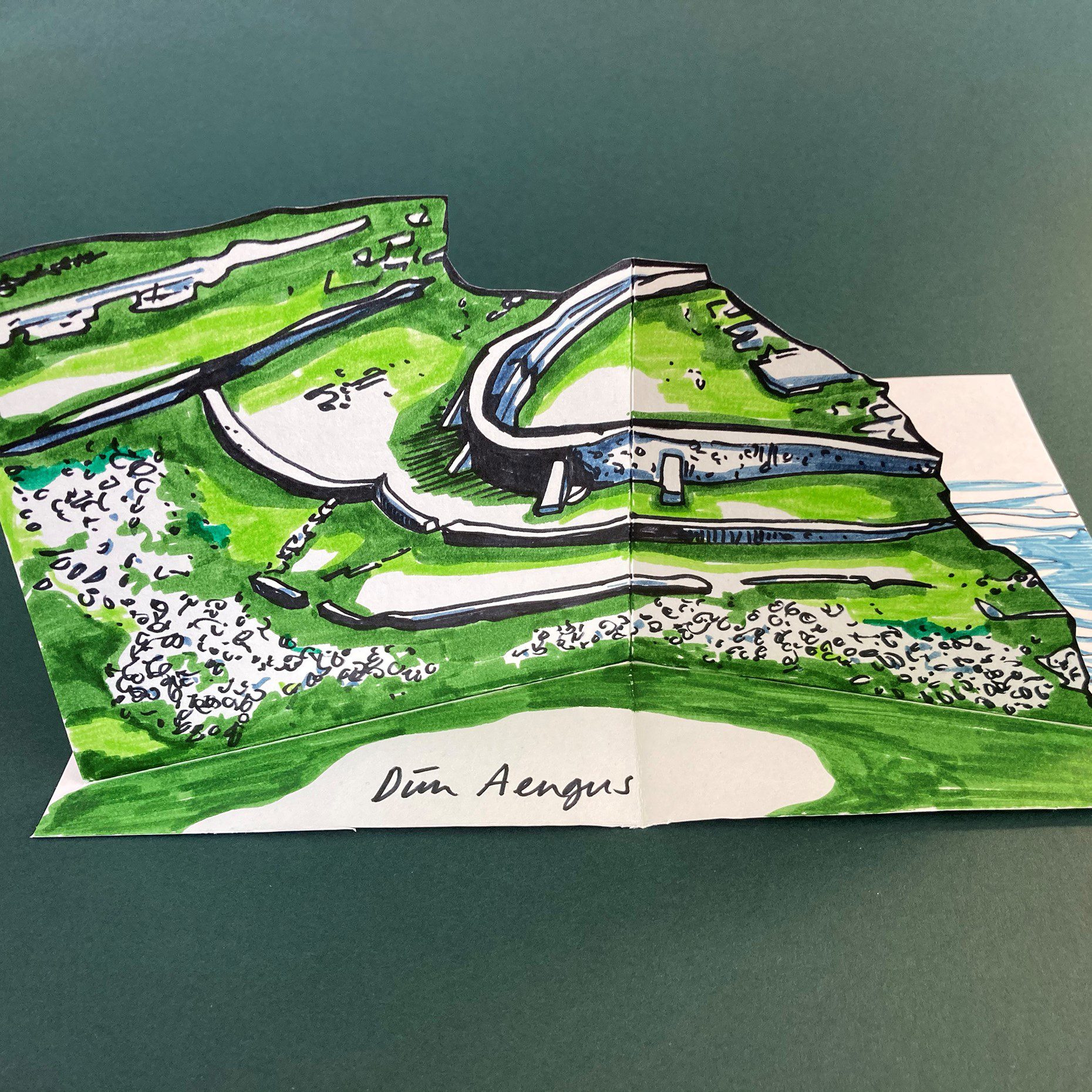 Maeve Clancy creates work for children and adults using cut paper, pop-up, story and drawings. Among her recent projects was the design of 'Sruth na Teanga', an immersive theatre experience as part of Galway 2020 City of Culture.
In this workshop Maeve takes an artistic view of the great stone fort of Dún Aonghasa on Inis Mór, Co. Galway and demonstrates how to create a piece of paper pop-up art inspired by it.  This fort is central to the MONUMENT exhibition presented by Galway 2020 European Capital of Culture and Galway City Museum as part of the cultural programme for Galway.
How to make your own pop-up Dún Aonghasa
In this workshop Maeve Clancy teaches the basics of pop up and paper engineering. Once the basics have been mastered, she will fold, cut, draw and stick to show children how to create their own Dún Aonghasa inspired pop-up.
How to make a basic pop-up
Adding design (Dún Aonghasa)
Other Irish monument pop-ups
You can download the How to Make a Pop-Up worksheet  HERE
Materials Needed
2 x A4 card paper
Pencil
Ruler
Scissors
Glue stick
Marker pens (black and coloured)
You can download the Drawing a Monument worksheet HERE
Recommended reading and resources
Claire Cotter (2014) Dún Aonghasa: The Guidebook
Duncan Birmingham is a brilliant instructor in pop up and paper engineering. He has written many books on the subject and has a fantastic pop up instruction channel HERE.
This Galway City Museum initiative is supported by Creative Ireland through Galway City Council.
---
Curriculum Links
Age: 3rd to 6th Classes
History:  Strand (unit): Early People and Ancient Societies (Bronze Age)
Visual Arts: Strand (unit): Drawing (making drawings)
Related Events