What's On
Galway City Museum's programme of events caters for a variety of audiences and interests, comprising gallery tours, illustrated talks, art and craft workshops, art classes and lectures. Enjoy our current series of online workshops here!

TALK & WALK: A Tale/Trail of Two Brothers – Pádraic and Tomás Ó Máille
December 14, 2022 @ 11:00 am

-

12:30 pm

UTC+0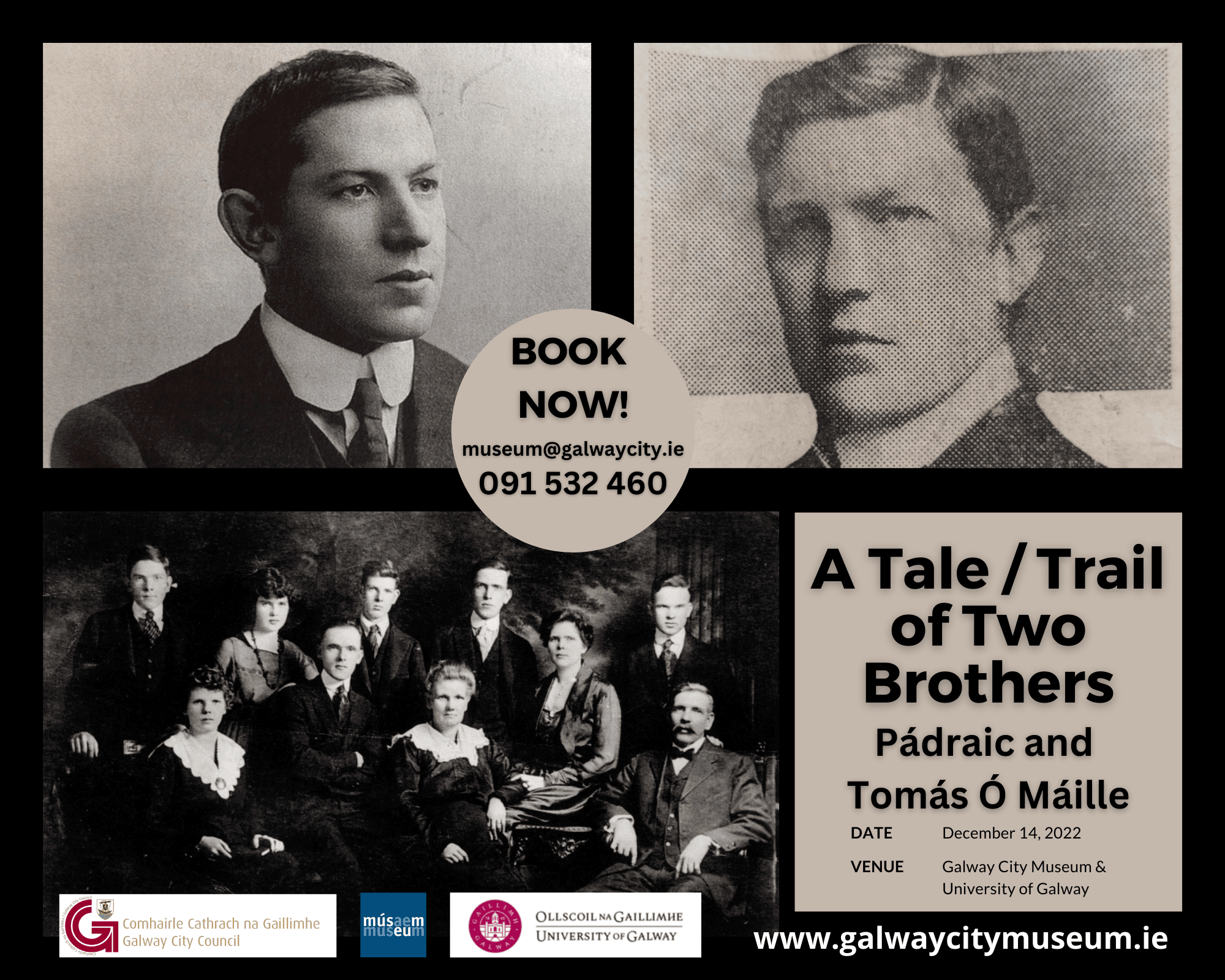 The Ó Máille brothers, Pádraic (1876—1946) and Tomás (1880—1938), of Joyce Country in north Connemara made significant contributions to the emerging Irish state. Reared on a large sheep farm in the Irish-speaking townland of Muintir Eoghain between Maam Bridge and Leenane, their father Michael descended from the powerful seafaring O'Malleys of West Mayo, a clan driven from their ancestral homeland after the Gaelic defeat at the Battle of Kinsale in 1601.
Above left to right: Pádraic (1876—1946), courtesy of Emer Joyce and Tomás (1880—1938), courtesy of University of Galway.
Pádraic and Tomás became prominent figures in the Irish-Ireland movement of the early twentieth century. Pádraic served on the national executive of the Gaelic League and was also involved in the spread of Sinn Féin and the Irish Volunteers movements in the West. Active in the Easter Rising and War of Independence, he served as a TD for Galway between 1919 and 1927. The younger brother, Tomás became the first Professor of Irish at the University of Galway in 1909 and taught for almost 30 years before his premature death. He was editor of the Irish language newspaper An Stoc, a co-founder of An Taibhdhearc, and a major collector of folklore and song of the West. From 1928, Tomás created 500 wax cylinder recordings of Irish speakers in every county west of the Shannon. Each of the Ó Máille brothers engaged with questions of cultural equity and active citizenship across a diverse range of fields including politics, language, education, journalism, linguistics, heritage, and technology.
Join Brendan McGowan, curator of the Pádraic Ó Máille and Liam Mellows exhibition at Galway City Museum, and Deirdre Ní Chonghaile, curator of the Tomás Ó Máille exhibition at the University of Galway, for a unique tour of two exhibitions, offering a rare opportunity to consider the legacy of the remarkable Ó Máille family.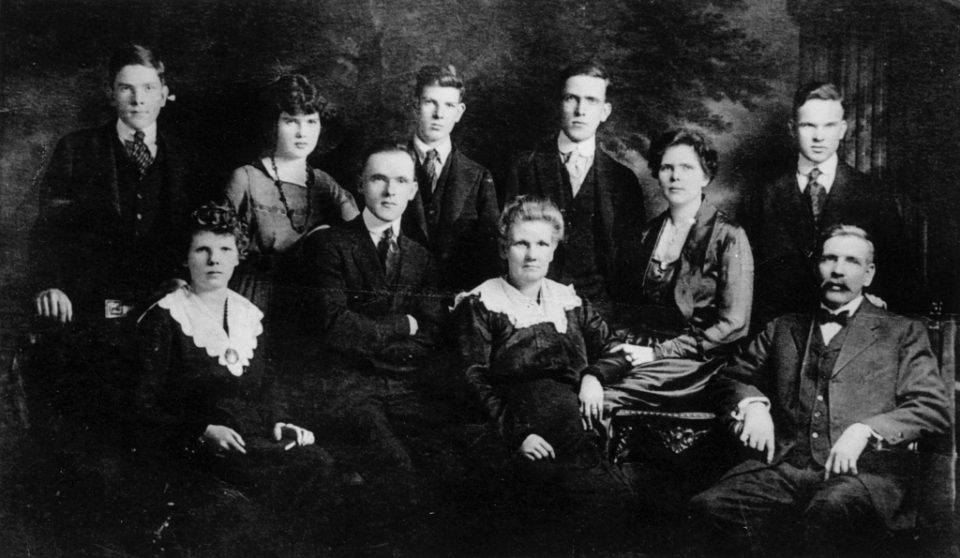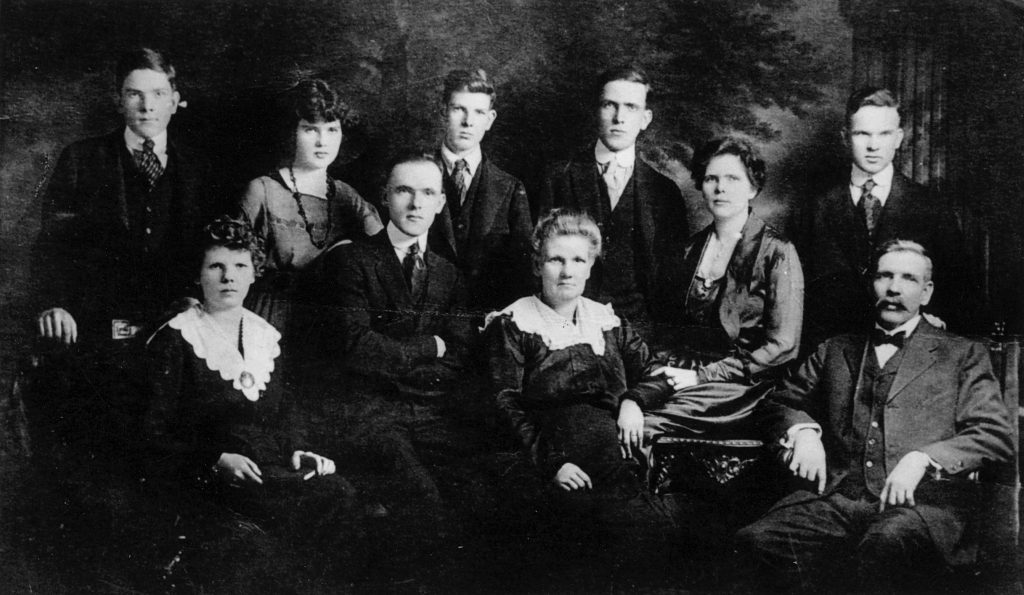 The Ó Máilles of Muintir Eoghain. Pádraic and Tomás are in the back row (first on the left and third from the left), c. 1890. Courtesy of An Gúm.
Galway City Museum will be the starting point for this event. It is free of charge, but places are limited so advance booking is essential; call the museum on (091) 532460 or email museum@galwaycity.ie to secure your place.  Suitable for ages 12+
It is recommended that participants dress appropriately for the weather as the event includes a 20–25 minute walk from Galway City Museum to the University of Galway campus.
Related Events