Every week we shine a light on a different object from our collections that you may not have seen before.  This week we have a Yamaha guitar, guitar case and 'Thanks' sign belonging to legendary Galway busker Terry Smith who died in August 2020. These objects were kindly donated to Galway City Museum by Terry's son Simeon. Originally from Manchester, and travelling via Dublin and Clare, Smith became a regular feature on the streets of Galway and one of the city's most loved buskers.
Above left to right: Terry Smith busking in Galway, Terry's guitar and case with 'Thanks' sign and Terry's closed guitar case.
Smith regularly played outside the Town Hall and Savoy Cinema before moving to a more permanent pitch outside the Estoria Cinema.  This later became the Claddagh Palace and closed its doors for the last time in September 1995. Terry Smith played there for over 20 years in the 1970s and 1980s as people queued. Before making this busking spot his own Terry used to play in sessions in The Cellar Bar, The Crane, and The Cottage to name a few and went on tours to the US and Brittany with musicians such as Mickey Finn and Sean Tyrell. Smith also played with Luke Kelly and Paul Brady and was a member of two bands – The Spailpín and Dickler Fitz.
Music was not Terry's only artistic medium, he also loved painting and took a degree course in fine art at GMIT. His artworks were recently displayed in an exhibition at the Art In Mind gallery in the Liosban Estate.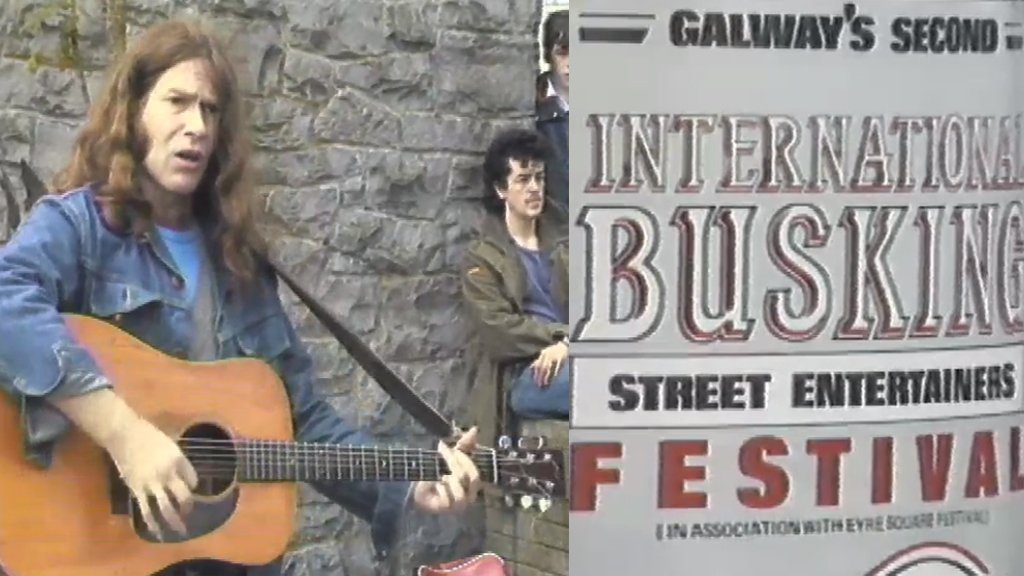 Go to COLLECTIONS to browse more objects.