The Claddagh:
A Triumph of Unconscious Beauty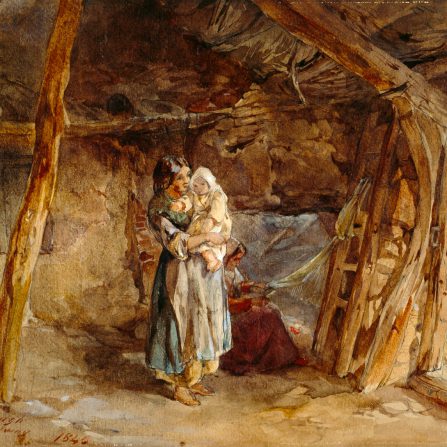 "Nothing is more picturesque in the British Isles than this astonishing fishing village of neat, whitewashed, thatched cottages planted at haphazard angles with no regular roads running to them. If you took three hundred little toy cottages and jumbled them up on a nursery floor you would have something like the Claddagh. It is a triumph of unconscious beauty"
H. V. Morton, In Search of Ireland, 1930
The Claddagh village, which lends its name to the famous ring, developed on the western shore of the mouth of the River Corrib, outside the walls of medieval Galway. It derives its name from the Irish word cladach, meaning 'a foreshore'.
In the nineteenth and early twentieth centuries, this village of small thatched houses occupied by Irish-speaking fishermen and their families, and headed by an elected king, became a draw for artists and travel writers.
In 1927, the old village was declared 'unhealthy' due to overcrowded conditions and a lack of 'sanitary accommodation or water supply'. And so, the Town Commissioners decided to demolish and rebuild the Claddagh. The British journalist and travel writer H. V. Morton (1892-1979), who visited the village on the eve of its demise, declared: "The Claddagh of Galway is one of the most remarkable sights in Europe". Nonetheless, the thatched homes were gradually razed to the ground and replaced by rows of neat two-storied houses.
This collection of paintings, sketches and photographs of the Claddagh and the Fishmarket at the Spanish Arch, where the villagers sold their catches, gives a glimpse of Galway life between the 1820s and the 1930s.
The Claddagh: A Triumph of Unconscious Beauty
This video was produced by Moose and funded by Galway City Council and Galway 2020.
Get the latest Galway City Museum news directly to your inbox!