Revolution in Galway, 1913-23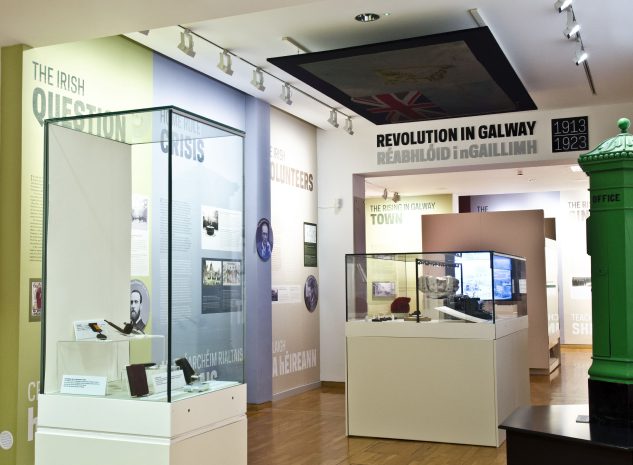 The arrival of the Anglo-Normans in 1169 AD marked the beginning of a 750-year turbulent relationship between Ireland and its neighbouring island, Britain. By 1913, Ireland was part of the United Kingdom, ruled from London. A decade later, twenty six of the thirty-two counties of Ireland were independent. This exhibition explores Galway's participation in the revolutionary events that shaped the nation.
In 1798, the United Irishmen staged a rebellion to end British rule in Ireland and establish a republic. It failed and Britain passed the Act of Union (1800), closing the Irish Parliament in Dublin and bringing all Irish Members of Parliament (MPs) to Westminster, London. The Union, however, did not pacify Ireland. Three years after the Act, another unsuccessful rebellion was staged, followed by another in 1848 during the Great Famine (1845-1851), a humanitarian crisis that many blamed on the British Government. The 1867 Fenian rebellion, planned by the Irish Republican Brotherhood (IRB), showed that a minority of Irish nationalists continued to see violence as a means of achieving independence from Britain. For the majority of Irish nationalists in the late nineteenth century, reform of land ownership and the reinstatement of an Irish parliament for domestic affairs, or Home Rule, were the main political goals. Founded in 1882, the Irish Parliamentary Party (IPP) was the main Home Rule party, led by Charles Stewart Parnell. The First and Second Home Rule Bills (1886 and 1893) were defeated in parliament. In the vacuum that followed, some Irish nationalists began to explore alternatives to Home Rule. Formed from 1905, Sinn Féin absorbed a number of separatist groups, together promoting a policy of national self-reliance and passive resistance to British rule.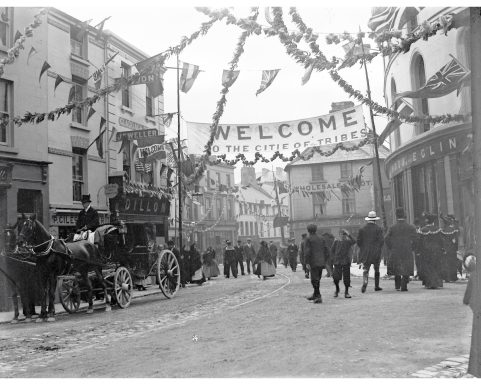 Image: Courtesy of the National Library of Ireland
The visit of King Edward VII and Queen Alexandra to Galway in 1903 drew a mixed response from local citizens. With a nationalist majority Galway County Council boycotted the visit. Following heated debates, Galway Urban Council voted 8 to 4 in favour of taking part in the official welcome.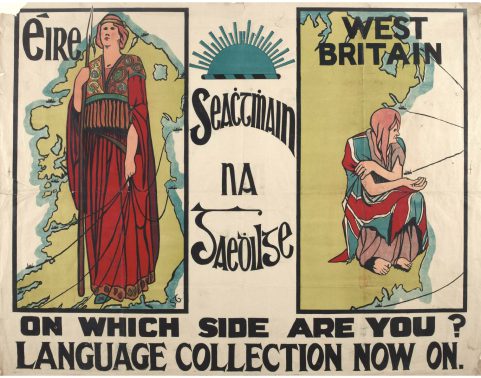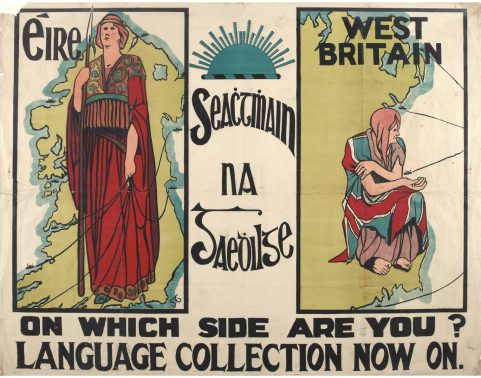 Gaelic League poster depicting an independent and a dependant female figure (Ireland), c. 1913
From the late nineteenth century onwards, many nationalists tried to promote a distinct Gaelic culture and identity, in opposition to Anglicisation. Two of the most influential organisations were the Gaelic League, which sought to revive Irish as a literary and spoken language, and the Gaelic Athletic Association (GAA), founded to promote traditional Irish sports such as Gaelic football, hurling and camogie.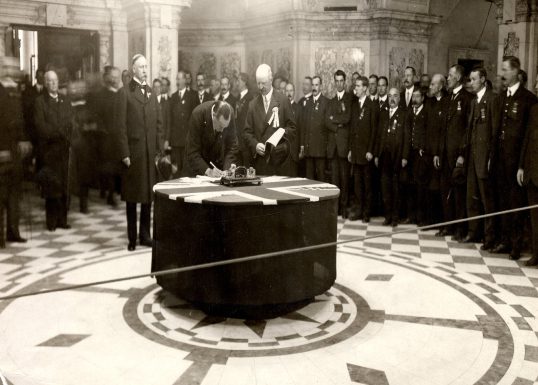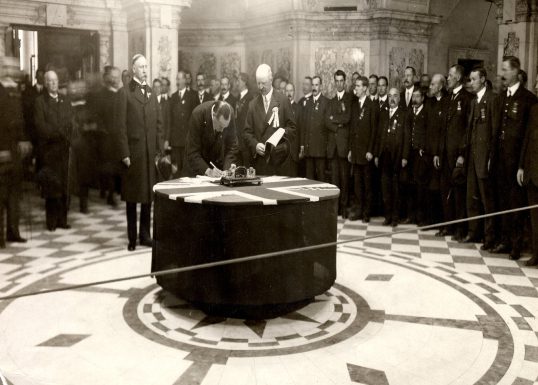 Image: Courtesy of PRONI
Edward Carson signing the Ulster Solemn League & Covenant, Belfast City Hall, 28 September 1912 While only men could sign the Solemn League and Covenant, the creation of a women's declaration of support ensured that almost half a million unionists confirmed their opposition to Home Rule – some even signed in their own blood. Carson was the first to sign the Covenant, which declared in strong religious terms the unflinching opposition of unionists to Home Rule. Carson's mother was Isabella Lambert, of Castle Ellen, Athenry, Co. Galway, a member of an Anglo-Irish landowning family.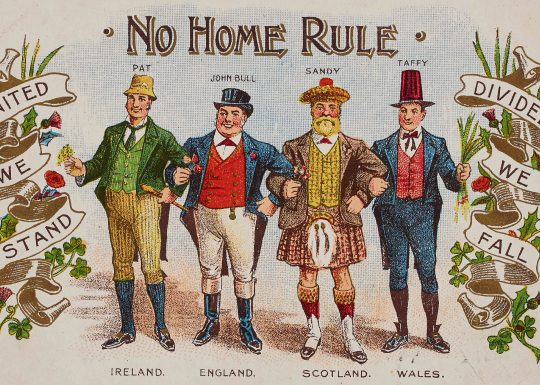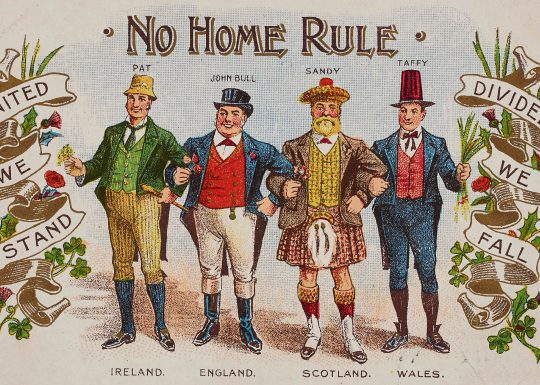 Image: Courtesy of the National Library of Ireland
No Home Rule, United We Stand, Divided We Fall', c. 1912 Pro-Union postcard depicting Pat (Ireland), John Bull (England), Sandy (Scotland) and Taffy (Wales) arm-in-arm. Unionists believed that Ireland was better off within the United Kingdom of Great Britain and Ireland, governed from London. Nationalists believed that Irish interests would be better served by an Irish parliament.
By 1910, the Irish Parliamentary Party (IPP) again held the balance of power at Westminster and introduced the Third Home Rule Bill. Passed in the House of Commons in 1912, the bill was rejected in the House of Lords with the result that implementation was delayed for two years. Ultimately, it was expected that an Irish parliament would convene in 1914. The Bill was strongly opposed by Ireland's sizeable unionist minority, which was concentrated in the more industrialised, Protestant-dominated province of Ulster. Unionists did not want to be governed by an Irish parliament dominated by Roman Catholics. Their fears were summed up by the slogan 'Home Rule is Rome Rule'. Unionists also believed that Home Rule would damage economic ties with Britain and be disastrous for the linen and ship-building industries. In January 1913, Edward Carson of the Ulster Unionist Council approved the creation of a paramilitary organisation, the Ulster Volunteer Force (UVF), to resist the implementation of Home Rule by force. Later that year, Eoin MacNeill, co-founder of the Gaelic League, published an article in An Claidheamh Soluis that recognised the merit in forming a nationalist equivalent of the UVF.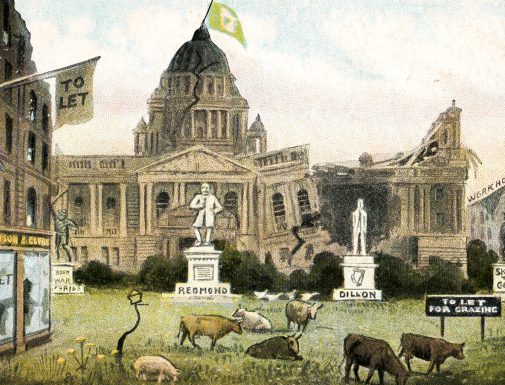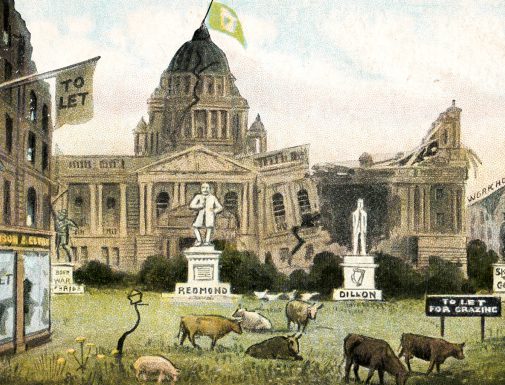 Image: Courtesy of the National Library of Ireland
Donegall Place, Belfast, Under Home Rule', c. 1912
Unionist Anti-Home Rule postcard depicting a derelict Belfast City Hall, outside of which are statues to the nationalist leaders, John Redmond and John Dillon.
Image: Courtesy of the National Museum of Ireland
Irish Volunteers of Co. Galway, Sports Field, Athenry, 29 June 1914
A few Companies carried dummy wooden rifles, but there was no significant display of actual arms. After the drill display and parade, a Brigade Council was elected. One of the banners on display bore the inscription 'Home Rule or Else'.
Launched in Dublin on 25 November 1913, the Irish Volunteers comprised a cross-section of Irish opinion, from militant republicans to moderate nationalists, including members of the IRB and the IPP. Provincial branches quickly followed, with George Nicolls organising an initial meeting in Galway's Town Hall on 30 November 1913 to launch a local branch. In April 1914, a female equivalent known as Cumann na mBan ('League of Women') was established. By August a branch had formed in Galway. In April 1914, as tensions over Home Rule increased, the UVF imported almost 25,000 rifles from Germany. Three months later, the Irish Volunteers landed 900 Mauser rifles from the Asgard at Howth, Co. Dublin. Civil war seemed inevitable. The outbreak of the Great War removed the threat of civil war and Home Rule was suspended until the end of hostilities. Unionist leader Edward Carson pledged the UVF to the war effort. IPP leader John Redmond also urged members of the Irish Volunteers to serve in the British Army. Of the 170,000 Volunteers, almost 158,000 went along with Redmond as the newly-styled National Volunteers, leaving Eoin MacNeill with a smaller faction of Irish Volunteers. By spring 1915, a police report noted that in Co. Galway there were 5,809 National Volunteers and only 742 Irish Volunteers. By March 1916, however, there were 1,615 Irish Volunteers in Co. Galway.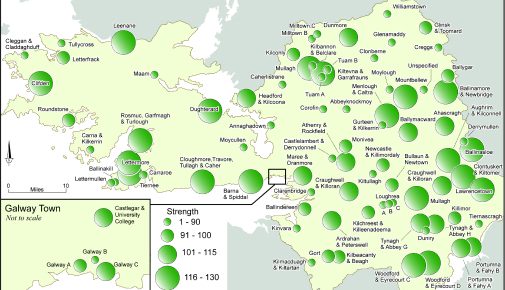 Image: Courtesy of the Atlas of the Irish Revolution
Strength of Irish Volunteers in Co. Galway (Companies), September 1914Map depicting the sizes and locations of Companies of Irish Volunteers. By September 1914, the total number of Volunteers in the county had risen to at least 8,311 men – divided into three Brigades, 13 Battalions and 83 Companies. After the split, the Irish Volunteers in the county were reorganised into a Brigade of four battalions – Athenry, Galway, Gort and Loughrea.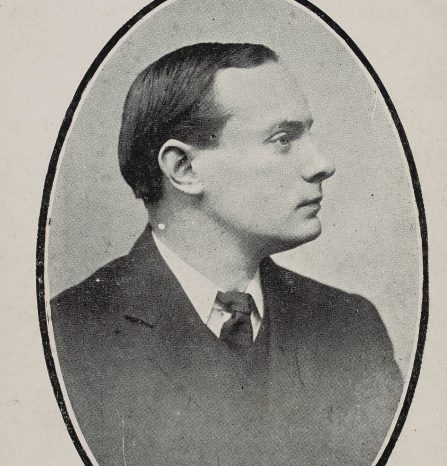 When the Great War broke out, the Irish Republican Brotherhood (IRB) recognised that England's difficulty could be Ireland's opportunity. Following the split in the Volunteers, members of the IRB secretly continued to secure key positions within the smaller faction, as they had done in the Gaelic Athletic Association, the Gaelic League and other nationalist organisations. By doing this they were able to gain control of the Irish Volunteers and edge its membership further and further towards extremism. On 1 August 1915, at the funeral of prominent Fenian Jeremiah O'Donovan Rossa in Glasnevin, Dublin, Patrick Pearse – an emerging figure within the IRB and Irish Volunteers – declared: 'the fools, the fools, the fools! – they have left us our Fenian dead, and while Ireland holds these graves, Ireland unfree shall never be at peace'. The famous oration, written and practiced by Pearse at his cottage in Rosmuck, Co. Galway, has since been perceived as a call to arms. In January 1916 the Military Council of the IRB, which included Éamonn Ceannt from Galway, agreed to mount a joint insurrection through the Irish Volunteers with James Connolly's Irish Citizen Army for a national uprising. In Co. Galway, republican activities were co-ordinated by Liam Mellows from a base in Athenry.
Image: Courtesy of the National Library of Ireland
In 1913, the Gaelic League's national convention (Ard Fheis) was held in Galway as part of its week-long Oireachtas, an annual Irish-language cultural festival. This photograph of 164 Ard-Fheis delegates, which includes three future signatories of the Proclamation and three future Irish Presidents, is a virtual 'who's who' of the 'coming revolution'. As part of its ongoing infiltration of the Gaelic League, the IRB used the festive week to recruit at least a dozen new members.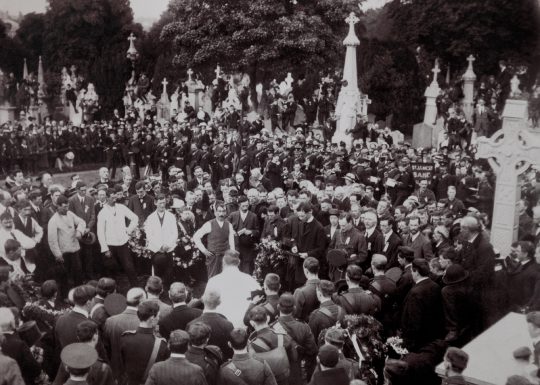 Image: Courtesy of the National Library of Ireland
Patrick Pearse at O'Donovan Rossa's funeral, Glasnevin Cemetery, 1 August 1915. A group of Rosmuck Volunteers, led by Colm Ó Gaora, travelled to Dublin to witness Pearse (higlighted in colour) speak at the ticket-only event. Michael Curran, the Secretary to the Archbishop of Dublin, later noted that the funeral had served as 'the prelude to…1916'.
Planned as a national event, the 1916 Rising was mainly confined to the streets of Dublin. On Easter Monday 24 April 1916, the General Post Office (GPO) on O'Connell Street was seized by republican forces along with other key buildings. In front of the GPO, Commandant-General Patrick Pearse read aloud a Proclamation declaring an independent Irish Republic to a small crowd of onlookers. Over the following days, about 1,600 Irish Volunteers, led by Pearse, with 200 members of the Irish Citizen Army, led by James Connolly, and members of Cumann na mBan faced 20,000 Crown forces armed with artillery. After intense fighting at the GPO the rebels retreated to Moore Street and surrendered on Saturday 29 April. A Countermanding Order, issued to the Irish Volunteers by Eoin MacNeill, together with a failure to land arms meant that the Rising was destined to fail from the start. Around 485 lives were lost in the Rising, including: rebels, policemen, soldiers and civilians. A total of 368 Crown forces were wounded, while the combined numbers of rebels and civilians injured reached 2,217. Outside of Dublin, rebels seized buildings and clashed with the RIC at Enniscorthy, Co. Wexford, Ashbourne, Co. Meath and Castlelyons, Co. Cork.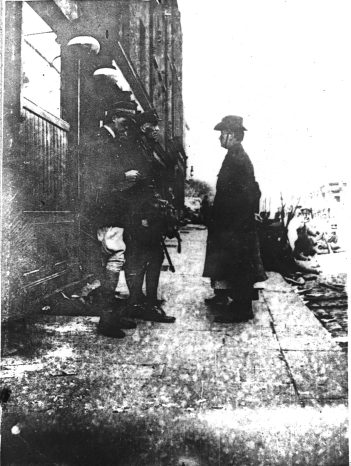 Image: Courtesy of RTÉ Stills Library
Surrender of Pearse, Great Britain Street (now Parnell Street), 29 April 1916 Commandant General and President of the Provisional Government of the Irish Republic Patrick Pearse 'desirous of preventing further slaughter of the civilian population' surrendering to Brigadier General Lowe of the British forces. Hidden behind Pearse is nurse Elizabeth O'Farrell, a member of Cumann na mBan.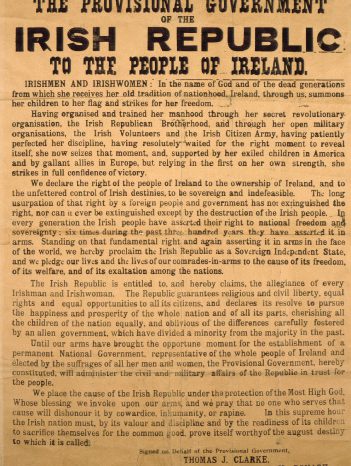 Image: Courtesy of RTÉ Stills Library
Proclamation of the Irish Republic, 1916 Believed to have been written by Pearse, with input from Connolly and the other signatories, the Proclamation was addressed to the Irish people from the Provisional Government of the Irish Republic. About 2,500 were printed in Dublin's Liberty Hall on Easter Sunday 1916 for distribution.
On orders from Pearse, Liam Mellows led the Irish Volunteers in a Rising in east Co. Galway, which lasted from Easter Tuesday 25 to Saturday 29 April.
On Easter Tuesday, almost 100 men from the Clarenbridge Volunteers under Mellows marched from Killeeneen schoolhouse and attacked the RIC barracks in Clarenbridge. Later, an estimated 100 men from the Oranmore and Maree Volunteers led an assault on the RIC barracks at Oranmore, taking a number of policemen prisoner. In an effort to thwart British forces, the rebels also barricaded roads, cut telephone lines and damaged railway lines and a road bridge. From that evening, local Volunteer companies began to assemble at the Model Farm, on the outskirts of Athenry.
On Wednesday morning, a shoot-out between the RIC and a group of rebels at Carnmore Crossroads, near the town of Galway, resulted in the death of Constable Patrick Whelan. In the afternoon, a British warship – the HMS Laburnum – started shelling areas around Galway to intimidate the rebels and discourage an assault on the town.
Later that same day, between 500 and 700 rebels took up defensive positions at Moyode Castle, near Athenry, and days later at Limepark House, near Peterswell. Lacking in arms and aware that the British forces were closing in, the last of the rebels disbanded on Saturday morning.
IDENTIFIED COMPANY CAPTAINS (IRISH VOLUNTEERS), GALWAY, EASTER 1916
Micheal Athy, Maree Company • John Burke, Kinvara Company • Patrick Coy, Kilconieron Company • Joseph Howley, Oranmore Company • Peter Howley, Ardrahan Company • Frank Hynes, Athenry Company • Nicholas Kyne, Claregalway Company • Brian Molloy, Castlegar Company • Gilbert Morrissey, Craughwell Company • Martin Neilan, Clarenbridge Company • Micheál Ó Droighneáin, Spiddal Company • Pádraig Thornton, Moycullen Company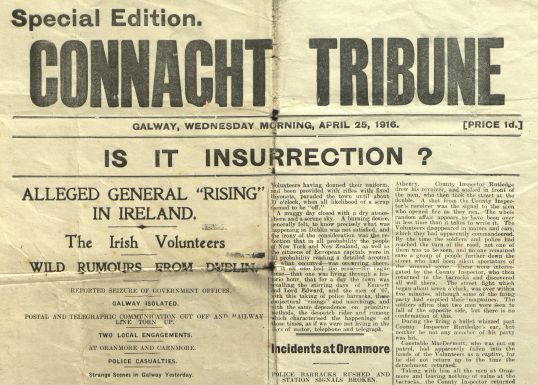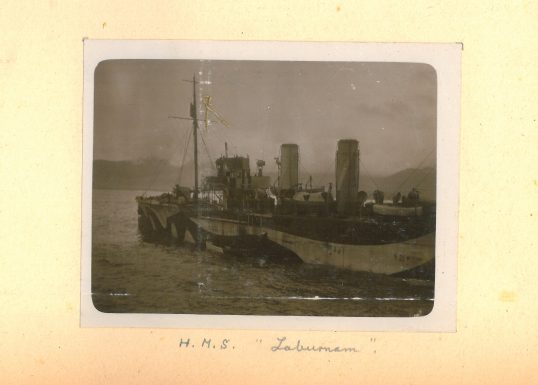 1 Image: Courtesy of NUI, Galway
Connacht Tribune, 25 April 1916
2 Image: Courtesy of Dr Eric Murray, Dublin
HMS Laburnum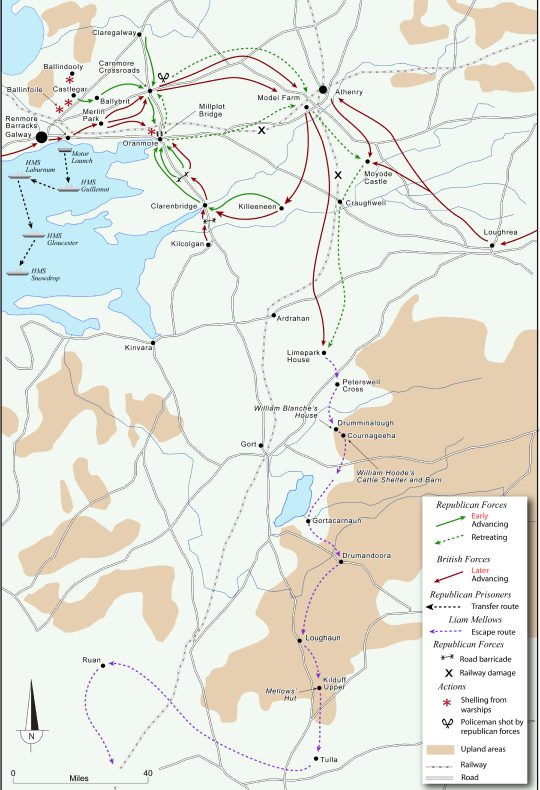 Image: Courtesy of RTÉ Stills Library
Proclamation of the Irish Republic, 1916Believed to have been written by Pearse, with input from Connolly and the other signatories, the Proclamation was addressed to the Irish people from the Provisional Government of the Irish Republic. About 2,500 were printed in Dublin's Liberty Hall on Easter Sunday 1916 for distribution.
Image: Courtesy of the National Library of Ireland Moon's & Maxwell, McNamara & Co. on the corners of Eglinton Street.
A strong RIC presence in Galway town, the close proximity of the Connaught Rangers depot at Renmore, and a National Volunteer force that was unwavering in its loyalty to Redmond, greatly impeded any chance of a successful rebellion. Nonetheless, an ambitious plan targeting the town had been prepared at the University Road home of George Nicolls. It was envisaged that the local Volunteers, with the assistance of the Spiddal and Moycullen Volunteers, would capture seven prominent buildings in the town. The rebels also devised a plan to kidnap two prominent local business men – Máirtín McDonogh and Joseph Young – to use as leverage to force the RIC to abandon their barracks.
Following word of rebellion in Dublin, the authorities in Galway town made arrests, declared Martial Law and quickly secured the main public buildings, including the GPO. Armed RIC patrolled the streets, supported by members of the National Volunteers. A reserve civilian force was raised too, with backing from a committee chaired by Máirtín McDonogh. Fear gripped the town following the shoot-out at Carnmore Crossroads, as did unfounded stories of a possible attack by the rebels. It was reported by the Freeman's Journal that 'things were quiet' in Galway town after 'a large number of soldiers had been landed from a war vessel' – HMS Gloucester – on Thursday 27 April.
On Easter Tuesday, the RIC arrested suspected local Volunteer organisers in the town including George Nicolls, Micheál Ó Droighneáin, Pádraic Ó Máille and Frank Hardiman. To prevent escape or rescue, the men were imprisoned aboard a British warship on Galway Bay. On their way through the streets of Galway they were subjected to open hostility from locals.
The Galway Observer reported that:
"mud was thrown on them by a number of viragos who booed and hissed them and shouted that they ought to be in the trenches."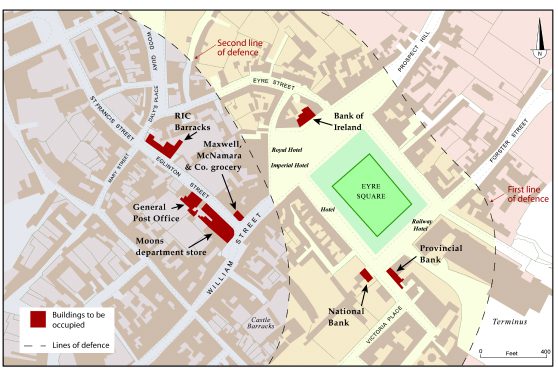 Image: Courtesy of the Atlas of the Irish Revolution (2016)
The rebel plan for Galway town, which was never realised, was to capture seven buildings in the town centre. These premises included the GPO and RIC Barracks on Eglinton Street, two retail stores on the opposite corners of the same street (Moon's department store and Maxwell, McNamara & Co. grocery) and the three banks at Eyre Square.
322 People from Galway Imprisoned in Frongoch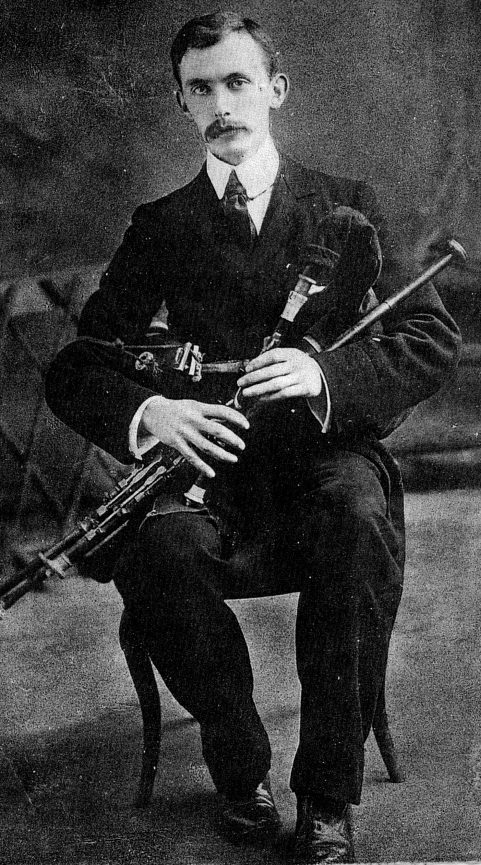 In the immediate aftermath, the Rising was widely condemned. At a public meeting in Galway's Town Hall, a resolution 'to crush by every possible means the efforts of the disaffected fanatics and mischief makers' was passed 'with enthusiasm'. Galway County Council passed a resolution expressing 'condemnation of the recent disturbances of social order brought about by irresponsible persons'. Despite mounting protests and calls for leniency, 15 rebels were executed. They included the seven signatories of the Proclamation, seven others thought to be leaders, and Thomas Kent who was shot in Cork. Almost 100 other individuals were also sentenced to death but had their sentences reduced to various terms of imprisonment.
The executions provoked a backlash against the British government and generated widespread sympathy for the rebels. Anti-British sentiment escalated further after the arrest of more than 3,100 people, of whom 2,500 were deported to Britain in May 1916. Of the 1,800 or so rebels who were interned at Frongoch in Wales in early June, 322 were from Galway. More than 1,100 prisoners were released from the camp in August, with the rest remaining interned until shortly before Christmas. Although the Rising was a military failure, the British mishandling of the event resulted in a shift in Irish public opinion towards independence.
ORDER OF EXECUTIONS, 3 TO 12 MAY, 1916
Patrick Henry Pearse b. 1879, Dublin – Thomas James Clarke b. 1858, Isle of Wight, England – Thomas MacDonagh b. 1883, Co. Tipperary – Joseph Mary Plunkett b. 1887, Dublin – Edward 'Ned' Daly b. 1892, Limerick – William 'Willie' Pearse b. 1881, Dublin – Michael O'Hanrahan b. 1877, Co. Wexford – John MacBride b. 1868, Co. Mayo – Éamonn Ceannt b. 1881, Co. Galway – Michael Mallin b. 1874, Dublin – Cornelius 'Con' Colbert b. 1888, Co. Limerick – Seán Heuston b. 1891, Dublin – Thomas Kent b. 1865, Co. Cork – Seán MacDiarmada b. 1883, Co. Leitrim – James Connolly b. 1868, Edinburgh, Scotland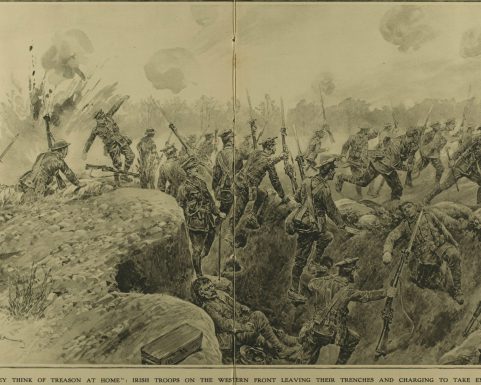 Image: Courtesy of The Illustrated London News
The heroism of the Irish Soldiers Fighting for the Empire', 13 May 1916 By 1916, there were some 146,000 Irishmen fighting in the Great War. During the Rising more than 550 men of the 16th (Irish) Division of the British Army were killed in a single German gas attack at Hulluch, Belgium. While many nationalists were among those fighting in the British Army, there was little support for the Rising and many felt betrayed by it.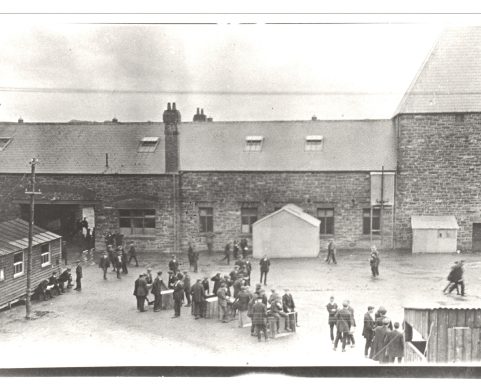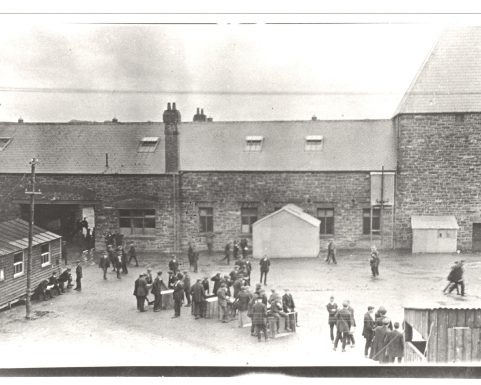 Image: Courtesy of Kilmainham Gaol Museum
Frongoch Internment Camp, Merionethshire, Wales
A former distillery, Frongoch Internment Camp was used to house German prisoners of war. Following the Rising, it was used as an internment camp for Irish republican prisoners. As a result it became known as the 'University of Revolution' or the 'Sinn Féin University'. After Dublin, Galway had the largest number of men arrested in the aftermath of the Rising, with 322 interned in Frongoch.
Irish Volunteers, University College Galway, undated – Courtesy of the James Hardiman Library, NUI Galway.
Many students were separatists. One RIC inspector described University College Galway, now National University of Ireland, Galway, as a 'Sinn Fein college' and a 'hotbed of Sinn Feinism'. Engineering medical students featured prominently amongst their ranks.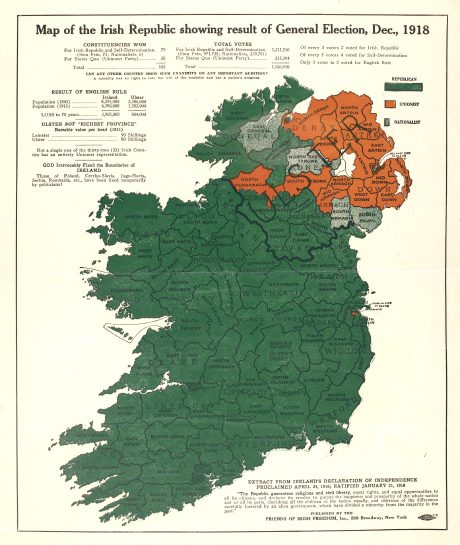 Although widely referred to as the 'Sinn Féin Rebellion', the Rising was in fact organised by the IRB through the Irish Volunteers. However, Sinn Féin now benefited from increased hostility towards British rule in Ireland. As they were released from British prisons, returning rebels swelled the membership of Sinn Féin to continue the struggle for independence. In 1918, Sinn Féin further benefited from British government proposals to extend conscription (compulsory military service) into Ireland, which was strongly opposed by republicans, nationalists and the Church. In Galway, between May 1916 and December 1918, the membership of Sinn Féin expanded from 200 members to 7,500 members. With the conclusion of the Great War in November 1918 a general election was held in the UK, including Ireland. Sinn Féin declared that they would run and, if elected, its members would not take their seats in the British parliament but would instead establish an independent parliament in Dublin. Running many veterans of the Rising, Sinn Féin won 73 of 105 seats nationally, including four seats out of four in Galway, and established Dáil Éireann ('Assembly of Ireland') in January 1919. Their comprehensive victory signalled the end of the Irish Parliamentary Party (IPP) and Home Rule which had dominated Irish politics for two generations.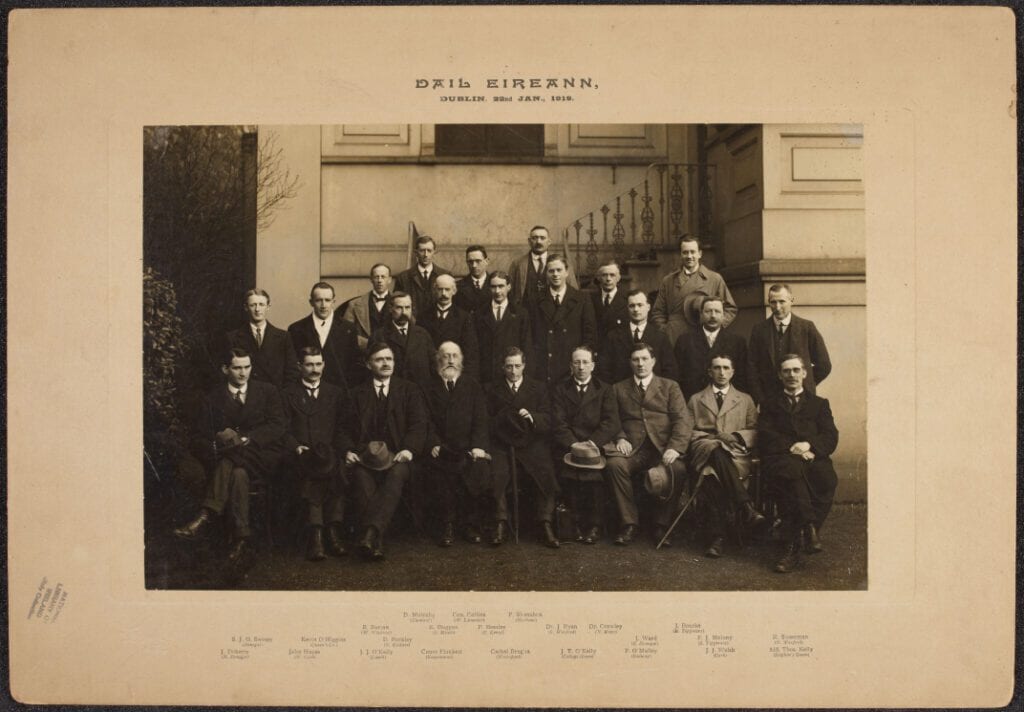 Image: Courtesy of the National Library of Ireland
First session of Dáil Éireann, Mansion House, Dublin, 21 January 1919
The first Dáil Éireann was composed of Sinn Féin MPs who had been elected to Westminster but who instead established an independent Irish parliament. With half of Sinn Féin MPs imprisoned, only 27 elected representatives attended the initial meeting. Unionist MPs (26) and Home Rule MPs (6) were invited to attend but refused to do so. Pádraic Ó Máille, MP for Connemara, is seated in the front row, third from right.
The War of Independence, or Anglo-Irish War, was fought on two fronts. Politically, Dáil Éireann sought to undermine the British Government and Dublin Castle, the centre of the British Administration in Ireland. They set up a parallel government, police force and legal system. At the same time, the Irish Volunteers, now increasingly known as the Irish Republican Army (IRA), mounted a military campaign against British forces in Ireland. As the RIC were seen as 'the eyes and ears of Dublin Castle', its members were intimidated and attacked throughout the country. As a result, the RIC lost men to retirements and resignations, and had fewer new recruits. To help maintain control, the British Government recruited for the RIC in Britain. These new recruits, known as the 'Black and Tans', arrived in Galway from February 1920 onwards. Later that year, they were joined by a new Auxiliary force, the 'Auxiliaries' or 'Auxies'. Many of the new recruits were veterans of the Great War. Both the 'Tans' and the 'Auxies' earned a notorious reputation for indiscriminate violence. From the summer of 1920 onwards, violence between republican and British forces escalated throughout Ireland. By the summer of 1921 with neither side sensing an immediate victory, a ceasefire was agreed between Sinn Féin and the British Government, which took effect on 11 July 1921.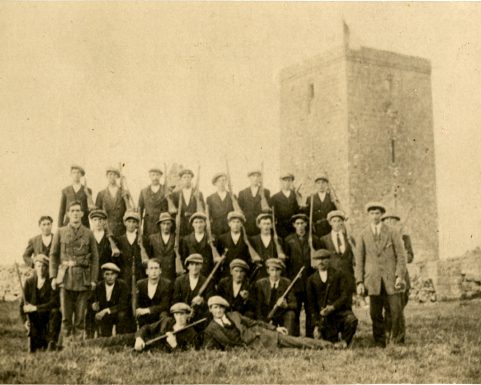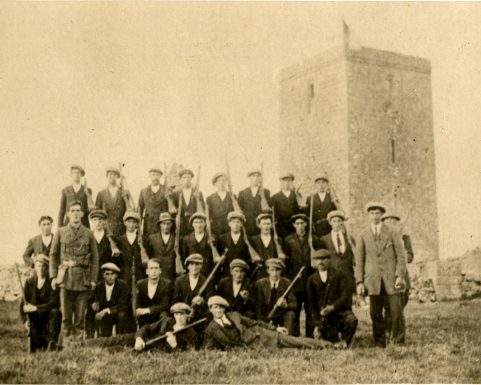 Image: Courtesy of Cathy Fahy –
IRA Volunteers at Killeen Castle, Castlegar, Co. Galway, 1921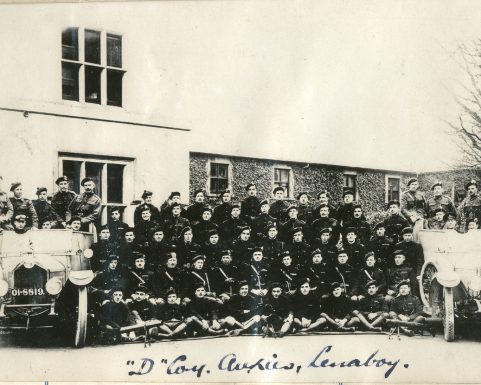 Image: Courtesy of Bureau of Military History Collection, Military Archives –
Auxiliaries at Lenaboy Castle, Taylor's Hill, Galway, c. 1920
From the summer of 1920 to the ceasefire in July 1921, a series of attacks and reprisals by Irish republican and British forces resulted in the deaths of IRA Volunteers, policemen, soldiers and civilians. During this dark period, the Galway IRA killed 11 policemen, 2 soldiers and 6 civilians, three of whom were suspected of spying. On the other side, British forces killed a total of 27 IRA Volunteers and civilians throughout Galway; several others allegedly died as a result of ill- treatment by Crown forces.
IN THE AUTUMN AND WINTER OF 1920 THERE WERE A NUMBER OF HIGH-PROFILE AND HORRIFIC INCIDENTS IN GALWAY TOWN AND COUNTY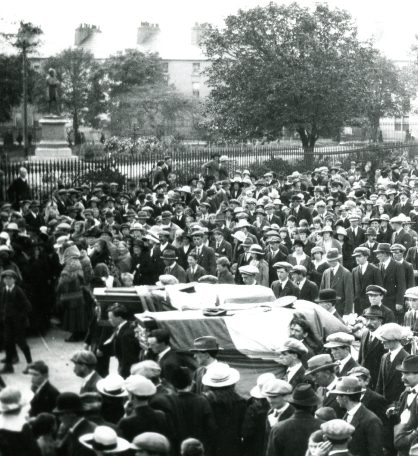 21 AUGUST
RIC Constable Martin Foley, from Co. Roscommon, was killed during an IRA ambush at Merlin Park, Galway. The RIC staged a reprisal attack in Oranmore.The RAF intervened to extinguish the fires.
8 SEPTEMBER
A Black and Tan, Edward Krumm, and IRA Volunteer, Seán Mulvoy, were killed in a shoot-out at Galway Railway Station. In response, the local RIC rioted in Galway town, killing IRA Volunteer, Seamus Quirke, and wrecking the offices of the Galway Express, a republican newspaper.
2 OCTOBER
Sinn Féin member John O'Hanlon, from Lackagh, was shot dead when he tried to escape a raid on his home by British forces. The day of his funeral saw 'indiscriminate shooting' by members of the Crown Forces in the area.
15 OCTOBER
Patrick Joyce, a schoolteacher in the village of Barna accused of passing information onto British forces, was kidnapped and shot, presumably by the IRA.
19 OCTOBER
Sinn Féin urban councillor and businessman Michael Walsh, owner of the Old Malt House, was taken from his home on High Street, shot dead at the Long Walk and his body dumped in the River Corrib.
26 OCTOBER
Republican brothers Patrick and Harry Loughnane were arrested on the family farm in Shanaglish, near Gort, by the Auxilaries. Ten days later, their tortured and charred remains were discovered in a muddy pond near Ardrahan.
30 OCTOBER
RIC Constable Timothy Horan, from Co. Kerry, was killed in an IRA ambush near Loughrea.
1 NOVEMBER
Ellen Quinn of Kiltartan was fatally wounded when she was fired at from a passing RIC vehicle. The young mother was sitting at the door of her home with a child in her lap.
The Treaty & The Irish Free State
Following the ceasefire, Éamon de Valera met with British Prime Minister, Lloyd George, in London. The talks were ultimately unsuccessful, but both sides knew that without an agreement the armed conflict would inevitably resume. In October, de Valera, as President of the Irish Republic, appointed a team of delegates for fresh talks in London 'with a view to ascertaining how the association of Ireland with the community of nations known as the British Empire may best be reconciled with Irish national aspirations'. This time, he did not take part directly in the discussions. After two difficult months of negotiations, Lloyd George delivered an ultimatum to the delegates – either sign the Articles of Agreement for a Treaty or face an 'immediate and terrible war.'
The Irish party signed at 2.15am on the 6 December 1921. The Treaty essentially gave full independence to the 26 counties of southern Ireland (the Irish Free State or Saorstát Éireann). Controversially, however, it would remain within the British Empire and all elected representatives would be required to swear an oath to 'be faithful to' the British monarch. Following a series of intense and emotional debates in Dáil Éireann, the Treaty was approved by 64 to 57 votes on 7 January 1922. A general election followed on 16 June and the majority of Irish voters backed the Treaty.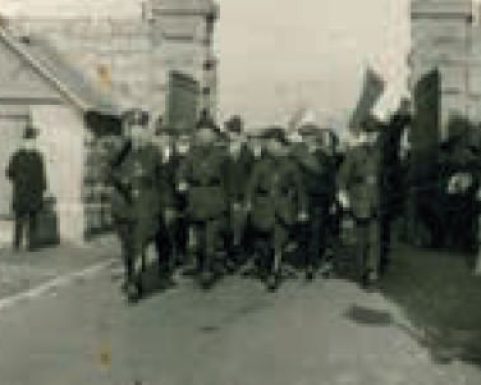 Image: Courtesy of Dún Uí Mhaoilíosa
IRA marching into Renmore Military Barracks, Galway, 13 February 1922. A, B and D Companies of the 4th Battalion, South West Galway Brigade, IRA, headed by the Salthill Industrial School Band, marching into Renmore Barracks to replace British troops. The Connacht Tribune reported: 'The English forces are gone, never we hope to return – unless some mad act of folly on the part of our owns sons should tear down the fabric of Irish freedom and security before it is properly erected.'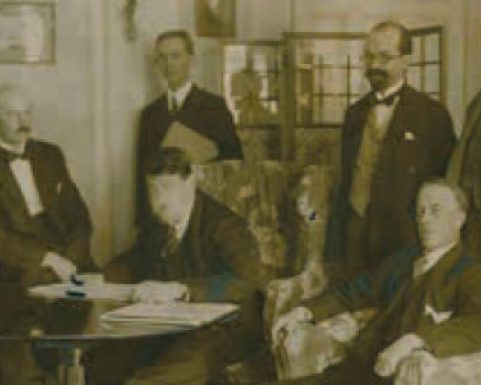 Image: Courtesy of the National Library of Ireland
The Irish Delegation, December 1921\
Seated from left: Arthur Griffith; E. J. Duggan; Michael Collins and Robert Barton.
Standing from left: Robert Erskine Childers; George Gavan Duffy and John Chartres.
From April 1922, anti-Treaty IRA occupied the Four Courts in Dublin. The first general election in the Irish Free State was held in June. Pro-Treaty Sinn Féin won 58 of 128 seats and anti-Treaty Sinn Féin took 36. The remaining seats went to other parties which supported the Treaty. When the order to surrender the Four Courts was ignored, the new National Army, under Michael Collins, shelled the building thus signalling the beginning of a civil war. As the conflict spread, casualties mounted and both sides became increasingly bitter and vindictive.
When members of the IRA shot Sean Hales a pro-Treaty TD, as a reprisal for the execution of IRA members, the Free State Government then executed four senior republican prisoners without trial, including Liam Mellows. By the end of 1922 it was clear that the IRA was on the verge of defeat but they refused to surrender. Executions were used to break their resolve. In a three week period in January 1923 the Free State Government executed thirty-four IRA prisoners across the country. These included four Galway men shot in Athlone Barracks: Michael Walsh, Stephen Joyce, Martin Burke and Hubert Collins. In April 1923, the anti-Treaty IRA called a ceasefire, and in May it ordered its fighters to 'dump arms', effectively ending the conflict.
Get the latest Galway City Museum news directly to your inbox!