Born in Galway in 1882, Patrick Joseph Conroy was orphaned before his teens and went to live with his merchant uncle in Ros Muc, an intensely Irish-speaking area of Connemara. He took a Civil Service post in London in 1900 and there joined the Gaelic League, which sought to revive Irish as a spoken and literary language. When the League was founded, in 1893, less than one per cent of the Irish population spoke only Irish and there were only five Irish-language books in print.
Encouraged by his fellow Gaelic Leaguers, he began writing short stories under the name Pádraic Ó Conaire. Greatly influenced by European literature, he wrote about the realities of Irish life in simple, sparse prose, which made his work accessible to native speakers and language learners alike. His best writing dealt with the marginalised in society, tackling issues such as poverty, emigration, prostitution, loveless marriages and mental illness. He won multiple literary awards and his books were eagerly read.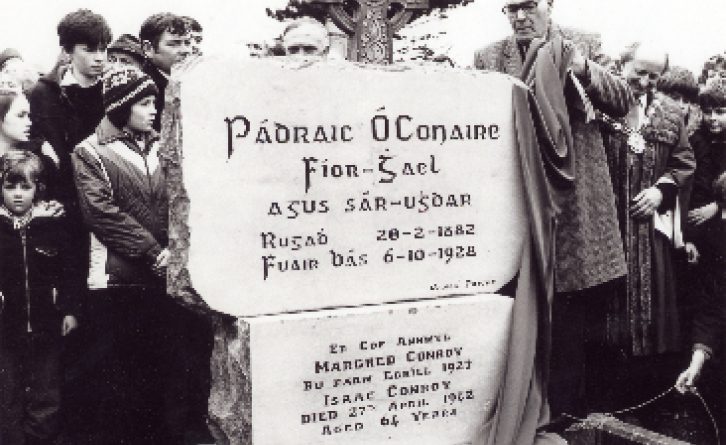 Ó Conaire returned to Ireland in 1915, where he eked out a living as an Irish-language writer, journalist and teacher. He died prematurely in Dublin in 1928, and was buried in his native town.
Widely regarded as the first significant writer in modern Irish, Ó Conaire was described as "absolutely the only writer you can imagine a European reading". Máirtín Ó Cadháin, the foremost Irish-language writer of his generation, judged him the "most successful exponent in the Irish language", adding that "this is no mean praise in a country which is world famous for its short story writers".
Statue of Pádraic Ó Conaire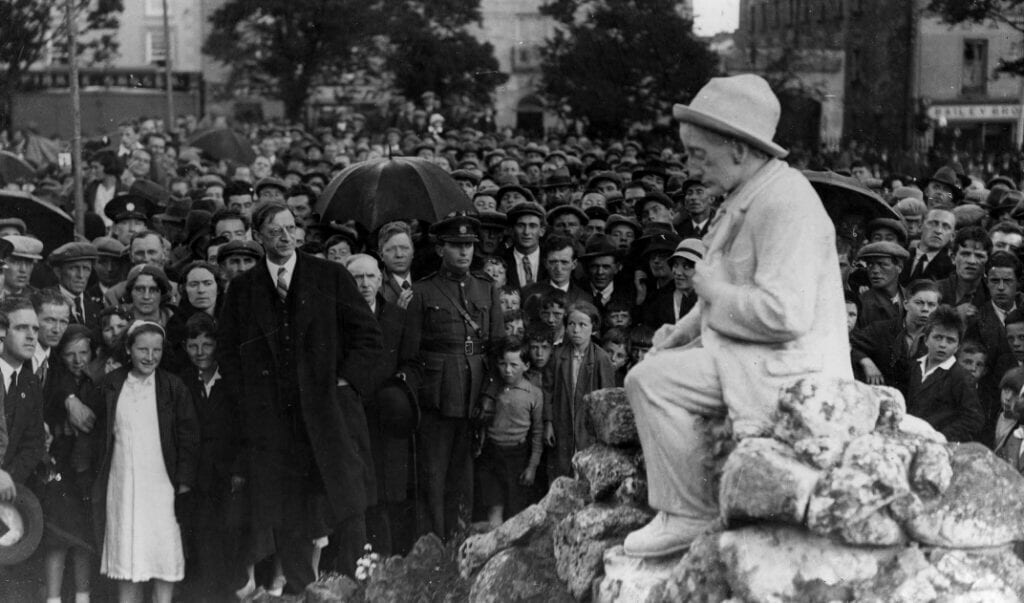 In 1929 Galway Conradh na Gaelilge commissioned Albert Power R.H.A. to sculpt a statue of Pádraic Ó Conaire. In 1935 the statue was unveiled in Eyre Square by President de Valera, supporting his call for an Irish-speaking Ireland. Power's work of art embodied Irish spirit and tradition capturing in native stone something new and distinctly Irish. It articulated the cultural and political hopes of independent Ireland. Ireland's political ideals involved a certain 'cleansing of Britishness' and replacing powerful statues with familiar ones symbolised this movement towards a uniquely Irish identity. This limestone statue replaced that of Lord Dunkellin, Anglo-Irish MP, which was dragged from its pedestal in Eyre Square in 1922 and dumped into the river Corrib.
Undoubtedly the most popular landmark in Galway, the Ó Conaire statue welcomed people the world over. Visitors recall being photographed with the statue and many a marriage proposal happened under it's glare. Having spent 64 years in Eyre Square, in four seperate locations, the statue was eventually decapitated in 1999 sparking huge public outrage. The presiding Judge at the courtcase equalled this crime to the Mona Lisa being taken from the Louvre in Paris. If the statue could talk what a story it would tell!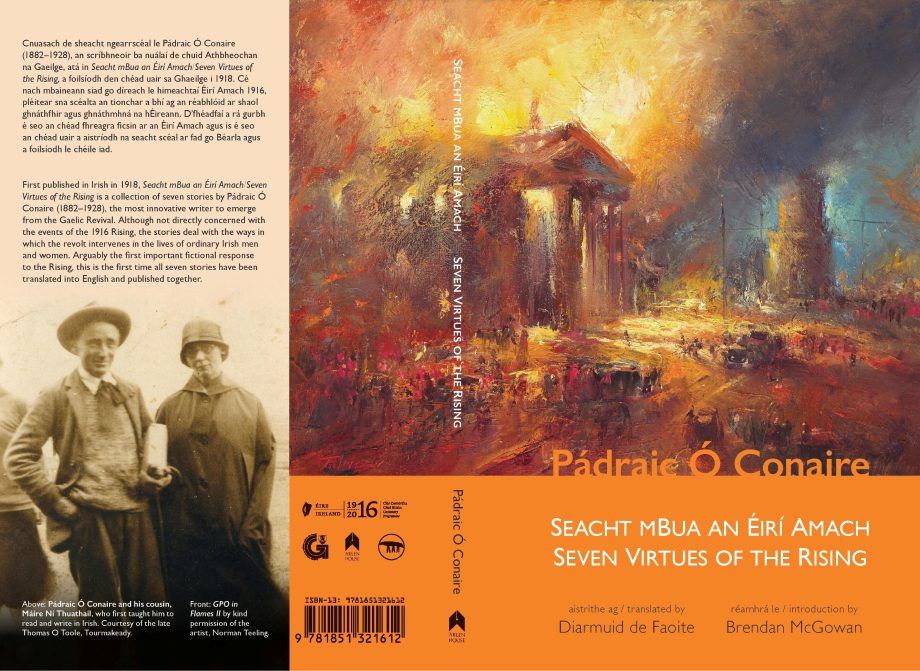 It was in Kinvara that I first got to know my little black donkey. It was a fair day, and there he stood by the ditch with his backside to the wind, heedless of the world and the world of him.
Opening lines from My Little Black Donkey by Pádraic Ó Conaire, which were etched into the memory of many Irish pupils.
Pádraic Ó Conaire moved to London in 1900, and there began writing extensively and exclusively in the Irish language (Gaelic), winning many prizes for his short stories. Many of these stories were first published in An Claidheamh Soluis –an Irish nationalist newspaper.
In London, Ó Conaire became active as an Irish teacher with the Gaelic League, an organisation that sought to revive Irish as a spoken and literary language. He also enrolled with the Irish Volunteers, which later became the Irish Republican Army. Ó Conaire married and had four children, but returned to Ireland in 1915, leaving his family behind.
In Ireland, Ó Conaire earned a meagre living writing and teaching the Irish language. His later years were spent in Galway and were characterised by poverty, ill-health and alcohol abuse. In 1928, at the age of 46, Ó Conaire died alone and penniless in the paupers' ward of a Dublin hospital and was buried in Galway.
Ó Conaire is widely regarded as the first significant writer in the modern Irish language, publishing hundreds of short stories, many of which deal with emigration and the harsh realities of contemporary rural life. Nature was also a recurring theme in his writings. Ó Conaire's surreal novel Deoraíocht (Exile) was the first to deal with urban life in Irish. He was also a pioneer in the use of the Irish language in journalism.
The Statue and it's Story Unveiling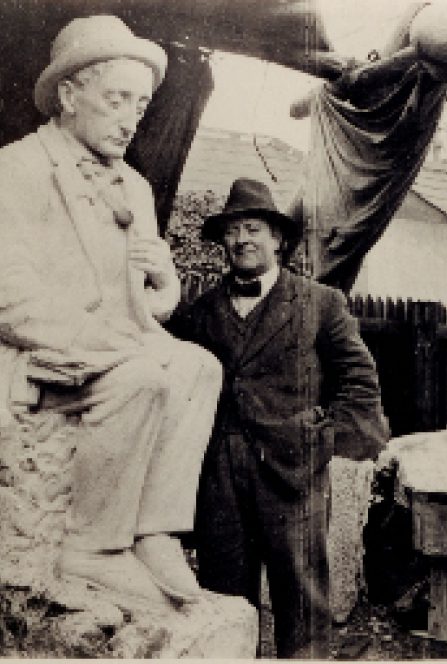 The statue was unveiled by President Eamon de Valera at Eyre Square on Easter Sunday 1935 to a crowd of about 3000 people.
Albert Power was born in Dublin in 1881. He was a pupil of distinguished Irish sculptors William Orpen, John Hughes and Oliver Sheppard. A major practitioner of Irish sculpture in the academic realist style he became leading sculptor in Ireland during the 1920s and 1930s. He is noted in particular for his
'Gaelic sympathies' and his use of uniquely Irish materials. Acclaimed for his talent as a 'nationalistic sculptor', Power was commissioned to sculpt many Gaelic leaders including Michael Collins and Eamon de Valera.
"I propose to execute a limestone portrait of the late Pádraic Ó Conaire and to erect same on the existing pedestal in Eyre Square Galway, for the sum of £350." Albert Power, 1930.
Sculptor's original sketch This early sketch by Power proposes to mount the Ó Conaire statue on the original Dunkellin pedestal. It was later decided that a loose limestone wall would be more appropriate.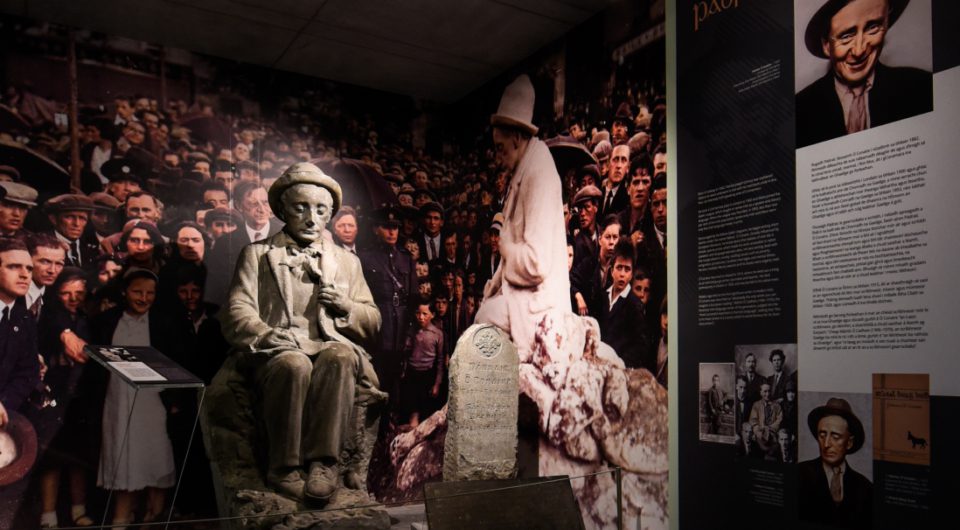 Controversy
The statue suffered many acts of vandalism for over a decade and this reached a climax in 1999 when it was decapitated. Gardai recovered the head and reattached it but the controversial decision to bring it indoors was made in 2004. It was moved from Eyre Square to City Hall before finally being transported to the Galway CityMuseum in 2006. In the museum it is protected and conserved but remains accessible to all the public.
Get the latest Galway City Museum news directly to your inbox!