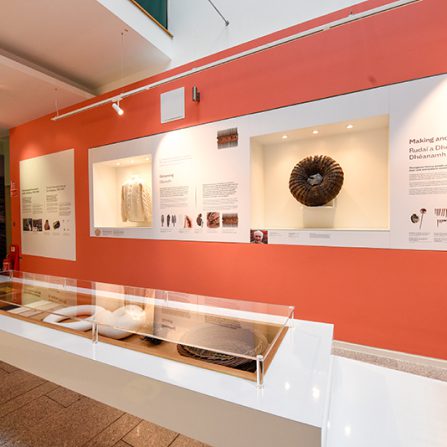 MONUMENT presented by Galway City Museum and Galway 2020 European Capital of Culture
'Our vision for the exhibition blends digital, physical and tactile experiences to tell this story in a manner that we hope will entertain, inform and delight audiences of all ages.'
– Co-curators Eithne Verling and Sybil Curley
MONUMENT is presented by Galway 2020 European Capital of Culture and Galway City Museum. With a primary focus on the stone forts of Aran, and on Dún Aonghasa in particular, this innovative exhibition investigates some of Europe's most impressive stone monuments located on some of Europe's smallest islands.
Ornately patterned 'geansaí' based on sweater at the NMI Museum of Country Life and hand-knitted by Elaine McBride, 'Fort' Sculptural basket with found stone by Joe Hogan
MONUMENT represents a collaborative process that brings together archaeology, architecture, craft and design, cultural landscapes, tangible and intangible heritage, construction, sustainability and social history.
I have visited the exhibition several times between the museum closures imposed by lockdown and find a new treasure to explore each visit. Through the use of vibrant colours and clever disguise of existing display cases, and the creation of new ones, the curators have presented beguiling, contemporary exhibition.
The Galway Museum building presents with unusual spacial challenges but the curators transformed a long arcade dominated by a suspended (life size) Galway Hooker into a really convincing exhibition space. They have displayed a multitude of art forms, graphics and artefacts in a meaningful way – a triumph in presentation terms. All elements of this exhibition enjoy carefully designed spaces to breathe and the perception (which is far from reality I'm sure!) is that it has all been effortless. There were spaces to read, touch, reflect, stand back … and rest… This is a very special exhibition.
– Hilary Morley (editor MAKING.ie)
Ritual Vessel by Cóilín Ó Dubhghaill, Currach by Patrick Flaherty and Knitted throw by Tarlach & Áine de Blácam of Inis Meain Knitting Co.
The exhibition features specially commissioned craft pieces by some of Ireland's most respected makers. They include textile artist Áine Ní Chonghaile from Inis Meáin Knitting Co., glass artist Róisín De Buitléar; silversmith Cóilín Ó Dubhghaill; ceramicist Katherine West; basket-maker Joe Hogan; knitter Elaine McBride; graphic artist Maeve Clancy; woodturner Alan Meredith; currach-builder Patrick Flaherty, designer Sarah Joyce and film-maker Colm Hogan.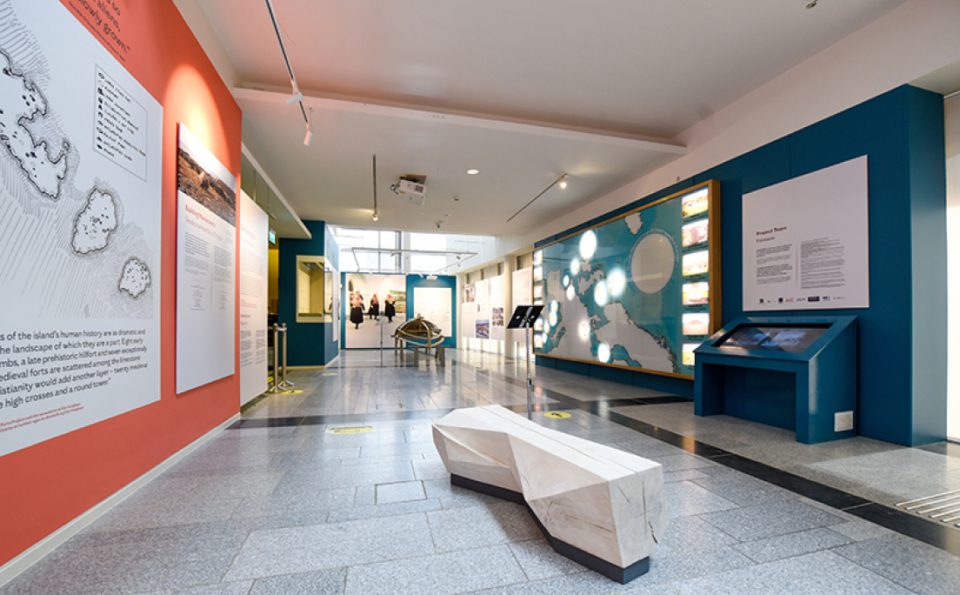 Residual Geometry" fraxinus (ii): Wooden bench by Alan Meredith in the display at Galway City Museum (photo ©Galway City Museum)
The National Museum of Ireland have installed a selection of artefacts found during excavations at Dún Aonghasa, Inis Mór, into the MONUMENT exhibition at Galway City Museum. The archaeological excavations of the fort at Dún Aonghasa were undertaken between 1992 and 1995.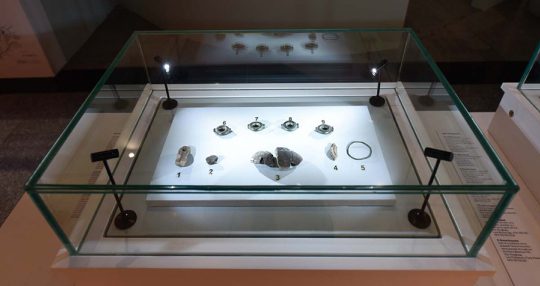 Museum artefacts from Dún Aonghasa courtesy of the National Museum of Ireland (photo ©Galway City Museum)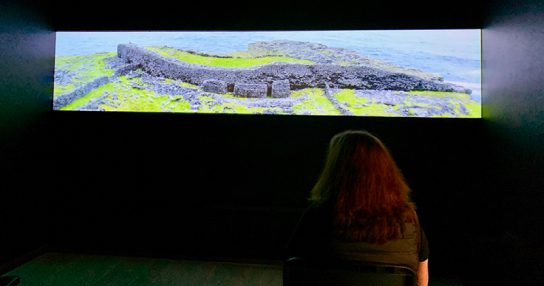 Specially commissioned film by Colm Hogan
Dún Aonghasa is one of the best-known archaeological monuments in the west of Ireland and stands at the edge of Inis Mór, Aran Islands, Co. Galway. It has been a National Monument in state care since the late nineteenth century. The fort proved to have a long history, beginning in the Late Bronze Age around 1000 BC and continuing into the early medieval period around 1000 AD. During the excavations the remains of prehistoric and early medieval houses were uncovered, as were human remains and a bronze casting workshop.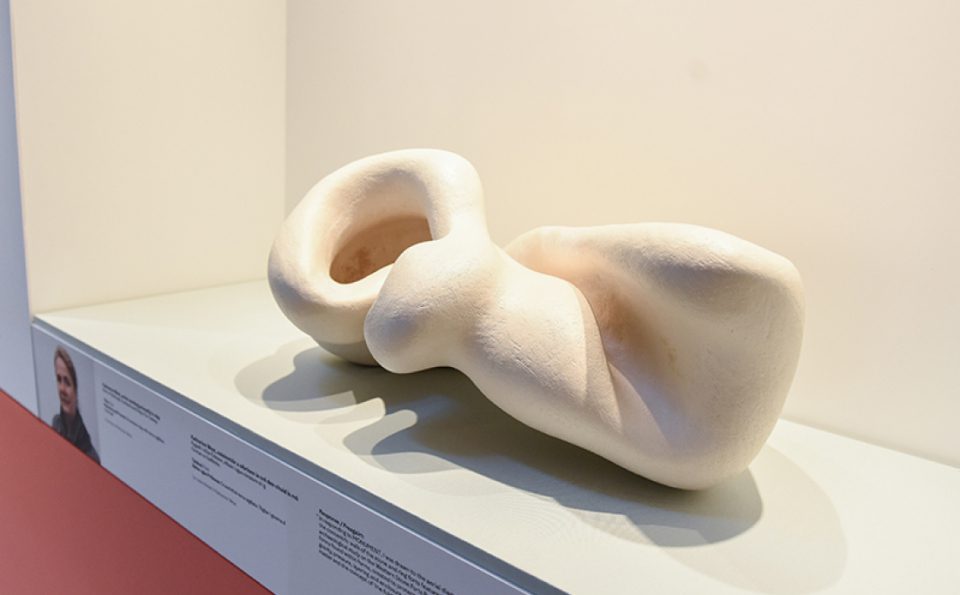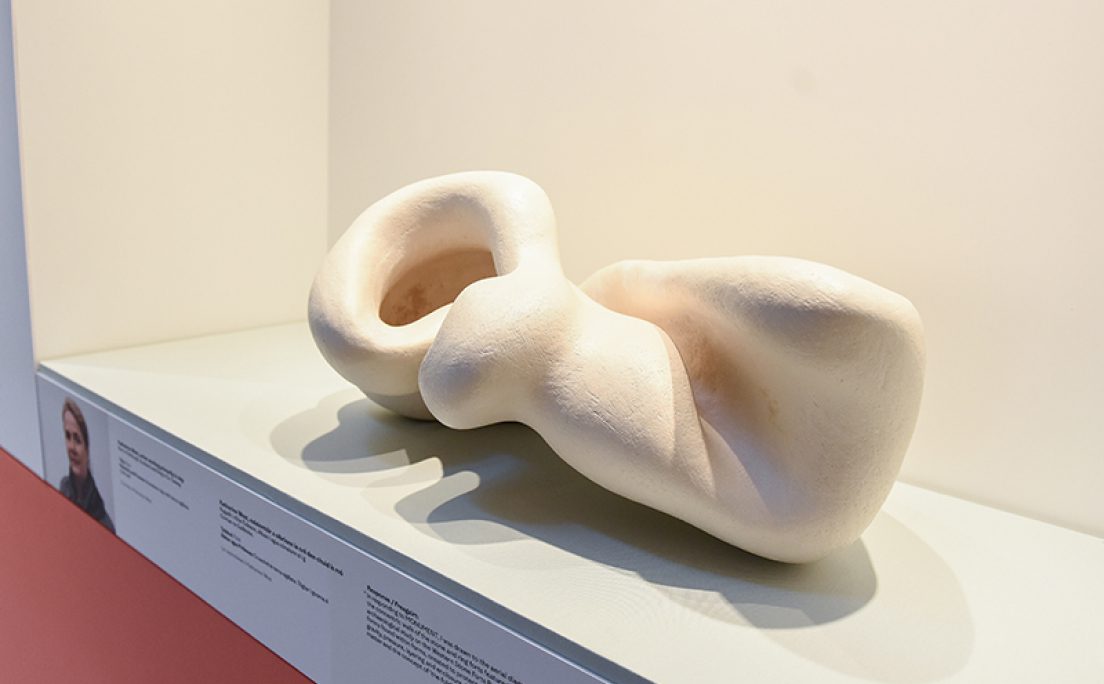 'Fold' Ceramic coil-built ceramic sculpture by Katharine West photo ©Galway City Museum
Get the latest Galway City Museum news directly to your inbox!