An Islands' Retrospective

Derrick Hawker was born in 1936 in Seaton, Devonshire, in the UK. From the mid-sixties until 1979, he held senior posts in Colleges of Art & Design, and was nationally involved in encouraging and developing visual and vocational education.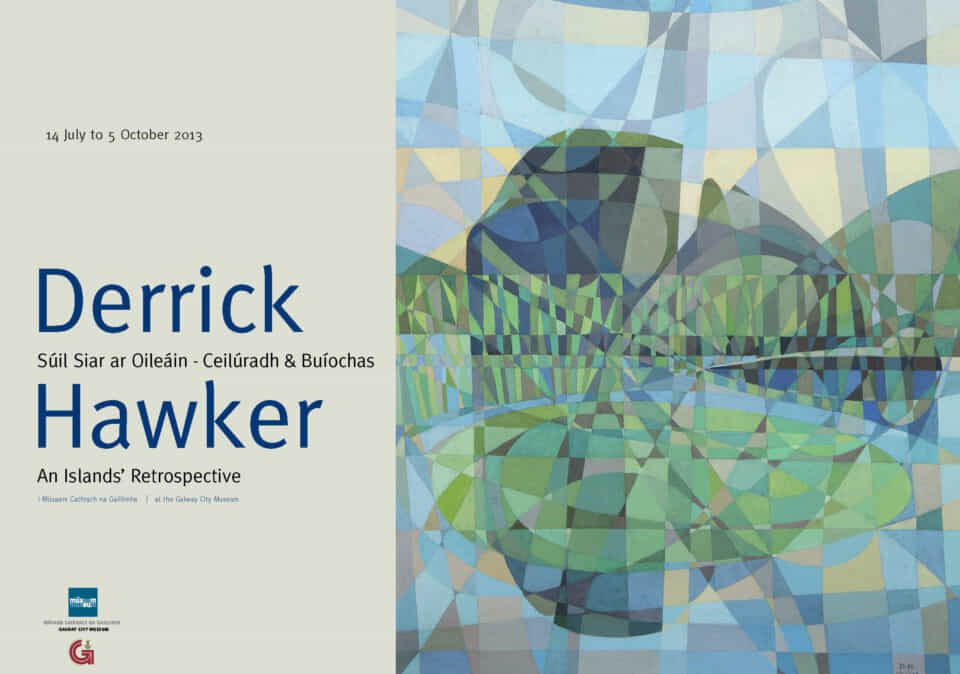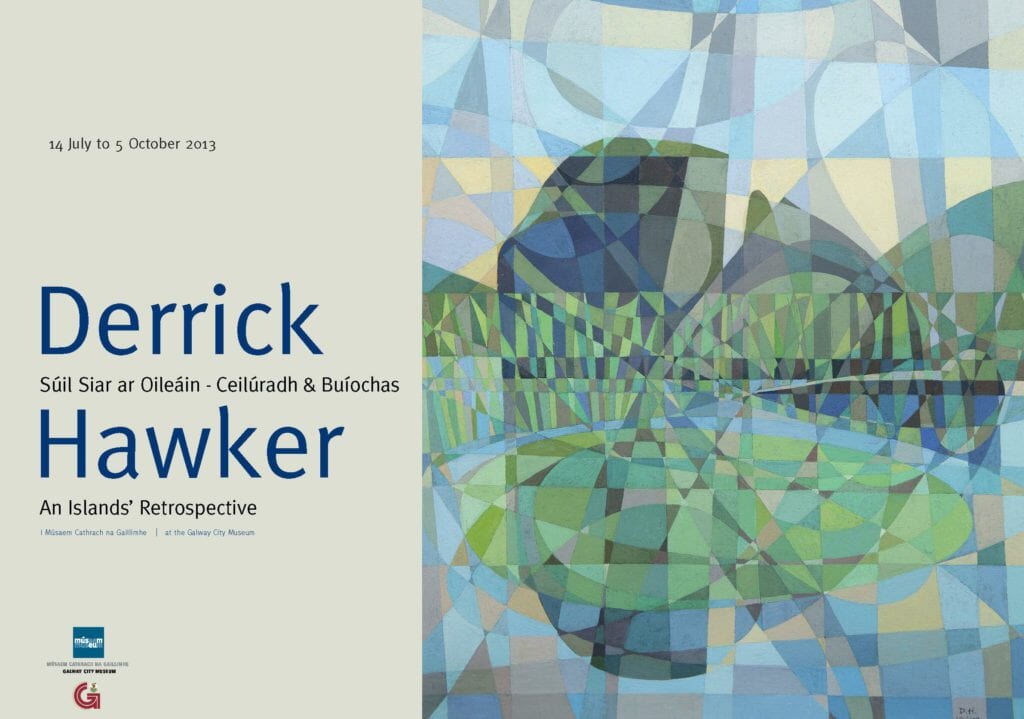 He had his first One-Man exhibition in London in 1963 and his work has since been shown in further One-Man, Arts Council and Group exhibitions in London, Shropshire, Belfast, Dublin, Galway and Lorient. His work is in public and private collections in Ireland, the U.K., Europe and the U.S.A.
Within months of "landing accidentally" on the islands of Lettermore, Gorumna and Lettermullen, in 1965, and returning regularly, particularly with the generous welcome he received from the islanders – including an "instruction" in 1970 to build his own house – he knew the islands were his spiritual home, especially with his long-fostered Cornish/Celtic connections. So, in 1979, he took a break from education and, for five years, he lived and worked in his home and studio on Gorumna Island, Lettermore, Co. Galway.
Since his first visit, he had been deeply impressed by the in-born survival culture of skills and crafts among the islanders, which had been passed down and developed over centuries, from boat and house building, to cattle rearing and gardening in very limited soil and pasture conditions, as well as fishing, weaving, knitting, sewing, basketry and music. Conscious of the example and the opportunity to work on the crafts of his own work, in his painting and with some stone carving, in a move to serve the community, and having designed his own house, using and enlarging measurements and drawings of old traditional homes, he undertook the design for the rebuilding and refurbishment of the local historic hotel, as well as designing a number of new houses for friends and neighbours.
Only with the friendly advice and help from neighbours, regarding planting and growing, collecting turf and picking the 'fruits of the earth and the sea' did he and his family survive those years.
In the early eighties he proposed that the Comharchumann na nOilean (the Co-op of the Isles) should establish Peigín as a Crafts Cooperative, to produce exclusive, high quality pottery, knitwear, jewellery and furniture. It's main purpose was to provide employment based on the natural skills of the islanders, rather than the more 'distant' needs of industry and manufacturing. After he had carried out market research and produced initial designs, twenty five plus young and middle-age people were employed, with a pottery manager, and were involved in the whole design development, production and marketing process, with considerable commercial success.
At this stage, Derrick Hawker's painting was much concerned with the people and the unique landscape features of the Islands, and he often merged a number of landscape images together in one painting, in the way one does when looking around, or during a walk. Much as a poet, with access to numerous words, refines them into poetry, or a musician improvises on themes, so he did, with montages of characteristic images, figures, lights and colours.
After he returned to England in 1984, to take up the post of Principal of the Lincolnshire College of Art & Design, following a brief period of Programme Research and Development at the National College of Art & Design in Dublin, it was to be a long time before he could get back to full-time painting. However, following health problems, he retired from his post in the late 'nineties and returned to his painting in Gorumna in 2001. Having learned some tough lessons in the '80s, he declared that he wanted to paint ('quietly') for ten years, without exhibiting. Interrupted by another spell of ill-health, the ten years extended to twelve. During this period he has produced his Ballynakill Lake, Gorumna series, which is now exhibited for the first time.
Progressively, the series addressed what was always the biggest challenge for him; the constantly moving light across this undulating and rock-strewn area of Connemara. The lake became the mirror of the Islands' history. The Split Rocks (Ice Age erratics) became symbols of the strength of survival among the Islanders. After a few years, the demanding crafted process of dividing and creating, as moving light divides and changes, became an intriguing and consuming task, providing a two-stage opportunity for viewers to see a figurative image from a distance and, as with walking in a landscape, to explore multiple up-close details, patterns and shapes.
Hence, the twelve years…
Get the latest Galway City Museum news directly to your inbox!