KEEPSAKES | CUIMHNEACHÁIN
Over the past year Galway City Museum, working with facilitator, Georgina Edziwa, have been engaging with 13 individuals seeking asylum and refuge in Ireland, and residing in Galway. The aim of the project was to document the migrant's journey by exploring their stories through the keepsakes they brought with them from their homeland or through the objects that helped them feel at home in Ireland.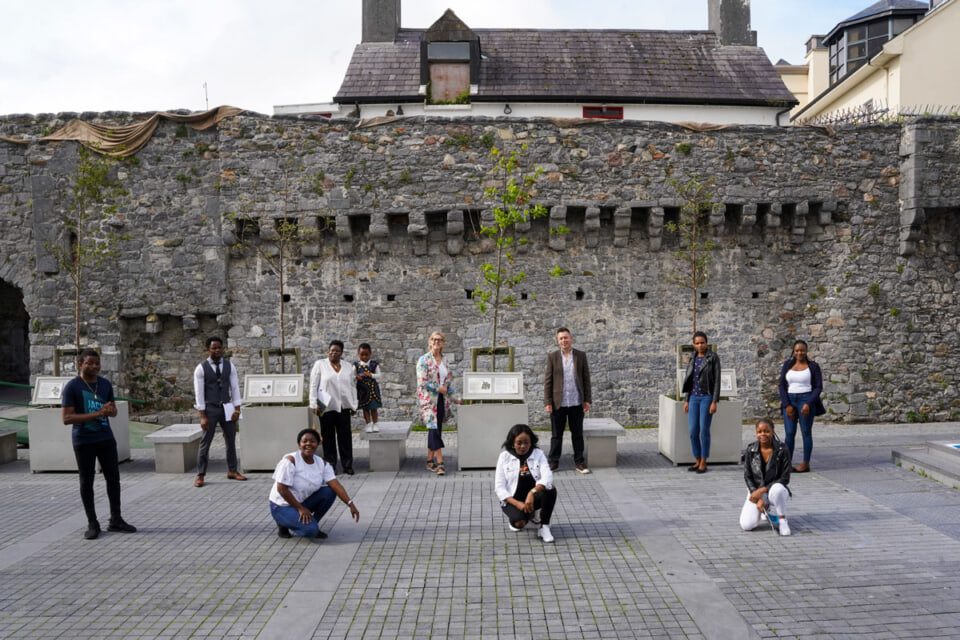 Quotes from the project leaders
"The team at the Galway City Museum are delighted to be part of this important project – KEEPSAKES. We see it as a unique opportunity to be curators of new histories that tell of personal stories, challenging journeys and new narratives. All of our participants have generously shared a part of their recent history with us through the medium of their keepsakes, to give us an insight the lives they left behind and what they carried with them to Galway.
Galway is the nation's most multicultural city with a population of just under twenty per cent from other countries originally bringing with them rich experiences, traditions, beliefs, skills and understanding. KEEPSAKES provides a glimpse into this cultural diversity and introduces us to a group of new friends and neighbours whose story is now part of our collective story.
Objects are central to museums. The world over, museums collect and preserve objects with a view to telling the stories of nations, communities and individuals, or of particular eras, movements and events. Such objects are powerful touchstones to our collective past."
Eithne Verling
Director, Galway City Museum
______________________
"Objects are central to museums. The world over, museums collect and preserve objects with a view to telling the stories of nations, communities and individuals, or of particular eras, movements and events. Such objects are powerful touchstones to our collective past.
At an individual rather than an institutional level, keepsakes are personal objects that evoke the memory of a particular person, place or occasion. Keepsakes – mementoes, souvenirs, heirlooms or tokens – are physical connections to a remembered past. Typically, though not always, they have little monetary or aesthetic value. Often, too, they are not valued for their usefulness. Instead, their value is measured in terms of their power to evoke deliberate or involuntary memories and a range of emotions. For migrants, asylum seekers and refugees, who leave their homeland to start anew on foreign soil, keepsakes can become even more potent. Such keepsakes help the custodian to remain connected to their home and past. As a nation of migrants ourselves it is something to which we can relate.
Through the KEEPSAKES project, supported by the Communities Integration Fund 2020, Galway City Museum has reached out to migrants, asylum seekers and refugees based in Galway in order to explore their stories through the keepsakes they hold dear. The range of objects includes photographs, wraparounds, a checked shirt, a patterned skirt, and a cabin bag – ordinary objects endowed with extraordinary meanings."
Brendan McGowan
Education and Outreach Officer, Galway City Museum
______________________
"It is interesting how different objects and materials have different meanings depending on someone's culture. The KEEPSAKES project allowed me to explore, learn, offer support, and reconnect individuals with what they treasure the most. Different skills were learned and practised as the role was varied, including discussing objects that offer different sentimental values to other people. Our hearts carry special memories, and souvenirs play a part in the integration strategy. Such incredible stories connect the migrants who are miles away from their beloved ones and beloved homelands. The stories encompassed all the emotions, but above all, they are all beautiful memories to cherish. The participant's positivity and willingness to engage made it possible for the project to be a success.
The project allowed cultural exchange in the migrant community, as I worked with people from a vast range of backgrounds. Everybody has an untold story to share, and to be given the opportunity to share gives a sense of relief and make someone feel less alone. The project taught me that we all hold memories in different ways; the project enlightened me to appreciate small things in life, not to be quick to judge, to respect people's actions at a particular time, and to give an ear to someone as they might wish to share what their hearts hold.
Irrespective of the pandemic, I managed to hold interviews, some face-to-face and others using Microsoft teams, which allowed me to see the impact the keepsake stories had on the participants. I discovered the reconnection level migrants had with their homeland; therefore, some of the experiences encouraged them to be the stronger migrants today. I was privileged to be part of the project as a migrant too, and now l believe that we can be far away from our home countries, but part of us belong there. The project allowed me to appreciate each and everyone's culture, ignited a spark and reconnected me with my continent, Africa.
The project unfolded several facets regarding the importance of museums, as someone without much museum related background. The facilitating task was made possible by the continuous support and guidance from the Galway City Museum team. It was such a great experience working with people from diverse backgrounds, listening, and walking in their shoes, providing support when the conversation became more emotional. I learnt a lot about the importance of museums in our communities; they are the agents of cultural exchange, unity creation and empower the community.
We all value different things and they keep us connected. The power of sharing a story through a keepsake is incredible. The stories sustain resilience, create inner peace, build hope, improve the migrant's physical health, make sense of the past and present, and improve the quality of life of the migrants. Getting the chance to talk about something important to you creates change and allows a connection with humankind around you. The stories were fascinating. People leave footprints in our hearts. The project was a mixed bag of feelings and emotions."
Georgina Edziwa
Project Facilitator
Get the latest Galway City Museum news directly to your inbox!