On 4 December 1920, Joe Howley of Oranmore, Co. Galway – a 25-year-old veteran of the Easter Rising and Commandant of the Mid-Galway Brigade of the Irish Republican Army (IRA) – travelled by train to Dublin, apparently on an official visit to meet the IRA leadership. Shortly after arriving at Broadstone Station, Howley was shot and mortally wounded by Crown forces.
Michael Joseph Howley was born at Oranmore on 20 November 1895, the son of Michael Howley, a shopkeeper, and his wife, Mary. She was the daughter of Charles Rabbitt, who had a shop and public-house on Forster Street in Galway – Murty Rabbitt's today. His father died shortly after his third birthday, and his mother subsequently married William Keane, a Clare-born sergeant in the Royal Irish Constabulary (RIC) then stationed at Breaffy, Co. Mayo. Following his marriage, Keane retired from the force and he and his wife ran Keane's shop and public house in Oranmore. From this marriage, Howley gained four stepsiblings, Charles Christopher, William Francis, Margaret Mary (Madge), and Delia Josephine.
Known as Joe, Howley was educated at Oranmore NS, run by the Presentation Sisters, and afterwards at St Joseph's – 'the Bish' – in Galway. He helped out with the family business and farm and, his mother recalled that, he "made a good lot" from "trading with cattle & sheep". While in his late teens, he joined the Irish Volunteers, rising to the rank of Captain of the Oranmore Volunteers, and was sworn into the Irish Republican Brotherhood (IRB), a secret oath-bound society committed to securing Irish independence by physical force.
During the Easter Rising of 1916, Howley co-led a force of 106 volunteers in an attack on the Oranmore RIC barracks. In the aftermath, he was arrested and sentenced to five years penal servitude – imprisonment with hard labour – with two years remitted. He was deported to England, serving time served in Dartmoor and Lewes jails before being released under the general amnesty of June 1917. Following his return to Oranmore, Howley again became active in the volunteer movement and, in autumn 1920, was appointed Commandant of the IRA's Mid-Galway Brigade.
Merlin Park Ambush, 21 August 1920
On 21 August 1920, the Castlegar Volunteers ambushed an RIC patrol from Oranmore at Merlin Park, on the outskirts of Galway, killing Constable Martin Foley. That night, the RIC ran amok in Oranmore and targeted the Keanes, believing – incorrectly – that Howley was involved in the ambush. Armed men surrounded the Keane home and shouted: "Where is Howley?" Let the coward come out now". They then proceeded to burn down the family home and business, along with the adjacent stables and store houses. The cost of the damage was estimated at £5,000. In the aftermath, Howley was a marked man and was forced to go 'on the run'. It was a particularly tough time for Howley's mother, Mrs Keane, who had been widowed for a second time earlier that year and was left to pick up the pieces, while raising her four teenage children.
Broadstone Station, 4 December 1920
On 4 December 1920, Howley took the Galway to Dublin train, which at that time terminated at Broadstone Station on the north side of the city. He had been summoned by the IRA leadership and was due to discuss the procurement of arms and explosives. He travelled with P. J. Mullins, a medical student from Ballyhaunis, Co. Mayo, who was acting as Howley's temporary adjutant. As the visit took place less than a fortnight after 'Bloody Sunday', tensions were high in the capital, with Crown forces scouring the city for republicans. Apparently, Howley was approached by a relative named Leahy on the platform, who shook his hand and was warned him of trouble ahead (Joe Togher, BMH.WS1729). As he left the station, Howley was challenged by two men and a scuffle ensued, during which he was shot and mortally wounded. The shooters were immediately picked up by car and disappeared. Father Malachy Headley – a Belfast-born Dominican priest, who was sympathetic to republicans – was called and attended the injured Howley. Soon afterwards, an armoured car arrived at the scene and Howley was taken to King George V Military Hospital (now St Bricin's Military Hospital). He died several hours later, sometime around midnight, following an operation. Afterwards, Mrs Keane travelled to Dublin to identify her sons' body.
On the evening of 6 December, Howley's remains were brought to St Joseph's Church on Berkley Street, where a mass was offered for the repose of his soul. The following day, his coffin was taken to Broadstone Station and returned to Oranmore on the lunchtime train. When the train arrived at Oranmore it was met by a large force of military and police with an armoured car. A military officer removed the republican colours from the coffin. The funeral mass took place at St Mary's Church (now Oranmore Library, opposite Keane's Bar), after which he was buried in the adjoining church grounds.
Military Inquiry
In the immediate aftermath of the shooting, a military court of inquiry took place behind closed doors. One of the shooters stated: "On December 4, 1920, at about 6.25pm, I was on patrol duty watching for 'wanted' men. He was one of the 'wanted' men whom I knew was on the run in Galway. I knew Howley by repute as being a leading member of the I.R.A. and a desperate character. There were a great many people coming out of the railway station who had arrived by the 6.20pm train from Galway. I followed Howley, who was accompanied by another man , intending to arrest him, as it was my duty to do so as soon as he got away from the crowd. There was another man with me. When Howley was about seventy yards outside the inner gate going towards Capel-street, I and the other man with me caught up with Howley. I placed my left hand on his shoulder, and told him to put up his hands. Howley wrenched himself free and put his hand in his pocket at the same time, diving to the left away from me. Believing that Howley was going to fire, I fired at him twice. The man with me also fired. Howley fell" (Connacht Tribune, 1 January 1921). A second witness, who was also on duty, corroborated his evidence. In consequence, the military court found that the shooting was justified, as Howley had – allegedly – attempted to evade arrest.
Two years later, Mullins gave a very different account of that incident: "We arrived at Broadstone shortly after dusk. As we were crossing the bridge outside the Broadstone I thought I felt the presence of persons behind us. I half glanced over my shoulder and I saw the figures of four or five men behind in a half circle, and saw one figure at Howley's right shoulder jam a gun into Howley's head. Simultaneously I heard shots". Mullins ran for cover and when he looked back he saw Howley "lying on the ground, a girl or woman kneeling beside him raising his head and putting a beads into his hands". By this account, there was no attempt made to arrest Howley.
The Igoe Gang & Sergeant James Healy
The general belief was that Howley was a victim of the so-called 'Igoe Gang' (also known as 'Tudor's Tigers'), a special police intelligence unit under the command of Head Constable Eugene Igoe from Attymass, Co, Mayo, who had served in Co. Galway. Based in Dublin, its members were drawn from the provinces and patrolled the streets of the capital looking for 'wanted' men.
It was believed locally that RIC Sergeant James Healy, a Sligo man stationed at Oranmore, had followed Howley to Dublin and identified him to his killers. There was certainly no love lost between Sergeant Healy and local republicans. He had fought against Howley's men during the Easter Rising (for which he was awarded a Constabulary Medal for gallantry) and was one of the five RIC men ambushed at Merlin Park. Soon after Howley's death, Healy was promoted to district inspector and transferred to Dunmore, Co. Galway, where the local IRA made several attempts to assassinate him because of his alleged connection to Howley's death (Thomas Mannion, BMH.WS1408).
Joseph Howley Memorial, 1947
A memorial statue of Joe Howley was erected at Oranmore Cross by his former comrades, and the Fianna Fáil Ceann Comhairle Frank Fahy delivered the address at the unveiling on 21 December 1947. Born between Loughrea and Kilchreest, Fahy was a founding member of the Irish Volunteers and served as Captain of C Company of the 1st Dublin Battalion, which occupied the Four Courts during the Easter Rising. He said "this monument will serve as a reminder to the rising generation of the sacrifices made in order that the nation might live". The English inscription on the plinth of the statue reads: "Commdt Joseph Howley. He led his Volunteers in Easter Week 1916 & was murdered by English agents at the Broadstone Dublin 1920. Erected in 1947 by his old comrades of 1916–1920".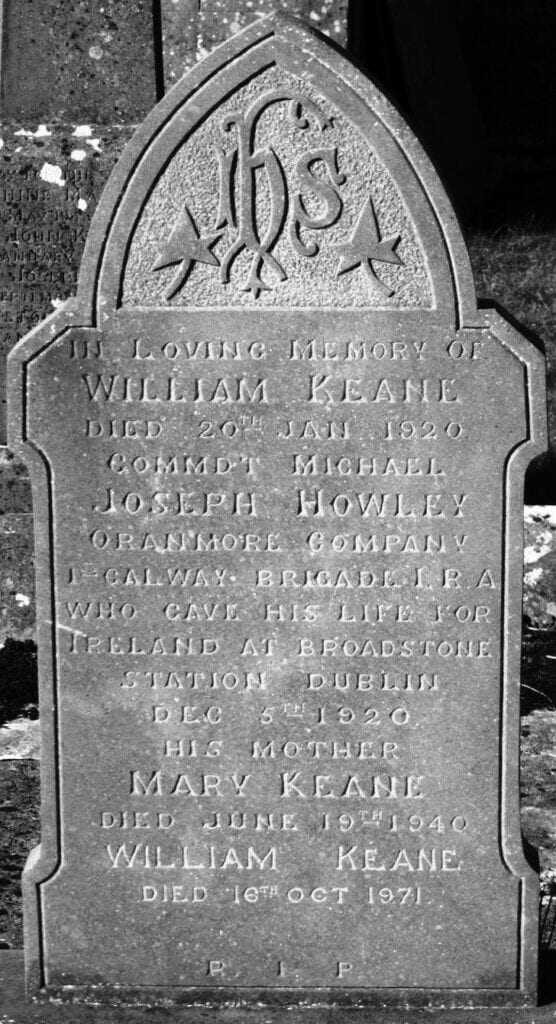 This post is part of a series researched and written by Brendan McGowan, Education Officer at Galway City Museum, to mark the Decade of Centenaries. Thanks to Ernie Brack and Damien Burke of GK Media   for their assistance. If you have any information, stories or photographs relating to the War of Independence in Galway, please contact Brendan by email at museum@galwaycity.ie
South East Galway Archaeological & Historical Society
————————————————————————–
Register of Births, Deaths & Marriages; Census of Ireland, 1901 & 1911; Bureau of Military History, Witness Statements; Military Court of Inquiry (Michael Joseph Howley); Military Service Pension Application (Michael Joseph Howley), W1D402; Testimony of Thomas Nolan (1921) Evidence on Conditions in Ireland, pp. 852-853; Cormac Ó Comhraí (2013) Revolution in Connacht; 'Broadstone Tragedy. The Official Account', Irish Independent, 7 December 1920; 'Secret Inquiry into the death of Mr. Howley', Connacht Tribune, 11 Dec 1920; 'Shootings in Dublin. Galway Man's Death', Kilkenny People, 11 Dec 1920; 'Resisting Arrest. Military Verdict on the Broadstone Shooting', Freeman's Journal, 22 Dec 1920; 'Broadstone Shooting: Verdict on Mr. Joseph Howley's Death', Connacht Tribune, 1 Jan 1921; 'Oranmore Hero Remembered', Connacht Tribune, 3 January 1948.