Today, 16 July, is the feast day of St MacDara, a little known sixth-century saint, who has long been revered on the western shores of Co. Galway. He is the patron saint of west Connacht fishermen, of the parish of Moyrus in Connemara and, apparently, of new potatoes, which come in July. To this day, on Féile Mhic Dara (St MacDara's feast day), pilgrims make their way by sea to a small, uninhabited island called Oileán Mhic Dara (St MacDara's Island), off Mace Head in Connemara, in honour of the saint.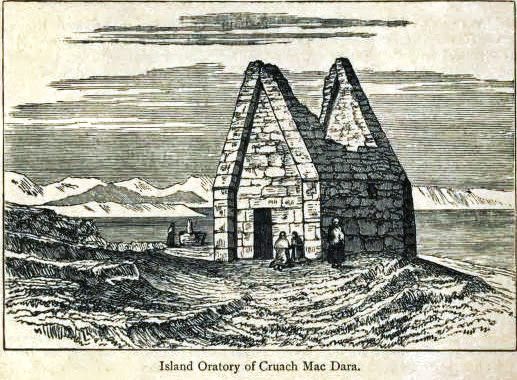 Situated 2.5kms off the west coast of Galway, St MacDara's Island comprises about sixty acres of granite rock, topped with grass and fern. A small stone church on the eastern shore of the island stands on the site of a hermitage or monastery founded by or associated with St MacDara. Built of very large stones, the rectangular church has a high-pitched roof; its most striking feature "is the continuation of the antae up to the apex of the gable, where they were surmounted by carved gable finials. It is suggested that the antae recall the appearance of elbow crucks in a timber-built church, with the finials mimicking the crossing of the crucks or roof beams".  The iconic structure featured on Irish postage stamps throughout the 1980s.
The earliest detailed account of the island comes from the Galway aristocrat and historian, Ruaidhrí Ó Flaithbhearthaigh or Roderic O'Flaherty, who, in 1684, wrote: "Cruagh mhic Dara, a small high island and harbour for ships. The island is an inviolable sanctuary, dedicated to MacDara, a miraculous, saint; whose chappell is within it, where his statue of wood for many ages stood, till Malachias Queleus , the Archbishop of Tuam (1631-1645), caused it to be buryed under ground, for speciall weighty reasons". It has been suggested, by Tim Robinson, that the statue may have been hidden for safe-keeping in the early years of the Irish Confederate Wars (1641 to 1653), also called the Eleven Years' War.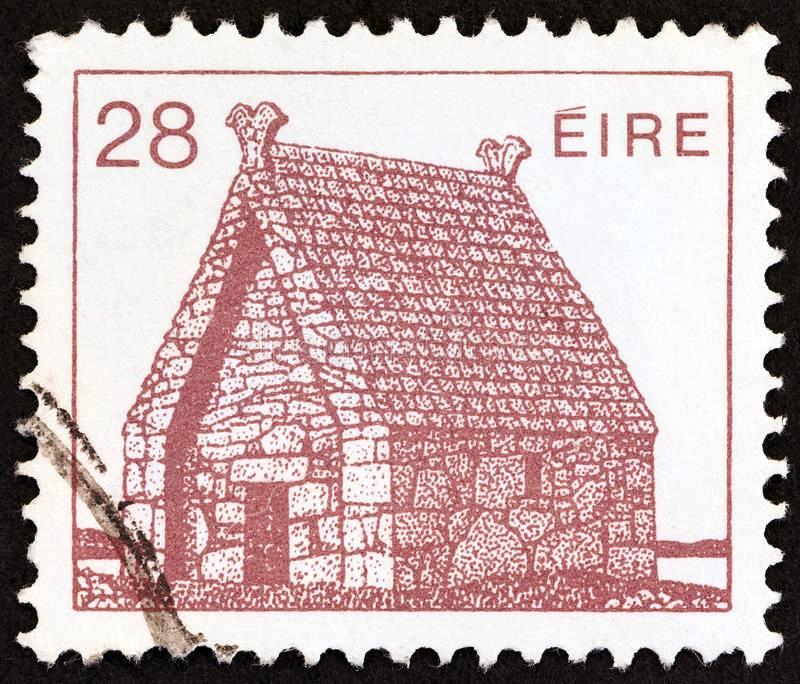 O'Flaherty also noted that when boats passed between the sacred island and Mace Head boatmen dipped their sails three times as a mark of respect to the saint, and that those who failed to observe the custom often paid a heavy price. He wrote "a certain captain of the garrision of Galway, Anno 1672, passing this way, and neglecting that custome, was so tossed with sea and storme, that he vowed he would never pass there again, without paying his obeisance to the saint but he never turned home, till he was cast away by a shipwreck soon after. Few years after, one Gill, a fisherman of Galway, who would not strike saile, in contempt of the saint, went not a mile beyond the road, when, sitting on the pup of the boat, the mast, by contrary blast of wind, broke, and struck him on the pate dead, the day being fair weather both before and after." Historian James Hardiman recorded that that this custom was still being practiced in the 1840s and Charles R. Browne, a Dublin GP and anthropologist, wrote of its observance around 1900. Hardiman also noted that MacDara was a common first name in Connemara – it is still found today – and that fishermen named their boats after the saint: "To sail in the "Mac Dara," is considered a guarantee for personal safety."
Little is known about the life of the St MacDara. According to lore, his first name was Sionnach, which is the Irish word for fox. Traditionally, Connacht fishermen had a strange phobia of foxes, which were believed to bring ill-luck, and so the saint was referred to as St MacDara, son of Dara, rather than St Sionnach. Modern scholars, however, say that the name is not pronounced Sionnach, but Síonach or Síothnanch, which would associate the saint with síon, the Irish word for stormy weather.
Taken on 16 July 1943, this series of photographs – from the 'Fáilte Ireland Tourism Photographic Collection' of Dublin City Libraries and Archive – shows pilgrims travelling to and from MacDara's Island and engaged in various prayers and rituals.
See where MacDara's Island is located on the MAP
---
Sources
Charles R. Browne (1900-1902) 'The Ethnography of Carna and Mweenish, in the Parish of Moyruss, Connemara,' Proceedings of the Royal Irish Academy (1889-1901), 1900 – 1902, Vol. 6, pp. 503-534
Francis Joseph Bigger  (1896) 'Cruach Mac Dara, off the Coast of Connamara: With a Notice of Its Church, Crosses, and Antiquities,' The Journal of the Royal Society of Antiquaries of Ireland , Fifth Series, Vol. 6, No. 2, pp. 101-112
Peter Harbison (1992) Guide to the National and Historic Monuments of Ireland
James Hardiman (ed.)(1846) A Chorographical Description of West or H-Iar Connaught, written A.D. 1684, by Roderic O'Flaherty
Prof. T. Johnson (1893) 'A Visit to Roundstone, Co. Galway,' The Irish Naturalist, Vol. 2, No. 12, pp. 313-316.
Rev. John Canon O'Hanlon (1873) Lives of the Irish Saints, Vol. 9, Part 99
Andy O'Halpin and Conor Newman (eds)(2006) Ireland: An Oxford Archaeological Guide to Sites from Earliest Times to AD 1600
Tim Robinson (2011) Connemara: A little Gaelic Kingdom