One hundred years ago today, on 14 March 1921, Thomas Whelan (22) of Clifden, Co. Galway was hanged in Dublin's Mountjoy gaol. Whelan had been convicted of the killing of Captain Geoffrey Thomas Baggallay on 'Bloody Sunday', 21 November 1920, despite the fact that eye-witnesses testified that he had been a mass at the time of the shooting.
Born on 15 October 1898 at Gortrummagh, on the 'Sky Road', west of Clifden, Thomas was son of John Whelan and his wife, Bridget Price.  He moved to Dublin in 1918 to work in the locomotive department of the Midland and Great Western Railway at Broadstone Station, and served in the A Company, 3rd Battalion, Dublin Brigade of the Irish Volunteers (Irish Republican Army).
In the aftermath of 'Bloody Sunday', Whelan was arrested at his Ringsend lodgings in connection with the killing of Captain Baggallay at 119 Lower Baggot Street. In February 1921, Whelan went on trial, along with James Boyce, James McNamara and Michael Tobin. Whelan strongly protested his innocence and four witnesses placed him at Ringsend Church when the shooting took place. Boyce, Tobin and McNamara were eventually acquitted, while Whelan was sentenced to death.
On 16 March, at 6am, Whelan was hanged along with Patrick 'Paddy' Moran (33) from Crossna, Co. Roscommon. Four more men would be hanged that day. Shortly before they were executed, Whelan and Moran posed together for photographs. Whelan also posed, smiling, for photographs with his jailers. Despite the early hour, tens of thousands of people gathered outside the gates of the prison, reciting the rosary.
Two days later, in an act of vengeance, the IRA's newly-formed West Connemara flying column attacked four RIC constables on patrol in Whelan's native Clifden, killing one and fatally wounding another – Charles Reynolds (33) from Roscommon and Thomas Sweeney (24) from Aughrim, Co. Galway. When reinforcements of police and military arrived from Galway, they took revenge on the town, firing on the streets and torching buildings. Nine buildings were burned, including a hotel, a restaurant and three shops. The son of the hotel owner, an ex-soldier named John J. McDonnell, was shot dead by Crown forces, supposedly while attempting to escape.
Initially buried at Mountjoy, Whelan's remains were exhumed in 2001 and reinterred at Glasnevin Cemetery, Dublin, following a full state funeral.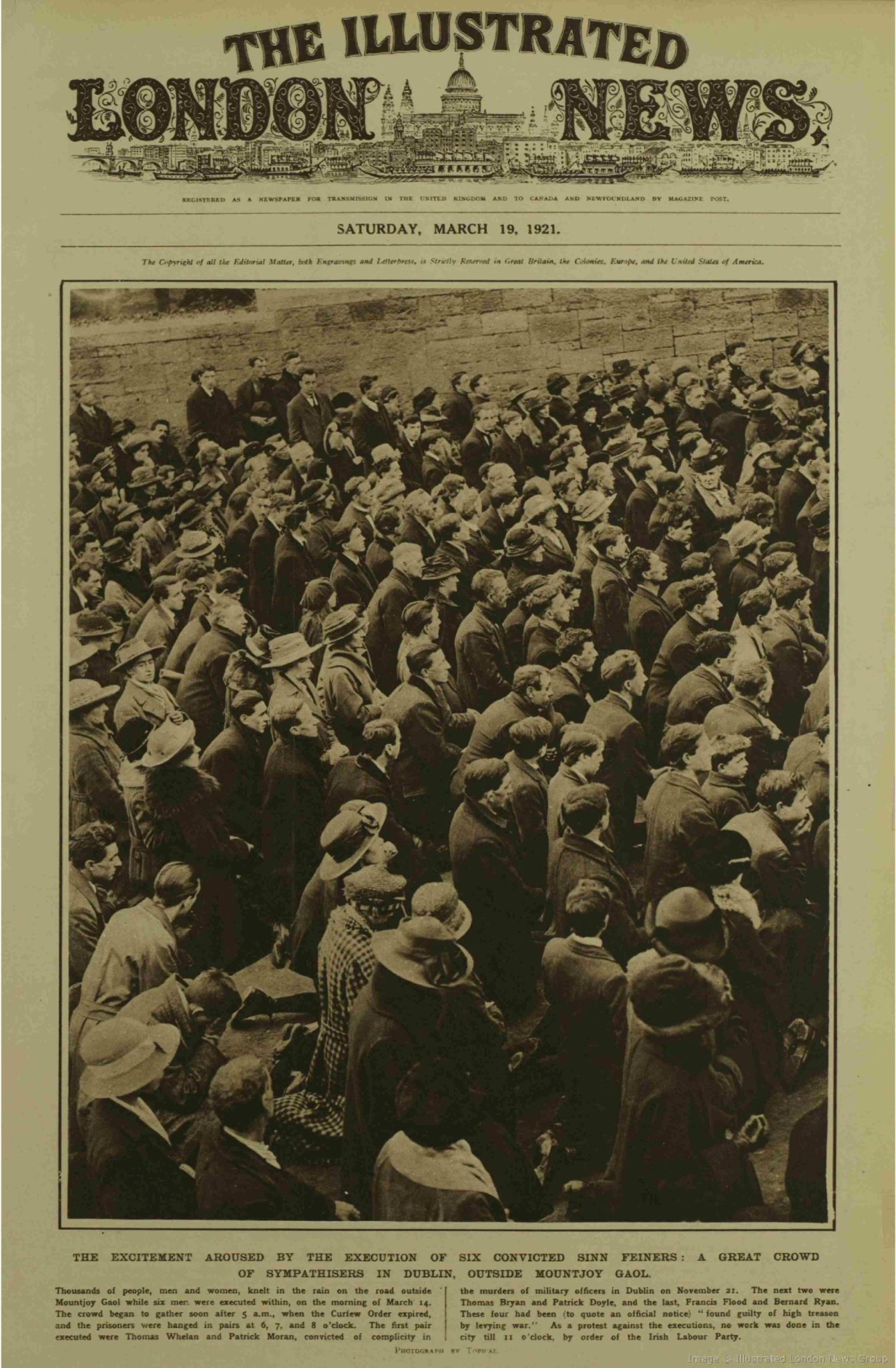 ---
Sources
Register of Births, Deaths & Marriages; William Henry (2012) Blood for Blood: The Black & Tan War in Galway; Eunan O'Halpin & Daithí Ó Corráin (2020) The Dead of the Irish Revolution; Ernie O'Malley (2002) On Another Man's Wound; Conor McNamara (2018) War and Revolution in the West of Ireland: Galway, 1913-22