On the night of 14 November 1920, a century ago tomorrow, a popular young curate named Michael Griffin was lured from his home at Montpellier Terrace on Sea Road and vanished without trace. His disappearance caused widespread consternation among the clergy and local population as they attempted to piece together his last movements in the hope of finding him alive.
Michael Joseph Griffin was born on 18 September 1892 at Gurteen – midway between Athenry and Mountbellew – in east county Galway. His father, Thomas George Griffin, was a farmer and formidable nationalist figure. Known as T. G., he was founding member of the Gurteen branch of the Land League and spent several months in Galway jail during the Land War for "inciting others wrongfully and without legal authority … to abstain from paying rent". He later served as Chairman of Galway County Council and Loughrea District Council and was a director of the Loughrea and Attymon Railway. His mother, Mary Kyne, hailed from Clonbur in Joyce Country.
Michael was educated at Clonkeen Kerril national school and St. Joseph's College, Garbally, Ballinasloe, before entering St Patrick's College, Maynooth in 1910. He was an average clerical student, but while in Maynooth developed keen interests in photography and the Irish language.
Ordained in April 1917, Fr Griffin was first appointed curate in the parish of Ennistymon, Co. Clare. In June 1918, he was transferred to Galway city and the extensive parish of Rahoon, which extended from the west bank of the River Corrib westwards to Furbo and northwards to Corcullen. He resided at the curate's presbytery at 2 Montpellier Terrace, along with the senior curate, Fr John O'Meehan. As part of his duties, Fr Griffin said mass and heard confessions at Barna and Furbo each week, and visited the local schools. He was responsible for the western, predominantly Irish-speaking portion of the parish, which gave him the opportunity to use and improve his language skills – he was also active in the local Gaelic League.
In the general election of December 1918, Fr Griffin openly supported Pádraig Ó Máille – the Sinn Féin candidate for the Galway-Connemara constituency – but he was, in general, outwardly reserved about his political views. In private, however, he was outspoken in his support of Sinn Féin and the republican movement, and was in the confidence of many of the leaders of the local IRA.
The autumn of 1920 witnessed an upsurge in violence between Republican and Crown forces in Galway, and Fr Griffin found himself at the centre of one tragedy after another. In the early hours of the 9 September, he was called from his bed to administer the last rites to IRA volunteer James Quirk, who had been repeatedly shot and mortally wounded by the RIC as a reprisal for the shooting of one of their colleagues at Galway train station. On the night of 15 October, Patrick Joyce, a school teacher at Barna, was abducted from his home by the IRA's East Connemara Brigade. The IRA had intercepted several letters written by Joyce, addressed to Crown forces, which gave details of republican activity in the Barna and Furbo area. Convicted of spying, Joyce was shot dead and secretly buried. Griffin and Joyce were well known to each other, but were not on friendly terms. In fact, Joyce had implicated Fr Griffin in his letters to the authorities. Notices posted by Crown forces warned that if Joyce was not returned unharmed then 'somebody would be made to pay the penalty'. Three days after this incident, Fr Griffin was called to administer the last rites to Michael Walsh, Galway businessman and urban councillor, who had been shot by Crown forces and thrown into the River Corrib. It was a difficult time for Fr Griffin, but worse was to follow.
On 14 November, Fr Griffin said Mass at Furbo and then Barna, during which he prayed for the safe return of Joyce. As was usual on Sunday evenings, he and some other priests played cards together at Montpellier Terrace. The others departed around 10.30pm leaving only Fr Griffin and his housekeeper, Barbara King, in the presbytery. The other curate, Fr O'Meehan, had received a number of death threats and was staying in a safe house as a precaution. Fr Griffin was not long in bed when a number of men in trenchcoats called to his door. According to witnesses, he voluntarily left with the callers and they disappeared into the dark in the direction of Salthill. He would never again be seen alive.
The following day, Fr Griffin was noticeably absent from the anniversary mass for the late Bishop of Galway, Dr. Francis McCormack. Afterwards, Fr. James O'Dea called to the presbytery and was told that Fr Griffin had been called away and had not yet returned. At first, it was assumed that he had been called to visit a sick parishioner, but it was noticed that he had not taken the holy oils or the blessed Eucharist with him. As the previous night was wet and windy, it was suggested that he might have taken shelter with another priest in the city. And so telegrams were sent out to every priest in the vicinity, but nobody had seen him. The RIC were informed of his disappearance and they combed the town, but to no avail.
The townspeople were shocked and dismayed when the news eventually broke. It was widely believed that the disappearance was connected with the abduction, a month earlier, of Patrick Joyce, and it was rumoured that loose-lipped members of the Crown forces had been overheard to say that a 'bloody parson' had been shot and was 'in the bog'. But there was no hard evidence and no body.
In the House of Commons, Hamar Greenwood, Chief Secretary for Ireland, stated that Fr Griffin was 'an extreme Sinn Feiner' and suggested that he had been abducted by vengeful friends of Joyce, or perhaps by members of Fr Griffin's own congregation. Winston Churchill, then Minister for War, attempted to muddy the waters further by prompting the Chief Secretary to 'say Sinn Feiners' were responsible. One Galway priest, Fr Davis, stated his fervent belief that "no Catholic Irishman and indeed no Irishman in the district would injure a hair of Father Griffin's head".
The people of Galway were less hopeful of finding Fr Griffin alive with every passing day and their worst fears were realised when a shallow grave containing his remains was discovered at Cloch Scoilte, about 2kms north of the village of Barna, on 20 November. He had been shot in the head, execution-style, and hurriedly buried in boggy ground. The clergy were informed and a number of local men secretly transported Fr Griffin's body to St Joseph's Church on Presentation Road. There was a palpable sense of shock and outrage in Galway and beyond. Three bishops, 150 priest and as many as 12,000 mourners – of all political and religious persuasions – took part in the funeral procession, before Fr Griffin's remains were brought to St Brendan's Cathedral, Loughrea for burial.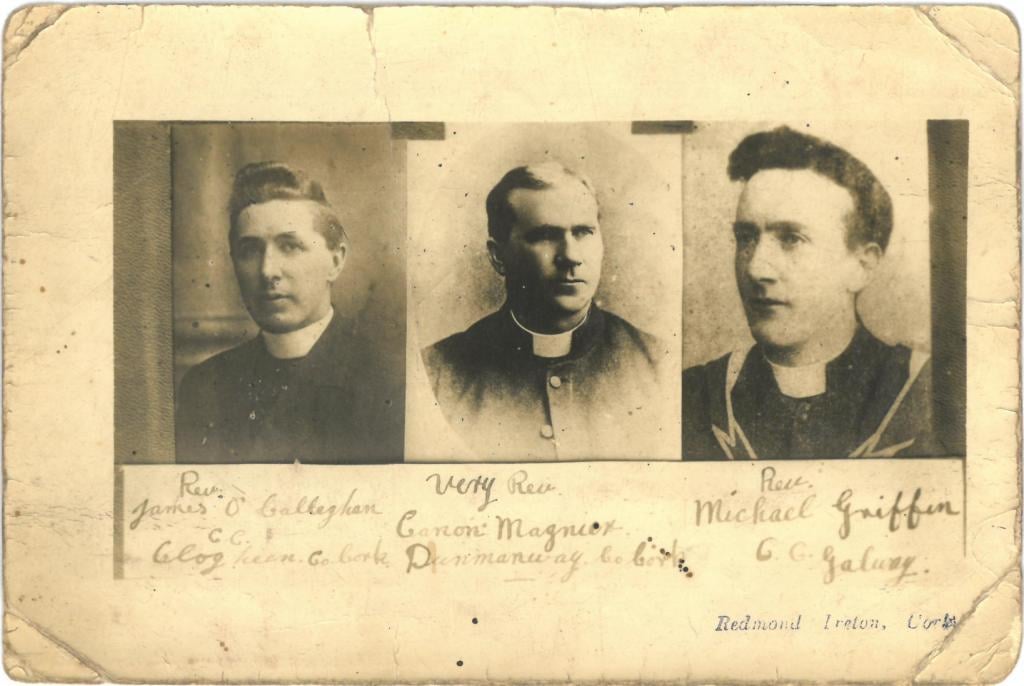 A military court of inquiry held at Eglinton Street RIC Barracks concluded that Fr Griffin had died "as the result of a gunshot wound in the head, fired feloniously, wilfully and with malice aforethought by some person or persons unknown, and that such person or persons unknown were guilty of murder". The Bishop of Galway, Thomas O'Dea, was not so uncertain; he wrote "Fr Griffin was shot by Government forces […] a murder like this is almost or altogether unparalleled in Irish life." Six months later, Frank Crozier – who was Commander of the Auxiliaries in Ireland at the time of the disappearance – made the sensational claim that Fr Griffin had been killed by Auxiliaries at Lenaboy Castle, that a senior official in Dublin Castle suppressed the evidence and that the military inquiry was a sham. Despite this information, nobody was ever held accountable for the murder.
Interestingly, there is a story that on the night Fr Griffin disappeared a stray bullet pierced the window of the Dominican Convent, adjacent to Lenaboy Castle. The following morning the Auxiliaries attempted to retrieve the evidence but Sr. Bernard Heuston – older sister of Seán Heuston, who was among those executed following the Easter Rising – had taken and hidden the bullet.
A memorial monument to Fr Griffin was erected at Cloch Scoilte, Barna in November 1922, which was renovated in 1992. Fr Griffin Road was opened in Galway in 1937, and Fr Griffin's Football Club was founded in Galway city in 1948.
This post is part of a series researched and written by Brendan McGowan, Education Officer at Galway City Museum, to mark the Decade of Centenaries. If you have any information, stories or photographs relating to the War of Independence in Galway, please contact Brendan by email at museum@galwaycity.ie
SOURCES
Bureau of Military History Witness Statements
Pádraic Ó Laoi (1994) "Fr. Griffin, 1892-1920"
William Henry (2012) "Blood for Blood: The Black and Tan War in Galway"
Geraldine Plunkett Dillon (2006) "All in the Blood: A Memoir of the Plunkett Family, the 1916 Rising and the War of Independence"
'Where is Father Griffin?', Connacht Tribune, 20 November 1920
'Fr Griffin Goes Home', Connacht Tribune, 27 November 1920
'Crime without Parallel', Freeman's Journal, 22 November 1920
'Murdered Galway Priest', Freeman's Journal, 24 November 1920