The Irish Civil War began 100 years ago today. On 28 June 1922, after several months of uneasy tension between Free Staters and Republicans over the Treaty, the Provisional Government of the Irish Free State – under pressure from the British – began shelling the Four Courts complex in Dublin, where the Republican garrison was defiantly encamped. Liam Mellows, who led the 1916 Rising in Co. Galway and who had recently been unseated for Co. Galway in the general election, was within the Four Courts. Republican Ernie O'Malley recalled that Mellows was against its surrender declaring: "The Republic is being attacked here … We must stand or fall by it. If we surrender now, we have deserted it."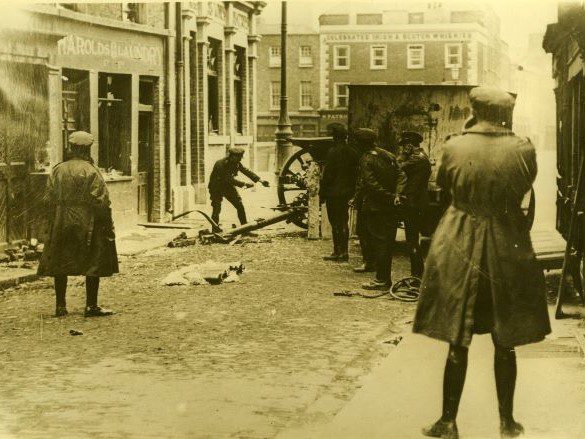 Known in Irish as Cogadh na gCarad, 'war of friends', the eleven-month conflict began without a formal declaration of war, ended without a settlement, caused around 1,500 deaths, and left the Irish Free State bitterly divided and on the verge of bankruptcy.
Above image: National (Free State) Army soldiers, positioned at the junction of Bridge Street and Usher's Quay, just across the River Liffey from the Four Courts, 28 June 1922. Photo (probably) by W.D. Hogan. Courtesy of UCD Archives (Desmond FitzGerald Collection)
Above image: This poster documents an almost live update on the start of the civil war, 28 June 1922.  The republican daily, Poblacht na h-Eireann (sic) was first published on 28 June, the 'Seventh Year of the Republic', the first day of the Free State attack on the Republican garrison in the Four Courts – the start of the civil war.
In this first 'stop press' issue, Roderick 'Rory' O'Connor (1883–1922), a leading member of the anti-treaty IRA's Army Executive, gives an almost live update on the start of the civil war from within the Four Courts. He states: 'At 3.40 a.m. this morning we received a note signed by Tom Ennis demanding on behalf of the "The Government" our surrender at 4 a.m. when he would attack. He opened attack at 4.07 in the name of his Government, with Rifle, Machine and field pieces."
Defiantly, O'Connor declared: 'The boys are glorious, and will fight for the Republic to the end,' before asking 'How long will our misguided former comrades outside attack those who stand for Ireland alone?' He concludes 'our love to all our comrades outside.'
This first edition is one of six copies (dated 28 June to 2 July 1922), which are in fine condition, recently and kindly donated by Ronnie O'Gorman to Galway City Museum.
---
Visit the Revolution in Galway, 1913-23 exhibition for more on this period of Galway's history.  The exhibition is open for visitors on the first floor gallery, Tuesday to Saturday, 10am – 5pm and admission is FREE!