The 24 June is the Christian feast of the birth of St John the Baptist, a wayfaring Jewish preacher and prophet in the first century AD, who is revered as a major figure in Christianity (and Islam). According to the Christian gospels, it was John who baptised Jesus of Nazareth. Later, it is told that Herod Antipas, the Roman ruler of Galilee in northern Palestine, had John the Baptist beheaded at the request of his wife, Herodias. The Galway writer Pádraic Ó Conaire – whose statue resides in the Museum – used this incident as inspiration for his short-story 'Teatrarc na Gaililí' (Tetrarch of Galilee), first published in An Chéad Chloch (The First Stone) in 1914.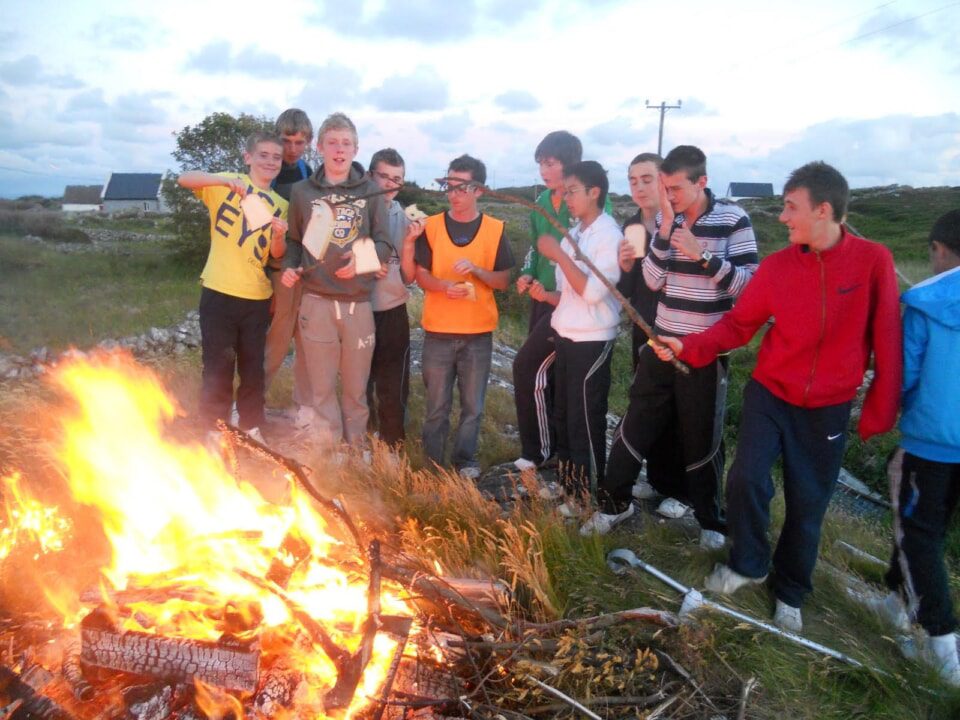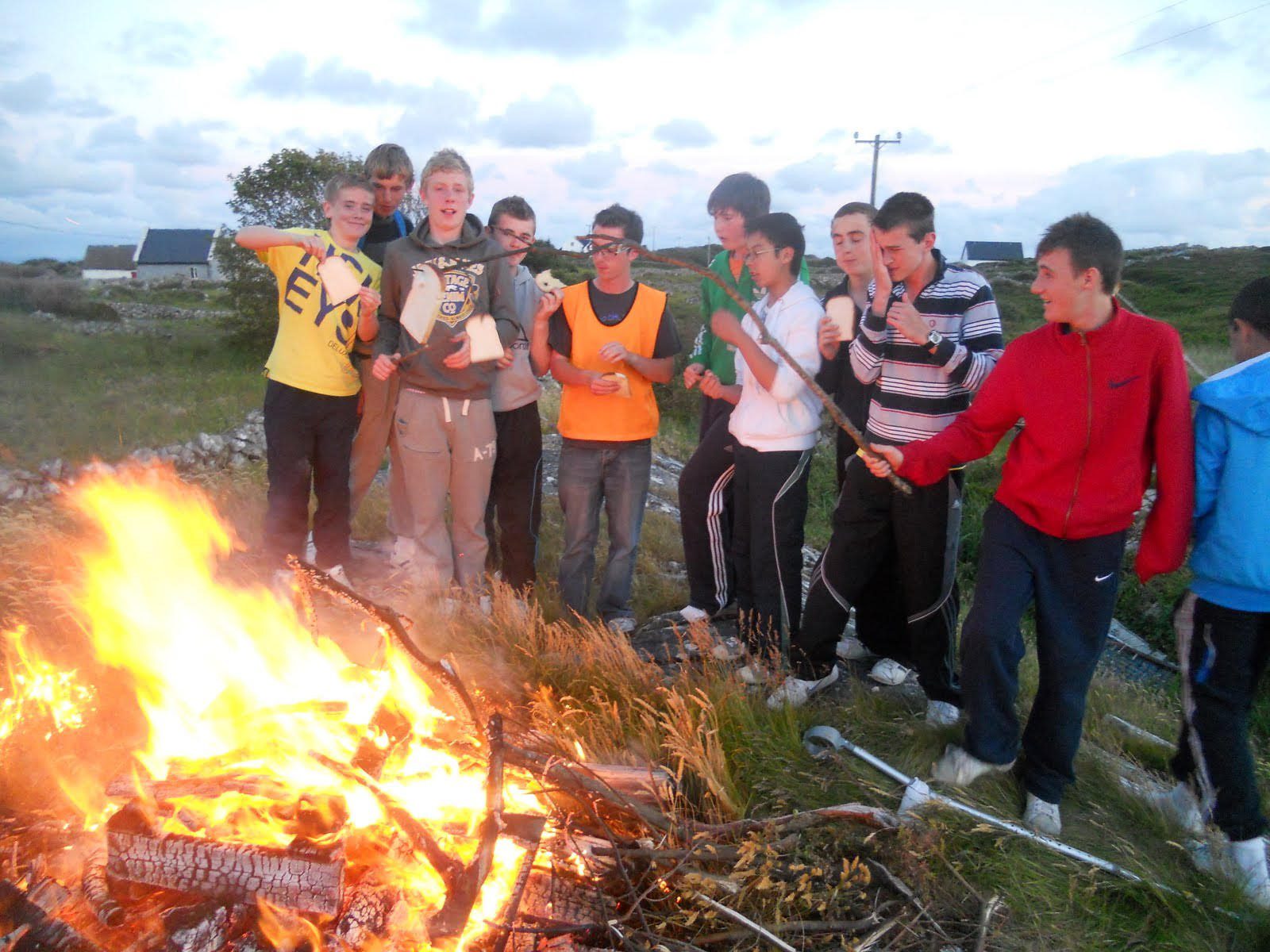 In Ireland, the celebration of St John's Day traditionally began with the lighting of fires at sunset on the previous day, known as St John's Eve or Bonfire Night. The lighting of sacred fires so close to midsummer suggests that, like so many Irish calendar customs, it is the remnant of an earlier pagan tradition.
In times past, large communal fires were lit by the inhabitants of townlands, villages and parishes all across Ireland. Made from a variety of gathered fuel – turf, wood, branches, furze bushes and brambles (and, more recently, old tyres and, even, mattresses) – the pyres were lit at sunset and were tended to until long after midnight. Attended by old and young, the communal fires were the scenes of music, dancing, singing, storytelling, courting and daring feats of agility and bravado, as rival young men jumped over the flames.
There were also smaller fires lit on family farms for the protection of the home, farmyard, livestock and crops, which were more subdued affairs. When the fire died down, the embers or ashes were scattered in the fields or into the crops in order to safeguard the land and ensure a good harvest. Cattle were also herded through the ashes or between two fires for their protection.
In the late 1930s some Galway schoolchildren, as part of the Schools' Folklore Collection, recorded local customs associated with St John's Eve. One pupil from Kiltormer national school wrote: "Long ago St. John's Eve was kept a very happy feast, but at present, there are not many customs kept. On St. John's Eve they got furze and turf, and put them up on the highest hill they could find, or at a cross roads. The people from around the place gathered, and put it on fire. They had different kinds of music, and when the fire was kindling properly, they danced around it. That fire was called a bon-fire. It was lit in honour of St. John, because it was said when St. John came unhurt from the cauldron of boiling oil, it was but right to show respect to him some way." Another pupil, from Kilkerrin national school, recorded: "On this night it is custom to make bonfires throughout the country. One is made in every village and all the people contribute to it. The evening is spent in an amusing manner by singing, dancing and if any old people are present it is much more enjoyable because they tell stories of long ago. When everyone is leaving he or she takes home a half-burned sod and throws it in the potato-field and asks St. John to bless the crop for the year. This is called the Bonfire Night".
Fishing as well as farming communities marked the occasion. In 1820, the historian James Hardiman published an account of how the fishermen of the Claddagh village celebrated St John's Eve in The History of the Town and County of the Town of Galway:
"The Nativity of St. John the Baptist (24th June) they celebrate by a very peculiar kind of pageantry. On the evening of that day the young and old assemble at the head of the village; and their mayor, whose orders are decisive, adjusts the rank, order and precedence of this curious procession. They then set out, headed by a band of music, and march with loud and continued huzzas and acclamations of joy, accompanied by crowds of people, through the principal streets and suburbs of the town: the young men all uniformly arrayed in short white jackets, with silken sashes, their hats ornamented with ribbons and flowers, and upwards of sixty or seventy of their number bearing long poles and standards with suitable devices, which are in general emblematic of their profession. To heighten the merriment of this festive scene, two of the stoutest disguised in masks, and entirely covered with party-coloured rags, as "merrymen," with man antic tricks and gambols, make way for the remainder. In the course of their progress they stop with loud cheerings and salutations opposite the houses of the principal inhabitants, from whom they generally receive money on the occasion, having at length regained their village, they assemble in groups, dancing round, and sometimes leaping and running through their bonfires, never forgetting to bring home part of the fire, which they consider sacred; and thus the night ends as the day began, in one continued scene mirth and rejoicing. That the entire of this exhibition, though unknown to the actors, is a remnant of an ancient pagan rite, is evident to any one acquainted with the early history of this country."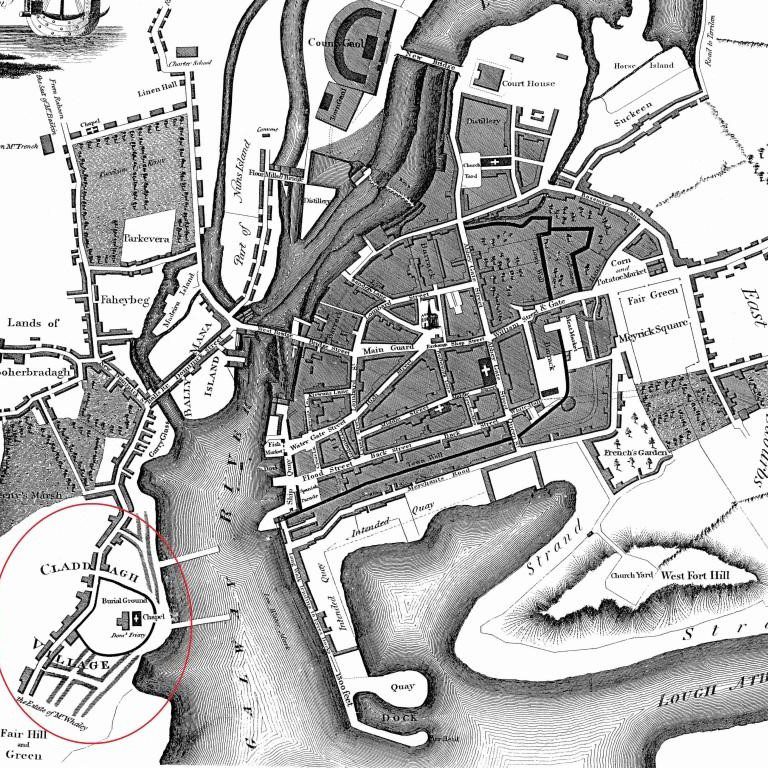 Another near-contemporary account comes from landscape gardener Hely Dutton's book entitled A Statistical and Agricultural Survey of the County of Galway, published in 1824:
"The fishermen elect a mayor and sheriffs from amongst themselves on every St. John's day. They march in noisy procession through the town of Galway, preceded by men carrying bundles of reeds fastened on poles, which at night they set fire to at their bonfires; it is always a scene of drunkenness and riot, but seldom proceeds further. On St. John' eve it is the custom to light immense fires of turf, bones, &c. in different parts of the town of Galway; they are surrounded by young people, mostly females, who ask some trifle from each passenger; they are usually armed with bundles of the seed stocks of docks, tied up like small brooms, with which they touch lightly the passengers or lookers on, saying, "honor the bonfire," which every person is expected to do by touching their hat, or if a woman, by a slight courtesy. I have seen some of your mighty sensible people refuse to do this, and I confess enjoyed the touching they received with the dirty brooms. They are tried for offences amongst each other, and always submit to the decision of their mayor or sheriffs; and it was not until very lately they would submit to the control of any other jurisdiction, but they are now gradually losing that idea of exemption they formerly insisted upon, and which has been exceedingly troublesome. It is a remarkable circumstance, that during the rebellions of 1798 and 1820, and indeed at every other disturbed period, not a single man has been found disloyal, and I must say with great pleasure, it is the characteristic of the inhabitants of Galway. They have a patron saint, to whom they pray on all occasions of distress, such as storms, unproductive seasons, &c. &c. and on their safe return make an offering of three fish for the poor. It is remarkable that they never suffer their parents to beg, but all their wants, and even whims, are indulged. Very few have either a cow or potatoe garden. The Claddogh is the estate of Mr. Whaley, whose ancestor, a colonel of Cromwell's, also formerly possessed Rahoon, near Galway".
Swimming traditionally began on St John's Day (unless the weather was too cold) – according to folklorist Kevin Danaher, 'the observance of this custom was supposed to eliminate all danger of drowning'. Read more about old Irish midsummer customs in Danaher's excellent and informative book, The Year in Ireland: Irish Calendar Customs (1972).