Galway City Museum, on Saturday 3 December 2022, will run a series of talks on the subject, 'War of Friends, 1922–23: the civil war story of Pádraic Ó Máille and Liam Mellows', in collaboration with Galway historians, John Cunningham; Mícheál Ó Fathartaigh and Cormac Ó Comhraí.  The talks will take place in the Mick Lally Theatre, Druid Lane at 1pm.  The talk series has been organised by Galway City Museum, as part of Galway City Council's Decade of Centenaries Programme 2022, and funded by the Department of Tourism, Culture, Arts, Gaeltacht, Sport and Media to commemorate events of local and national significance.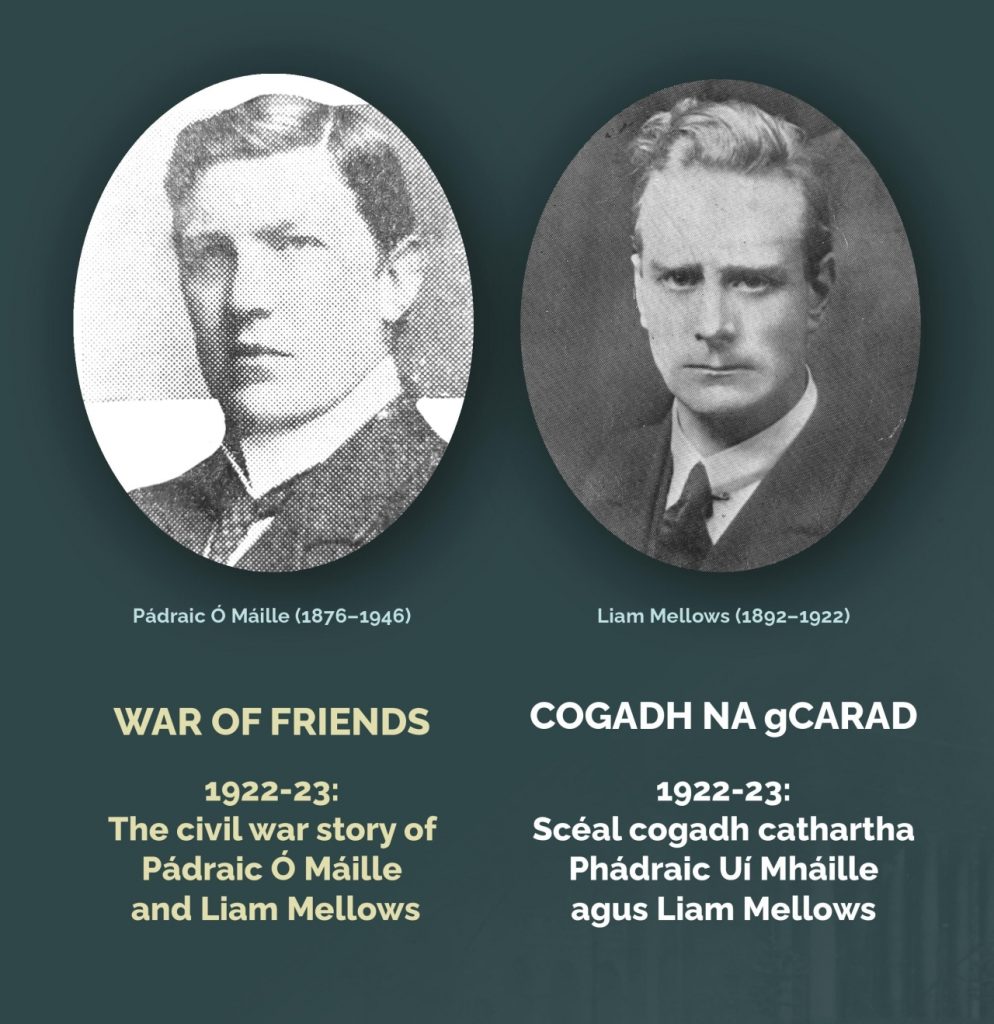 On 8 December 1922, Liam Mellows and three other prominent Republican leaders were executed in reprisal for an IRA attack on two politicians, Pádraic Ó Máille from Connemara and Seán Hales from Cork, in which the latter was killed. Former military comrades and political allies, both men had represented Galway in the first and second Dáil Éireann, 1919–1922.
In advance of the centenary anniversary of these tragic events, join Galway historians John Cunningham, Mícheál Ó Fathartaigh and Cormac Ó Comhraí, at the Mick Lally Theatre on Druid Lane, as they discuss the Irish Civil War and the lives and civil war viewpoints of Pádraic Ó Máille (1876–1946) and Liam Mellows (1892–1922). A Q&A will follow the presentations.
This event is free of charge but places are limited so advance BOOKING IS ESSENTIAL; call the Museum on (091) 532460 or email museum@galwaycity.ie.
Please note that this event is being filmed for Galway City Museum for public dissemination and attendance implies consent to be recorded in the audience.
VENUE: Mick Lally Theatre, Druid Lane (just off Quay Street), Galway, H91 N5X9
More about the speakers
Left to Right: John Cunningham, Mícheál Ó Fathartaigh and Cormac Ó Comhraí
John Cunningham is Director of the MA History programmes at the University of Galway. A former editor of Saothar: Journal of Irish Labour History, he is widely published in labour history and Irish local history. He is editor (with Dr Ciaran McDonough) of Hardiman and Beyond: Galway Arts and Culture since 1820 due in November 2022, and (with Dr Terry Dunne) of Spirit of Revolution: Ireland from Below, 1917-1923, due from Four Courts Press early in 2023.  John grew up near the foot of Cnoc Meadha in North Galway.
A native of Leenane, Co. Galway, Mícheál Ó Fathartaigh is a lecturer and historian based in the Social Sciences Research Centre, University of Galway, and Dublin Business School. He is the author of Developing Rural Ireland and Irish Agriculture Nationalised, co-author of Birth of a State: The Anglo-Irish Treaty and the co-editor of The Treaty: Debating and Establishing the Irish Free State. He is also the author of 'Pádraic Ó Máille: Irish agrarian radical? The case considered'. His broad-ranging research and commentary on the origins of the Irish state and the development of rural Ireland has been published and broadcast widely.
Cormac Ó Comhraí is a native of Na Forbacha, Co. Galway, and a graduate of University of Galway. He teaches history and Irish at second level. He is author of a book on the Irish Civil War (forthcoming), a history of Galway during the revolutionary period, Sa Bhearna Bhaoil: Gaillimh 1913-23, Peadar Clancy: Easter Rising Hero, Bloody Sunday Martyr, and Revolution in Connacht: A Photographic History 1913–23. He was also co-editor of The Men Will Talk to Me: Galway Interviews by Ernie O'Malley. He is also a regular contributor on television and radio documentaries in both Irish and English.
BOOK your place by calling (091) 532460 or by emailing museum@galwaycitymuseum.ie today!