Early in 2020 Galway City Museum acquired what is thought to be the oldest Claddagh ring known in existence. It dates from c.1700 and was made by renowned Galway goldsmith Richard Joyce who was from one of the fourteen merchant tribes of Galway and is credited with the modern design of this iconic ring. There are very few gold Claddagh rings from this period in existence due to social and economic circumstances. Richard Joyce has what seems a truly remarkable story full of piracy, slavery and freedom.  Although all that is written about him cannot be proven with 100% certainty, historical events which occurred in the same time period would seem to suggest that the story is true.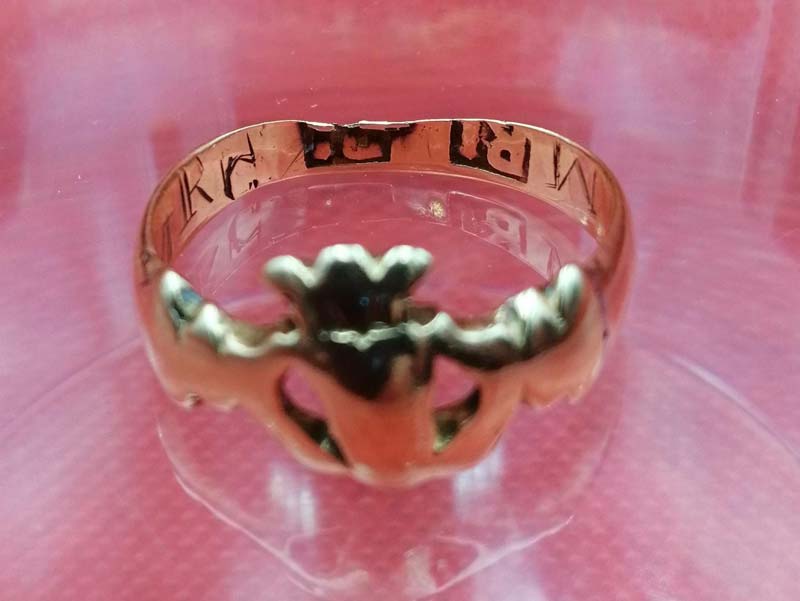 James Hardiman's 'History of Galway' published in 1820 is considered to be the definitive history of Galway city and county from the earliest of times until the early 19th century. There is an original copy on display in the museum, it was written while Richard Joyce was still alive and it contains a contemporary account of Joyce's amazing tale which is as follows:
"Several individuals of this name have long felt grateful to the memory of William III from the following circumstance. On the accession of that monarch to the throne of England, one of the first acts of his reign was to send an ambassador to Algiers, to demand the immediate release of all the British subjects detained there in slavery. The Dey and Council, intimidated, reluctantly complied with this demand. Among those released was a young man of the name of Joyes, a native of Gal way, who, fourteen years before, was captured on his passage to the West Indies by an Algerine corsair. On his arrival at Algiers, he was purchased by a wealthy Turk, who followed the profession of a goldsmith, and who observing his slave, Joyes, to be tractable and ingenious, instructed him in his trade, in which he speedily became an adept. The Moor, as soon as he heard of his release, offered him, in case he should remain, his only daughter in marriage, and with her half his property ; but all these; with other tempting and advantageous proposals, Joyes reso- lutely declined. On his return to Gal way he married and followed the business of a goldsmith with considerable success"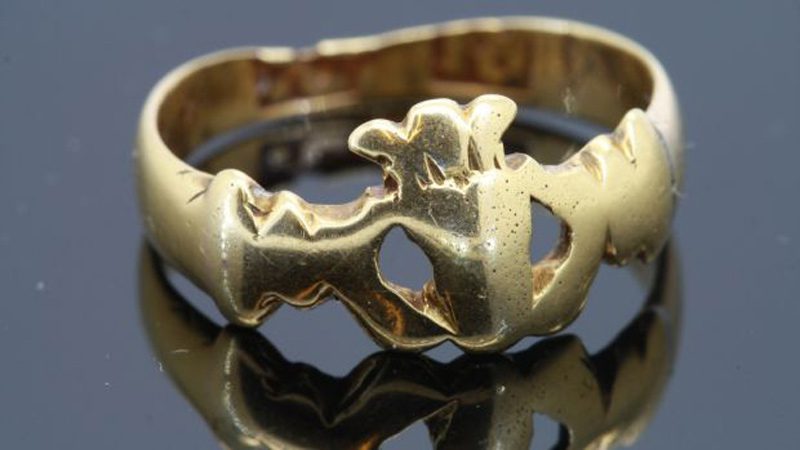 This Richard Joyce ring is made from gold and is in remarkable condition considering it is over 300 years old. Judging from its large size it is probably a man's ring and it has an internal diameter of 2.2 cm. It is stamped twice with Joyce's maker's mark RI and it is also inscribed with two separate set of initials NCM and MRC both of which we believe to belong to past owners of the ring who were of high social stature to have been able to afford such a ring.
The modern design of this famous ring which includes two hands clasped around a heart and a crown is based on the fede ring. However there are designs by contemporaries of Joyce's which sometimes exclude the crown, the reason for this is not known but it is sometimes speculated that this is to do with a connection to the British royal family. Fede rings are an ancient design of ring consisting of two clasped hands. The design in Roman times was called dextrarum iunctio, from the Latin meaning joined right hands. During the Middle Ages, these rings were called fede rings from the Italian 'mani in fede' or 'hands in faith'. The symbol is often associated with love or marriage as is the Claddagh ring. Claddagh rings were known to be traditionally handed down from mother to daughter.
Many firms make different versions of the Claddagh ring and Dillon's of Galway is the only firm still in existence since 1850 making the original ring at William Street, Galway today.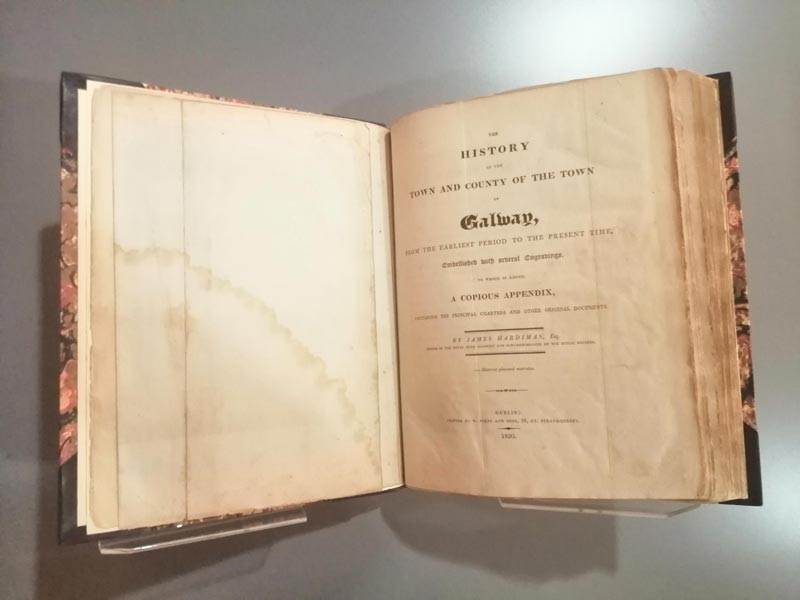 This ring will be showcased in the new Atlantic Museum in 2023. This exciting and innovative new museum will hugely enhance the current museum offering and feature a new site adjacent to the existing building. The ring will form a central display supporting the story of Atlantic People in a gallery which will stand within the medieval walls close to the Spanish Arch and the Claddagh village from where the ring derived its name. From the shores of Galway to Algeria and back again the story of Richard Joyce is one of adventure, romance and legend.  We at the museum look forward to telling visitors this great story for many years to come.
Article by: Eoin O'Neil