We are delighted to declare the new exhibition, Old Galway in Colour OPEN!  Created in collaboration with Prof. John Breslin and Dr. Sarah-Anne Buckley of NUI Galway, this exhibition features old photos of Galway which were colourised using the latest in A.I. technology. Visitors are invited to come and take a new look at Galway history.  In this blog Sarah-Anne Buckley tells us in her own words, more about the Old Ireland in Colour project, out of which this new exhibition developed.
When John approached me in 2020 to work with him, I said yes immediately. I was very aware of the Old Ireland in Colour project and could see how much of an impact it had already had, engaging such a wide range of people with topics they might not have seen as of interest before. As a historian, the project also provided an opportunity to address a wide span of Irish history in a cool and engaging manner.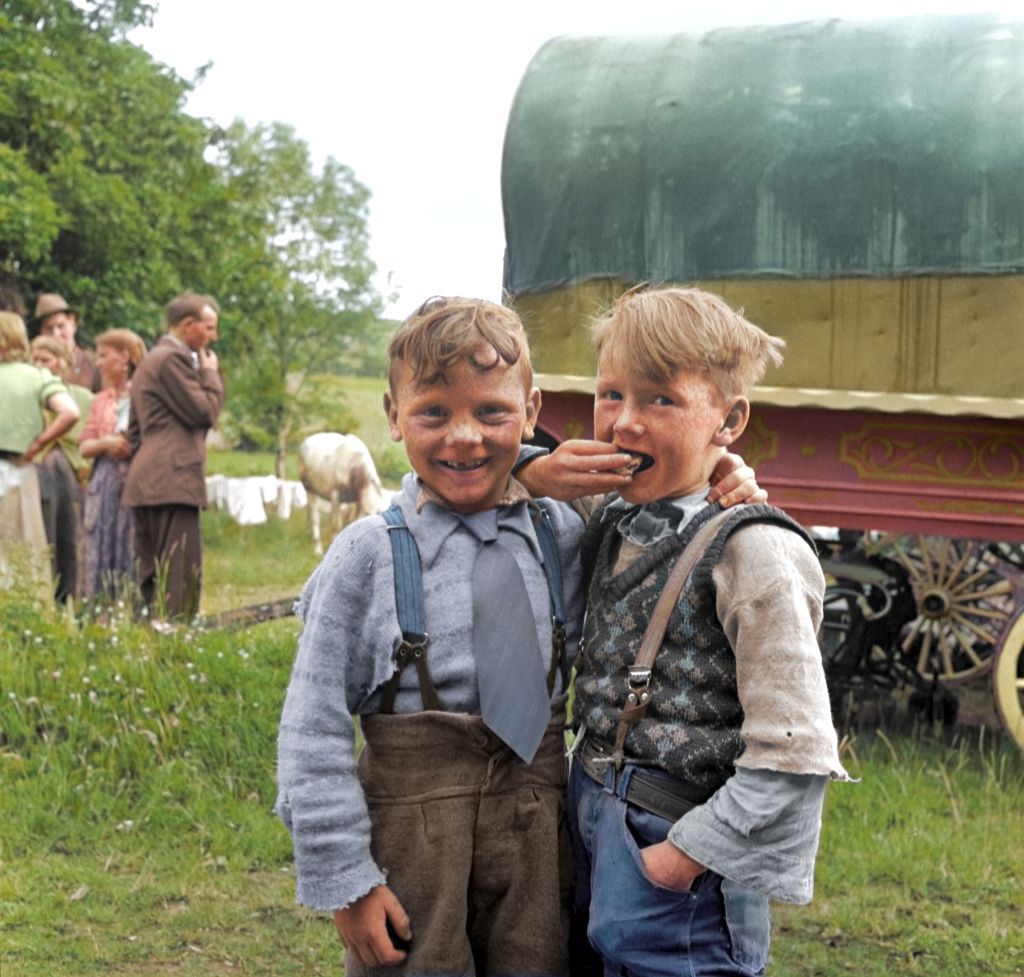 Due to the availability of photographs and developments in photography, both books address the period from the Great Famine to the 1960s. We wanted to include topics, people and places that reflected the diversity of Irish society, focusing on childhood, work, school, leisure – as well as topics like the Irish Revolution, the legacy and impact of the Irish abroad and the beauty and diversity of 'scenic' Ireland. My favourite image from Book 1 is the cover of Book 2 – a photograph taken by Elinor Wiltshire of two Mincéir boys from the Sheridan and O'Brien families taken in Loughrea in 1954. Nine years before the Commission on Itinerancy, and possibly a more hopeful time for families in the Travelling community in Ireland.
As with the first book, Old Ireland in Colour 2 does not claim to be a history of photography or a comprehensive history of modern Ireland. It is, however, a snapshot of Ireland's political, social, economic and cultural life with many known and unknown faces. Personalities like Cardinal Paul Cullen, Lady Mary Heath, Jim Larkin, Christy Ring and Kathleen Lynn all feature. Iconic moments are included – the funeral of Jeremiah O'Donovan Rossa, the occasion of the Second Dáil, Bloody Sunday in 1920, and the first time the Sam Maguire Cup crossed over the border. It is the story of how we worked, laughed and played, how we loved, how we lived. Change and transformation, be it technology, religion, politics, labour or work, remain a key tenet, and with each image we can view our past and those who lived in the past with empathy and humanity. Flicking through the book we see change – or for some people, changes, in housing, dress, the increasing influence of sport and leisure, the importance of religion, the growth in schooling and changes in gender roles. Politics and Revolution covers a broad period from the 1798 Rebellion to the day the Republic of Ireland came into existence in 1949, and show the ebb and flow of nationalism, unionism, feminism, socialism, and changes to our political system. The rare or 'unseen' images are poignant and give us a glimpse of life across the class spectrum. The influence of the Irish around the world remains prominent, as does the impact and changes we can see to Ireland's towns and cities. Death and destruction are a feature – Terence MacSwiney, the burning of the Four Courts, the impact of the Great Famine, the Niemba Ambush. Deviance is often intertwined – the Phoenix Park murders, the Cairo Gang, images of infamous Irish Fenians.
As a result of connections and communications from readers, we knew that Old Ireland in Colour had impacted unexpected groups. It has helped open conversations, many intergenerational, between families. It has been used in reminiscence therapy. It allowed us all to be reflective and nostalgic during an extraordinary year. As a historian, I had never seen the interest it generated in such a broad range of topics and it has and is an absolute joy to be involved in.
Dr. Sarah-Anne Buckley
---
Galway City Museum opens Tuesday to Saturday on four daily time slots, 10am; 11.30am; 2pm and 3.30pm.  Book your FREE ticket HERE and come enjoy the exhibitions!  Get the museum news first by subscribing to our E-newsletter on the homepage or by following @GalwayMuseum on social media.