We are delighted to be working with Prof. John Breslin and Dr. Sarah-Anne Buckley of NUI Galway on a new exhibition entitled Old Galway In Colour due to open next week.  This photographic exhibition featuring Galway city and county includes old photos colourised using the latest in A.I. technology. The colourisation process brings new life to the black and white Galway of old we are so accustomed to seeing.   Images that will feature in the exhibition range in date from 1880s to 1950s.  In this blog John Breslin tells us in his own words, more about the colourisation process and how the exhibition came into fruition.
I began colourising photographs and videos in 2019, initially using the artificial intelligence system DeOldify, and gradually adding more and more manual colourisation to these photographs using Photoshop: a blended approach. The first photographs I worked on were mostly from Galway.  I met with Brendan McGowan at the Museum in late 2019 to show him some of these photographs, and later with Damien Donnellan and director Eithne Verling to discuss the idea of putting on an exhibition of these colourised photographs in the Galway City Museum.
Video by John Breslin featuring a small selection of colourised photographs.
Unfortunately, the pandemic put paid to our plans for a 2020 exhibition, and it is only now that as things start to reopen again that we are able to show you improved versions of these colourisations, many of which featured in the books "Old Ireland in Colour" and "Old Ireland in Colour 2" co-authored with Dr Sarah-Anne Buckley, but other photographs that have rarely been seen in public and are shown in this exhibition (and in colour) for the first time.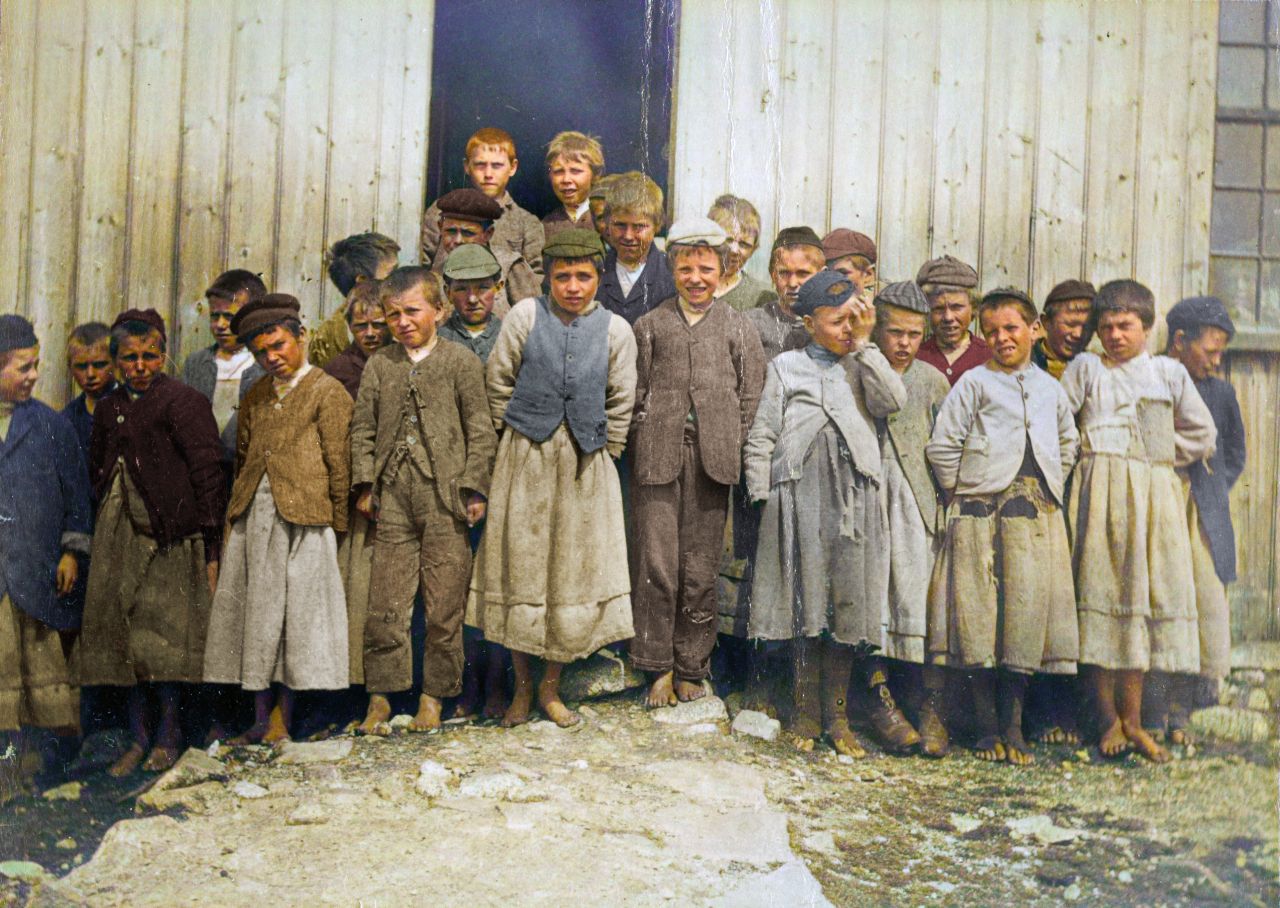 Many of these photographs were originally taken as glass plate negatives by a prolific photographer called Robert French who worked for the Lawrence Studio in Dublin. About 40,000 negatives from Lawrence were acquired by the National Library of Ireland in 1943, and are one of the key sources for the history of Ireland as captured by photographs over more than 40 years from around 1870 to 1914. French himself is the subject of a fascinating book by Kieran Hickey called "The Light of Other Days". Unfortunately, many records of where exactly and when these photographs were taken are lost; the main premises of the Lawrence Studio was accidentally burned down by looters during the 1916 Rising.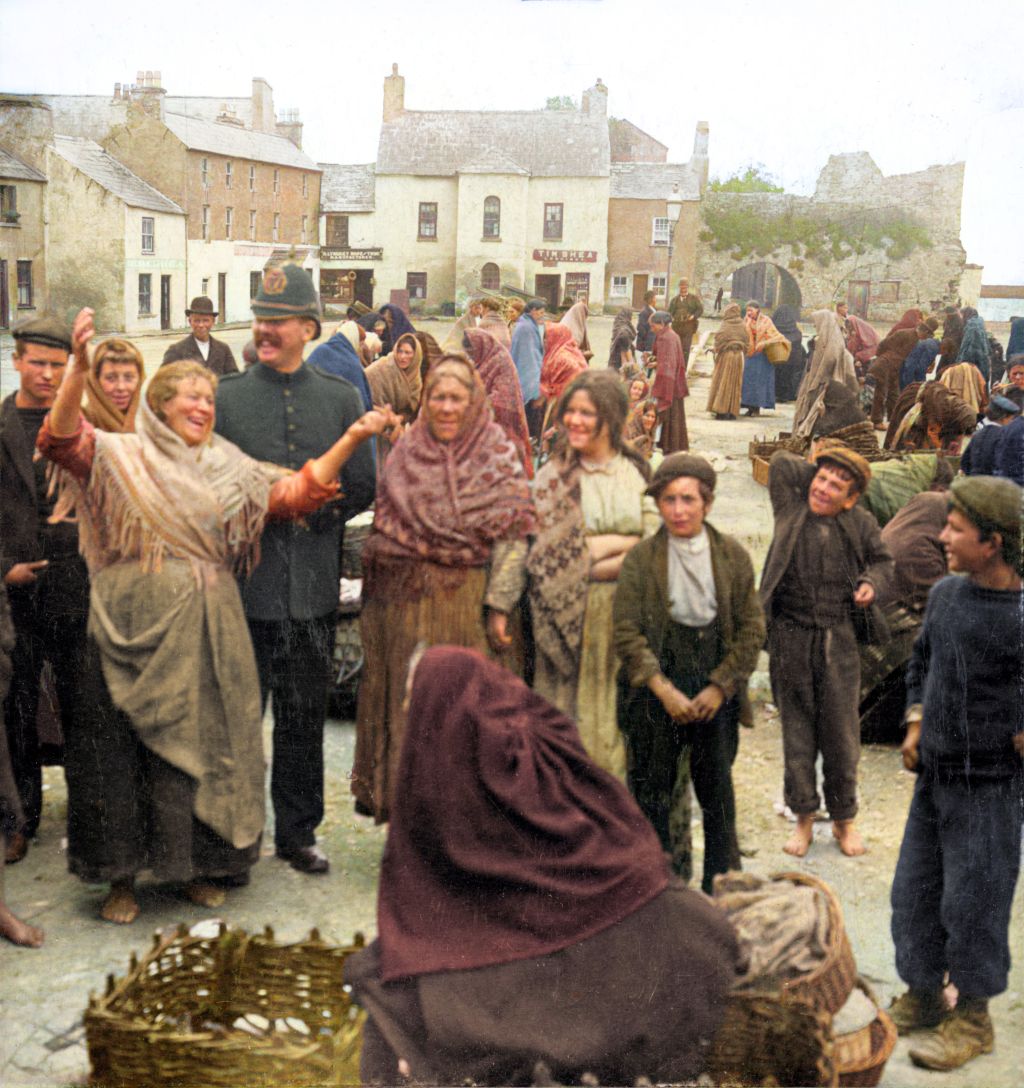 We also include views from stereographs, such as the "Jolly Group in the Marketplace" by HC White in Vermont, taken at the Spanish Arch fishmarket. We used common clothes colours from the time as well as the known uniform colours for the RIC policeman. Stereographs or stereoviews date back to the late 19th century, where two separate photographs were taken by cameras in slightly different positions but pointing at the same objects. A special viewer (basically a set of spectacles mounted on a stick with a holder for the stereograph photo card at the end) allowed you to view the scene with a sort of 3D effect. They were very popular with Irish emigrants who could reminisce on home.
We hope you enjoy the exhibition, and would like to thank the National Library of Ireland, NUI Galway Library Archives, Tipperary Studies at Tipperary County Council, and the Breslin Archive for providing these photographs.
Prof. John Breslin
---
The opening date of Old Galway in Colour will be announced soon on our social media channels so stay posted!
Galway City Museum opens Tuesday to Saturday on four daily time slots, 10am; 11.30am; 2pm and 3.30pm.  Book your FREE ticket HERE and come enjoy the exhibitions!  Hear the museum news first by subscribing to our E-newsletter on the homepage or by following @GalwayMuseum on social media.