Galway City Museum will host a special Object Spotlight Event focusing on the extraordinary Reliquary of St Ursula, 1723-2023 on Saturday 10 June from 12.30pm until 3.00pm at the Museum.  This event will feature two expert speakers on the subject, Dr Dagmar Ó Riain-Raedel and Raghnall Ó Floinn.
The reliquary was made by Galway silversmith Richard Joyce – of Claddagh Ring fame – in 1723 to hold the reputed remains of St Ursula, a fourth-century British princess who tradition relates, was martyred along with her 11,000 female followers by the Huns while on a pilgrimage to Rome.  The dome of the reliquary is inscribed with the following words:
'Pray for sisr Marg' of ye Rosary Joyce, who procured ye inclosed Religies of st Ursulla for ye Dominican Convent of Nuns Gallway & adorned ym with y casc ye 18 of June 1723.'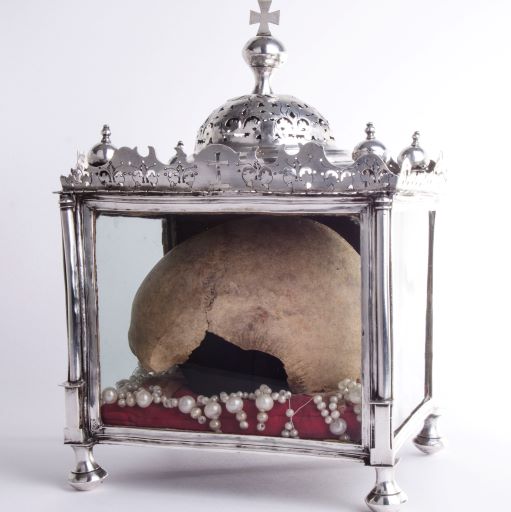 It was donated by the Dominican Sisters, Galway to Galway City Museum in 2022. To mark its three hundredth anniversary, Galway City Museum invites you to join Dr Dagmar Ó Riain-Raedel and Raghnall Ó Floinn as they discuss relics and reliquaries, and the life and cult of St Ursula.
BOOKING
This event is free of charge.  Advance booking is essential as places are limited and will be allocated strictly on a first come, first served basis. Light refreshments provided.  The event will be filmed and made available on line.  For further details or to make a booking, contact the Museum on 091 532 460 or email museum@galwaycity.ie .
Suitable for adults and young people aged 12+
About the Speakers:
Raghnall Ó Floinn is former director of the National Museum of Ireland and author of Irish Shrines and Reliquaries of the Middle Ages. Dr Dagmar Ó Riain-Raedel is a former member of the History Department at UCC and has published widely on medieval history.