Today, the third Sunday of May, is National Famine Commemoration Day, which remembers the Great Famine (An Gorta Mór) of the late 1840s, one of the most tragic events in Irish history. One million people – that is one out of every eight people who lived on the island of Ireland – died of hunger and hunger-related diseases, while another million fled their native land to avoid similar fates.
The root cause of the disaster was the arrival of potato blight, an airborne fungal infection, which obliterated the food source on which the majority of Irish people depended. This natural disaster became a human catastrophe of truly historic proportions as a result of the slow, meagre and inadequate response from the then British Government.
As a result, the population of Co. Galway fell from 440,198 in 1841 to 321,684 in 1851 (a loss of 118,514 people) and it continued to decline in the following decades: 271,478 in 1861, 249,720 in 1871 and 242,005 in 1881 (Vol. IV, Province of Connaught, Census of Ireland, 1881). Among the Galwegians who perished as a result of the Great Famine were two people from very different backgrounds, with very different lives: Celia Griffin and Thomas Barnewall Martin.
A girl of about six years of age, Celia Griffin was the daughter of a poor tenant farmer from Carrowndulla, a hilly townland near Oughterard, on the Ballynahinch Estate. Also known as the Martin Estate, after the landowning family, it was the largest single estate in Ireland or Britain, comprising 200,000 acres of bog and mountain that stretched from Galway town to the Atlantic seaboard. By the spring of 1847, the Griffins found themselves in dire circumstances and Celia, her father, mother and five siblings walked from Carrowndulla to Galway town, a distance of about 22.5kms, in order to access charitable relief. The family spent a number of weeks begging on the streets of the town and in the surrounding areas. One day, Fr George Ussher met the family on the Rahoon Road, Galway, and sent Celia and one of her little sisters the Presentation Convent in order to be fed. Celia, who was in an advanced state of starvation, was so weak that she was unable to eat and died on 10 March 1847. In the post mortem examination, Dr Staunton noted that Celia's "body might be said to be literally skin and bone" and that there was not a particle of food found in her stomach" (Galway Mercury & Connaught Weekly Advertiser, 13 March 1847). An inquest returned a verdict of "death by starvation".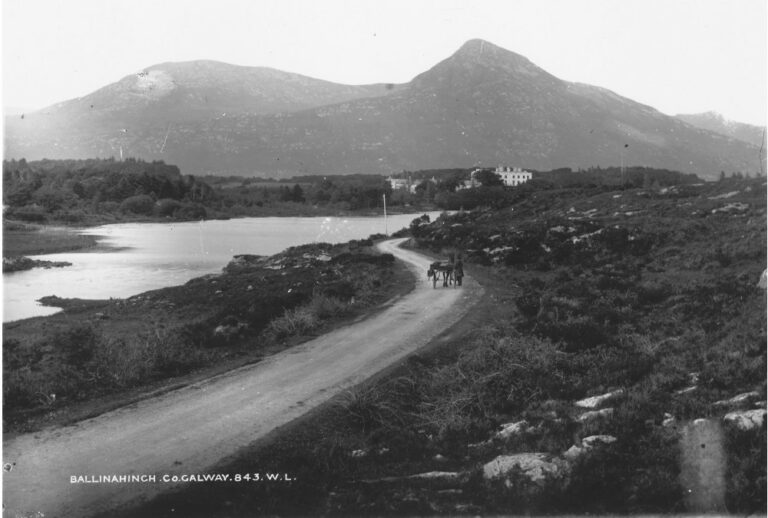 A Member of Parliament (MP) for Co. Galway, Thomas Barnewall Martin was the owner of the Ballynahinch Estate, on which the Griffins were tenants. He had inherited the bankrupted estate from his father, MP Richard Martin (1754-1834), a noted pistol duelist (nicknamed 'Hairtrigger Dick') and animal rights activist (nicknamed 'Humanity Dick'). Thomas was described by one Galway newspaper as "a good landlord, a conscientious and upright man" (Tuam Herald, 1 May 1847). Having visited some of his destitute tenants at Clifden Workhouse, Thomas contracted 'famine fever' (typhus) and died on 23 April 1847. Known as the 'King of Connemara', his last words were: "My God, what will become of my people?"
Dedicated in 2012, the Celia Griffin Memorial Park at Grattan Beach, Salthill remembers Celia and the thousands of other Irish children like her who perished during the Great Famine. The park overlooks Galway Bay and Mutton Island lighthouse – its light beam would have been among the final flickers of homeland seen by thousands of famine refugees fleeing from the port of Galway.
Galwegians waving off a steamship, with Mutton Island lighthouse and the Burren in the background, Illustrated London News, 8 June 1850