During the first weeks of the Covid-19 Pandemic the Museum saw its doors shut to the public. We moved towards our online platform and focused our efforts on bringing the museum into people's homes. Museum-from-home initiatives began springing up across Ireland and although the Galway City Museum website already let people browse the collection online, we wanted to do something more to reach our visitors and keep them engaged during this difficult time.
One of the new initiatives we launched was 'My Treasured Object'.  This ran for the duration of the lockdown period and got an amazing response locally from Galway people, as well as from people all across Ireland.
At Galway City Museum we see treasured objects every day, items that have had different meanings to different people at different times over the years.  We decided to reach out to local people and asked them to tell us about their most treasured object; anything that brought them joy during the pandemic.
We asked people to think of the first things they would grab and save in an emergency. What was its background story, who does it remind you of, what feelings or memories does it evoke, and what does it say about you?
We began with several of our own staff's treasured objects, which varied from paintings and heirlooms to a passport.
The first treasured object that we received was from Eimear Greaney. She wrote "My treasured object would be my 1952 Singer Featherweight. I have a few vintage sewing machines and the featherweight would win out as it sew through any type of fabric (it can do jeans as easily as silk), it is very quiet, very light (5kg), and packs into its own little suitcase. Once the machine attachments and buttonholer are packed in there, this machine can do anything. It is currently sewing a new set of covers for a sofa!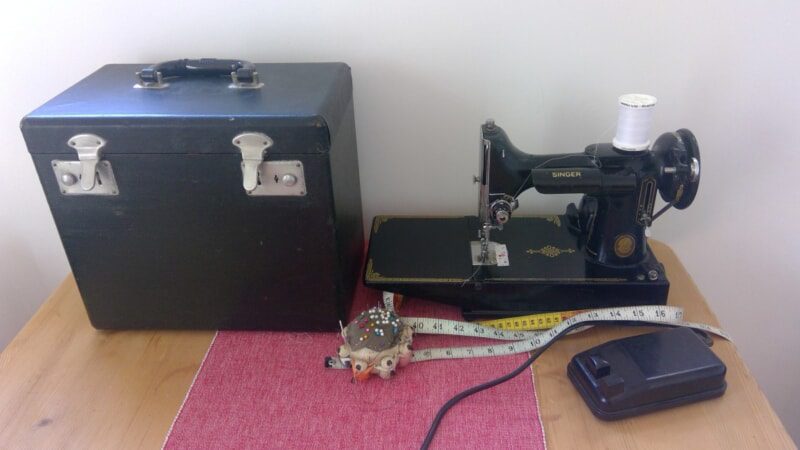 I prefer to sew on vintage machines, as the stitch is nicer and manual controls are better for tailoring, and that although this machine is now 68 years old, I expect it will be sewing for a long time still. There is a lovely feeling of continuity in using these machines and carrying on a tradition of making. I think the appeal also lies in they represent a time when people valued and took more care of things, not only would these machines have sewn clothes, curtains and bedlinen for family, they would have been repairing and altering too ensuring nothing was wasted.
Mr Singer was a consummate salesman and focussed his marketing efforts on women shrewdly pointing out that these machines would pay for themselves and secure an income, so many women bought these on hire purchase and used them to take in sewing and securing financial independence for themselves, and at times being the main breadwinner.
This machine was purchased in a charity shop in Galway, it had a broken piece inside and luckily the genius who repaired it had the patience to locate the piece online and get the machine in perfect working order. I am always surprised at how inexpensive it is to get a vintage machine in general, they can be picked up for very little, and once they are not rusted, are well worth oiling and using again. They will outlast most modern machines as they are all metal (so no fusing of plastic gears) as well as being a joy to sew with, and of course, when you factor in the money saved from not paying for alterations and repairs, they really do pay for themselves!"
Interestingly enough, this was not the only sewing machine that we received as a precious object. Perhaps the fact that making facemasks has become a popular pastime, means that many people have rooted out their old machines.
I think one of the most memorable objects was sent into us by Álainn Donnelly-Larkin, age 5. It really struck a chord with us at the museum and also with many people at home. She wrote a fabulous story about her most treasured possession.
Mia and Lottie
 "Lottie is the horse, Mia is the human.  And Mia found Lottie at a railway station, she was neighing loudly, she was stuck to a rope, and Mia unlocked the rope and she sat on the horse and said "giddy-up" and the horse ran back to our house and they both lived happily ever after."
Álainn also gave us an explanation and description of her object.
"(Actually) I got the unicorn at winter solstice and I got Mia at winter solstice too, but they were both in different packets.  They don't go together. They are my favourite dolls, Mia and Lottie, because they're so beautiful.  But Mia is my most favourite, because she works on the farm and stuff, and I like her clothes and her beautiful long hair and how it's so black, and I like her jeans and her t-shirt and her coat and her welly boots."
The thought behind this initiative was to encourage people to drag out their hidden treasures during their time at home. It was fascinating to see the variety of objects and treasures that people sent in, the majority of which were heirlooms, passed down from generation to generation. However, many items were of personal importance, Deirdre Forde was delighted to find a book titled 'Understanding Myself' in her parents shed that she had written in 1974 when she was 13 years old. "It is very special as the book reflets my thoughts then, along with some photos. I was so delighted to find it in my parents shed about 10 years ago".
These are a few of the hidden treasures that we received here at the museum. We really enjoyed reading about them and learning more about the importance that objects hold in people's lives, especially during these unprecedented times.
Míle buíochas, agus coinnigh slán!
Harriet Dundon
21 October 2020