A new film about John F. Kennedy in Galway, directed by Pamela Finn and co-funded by Galway City Council, will show at Galway City Museum on Thursday, 29 June.  The screening marks sixty years since US President John Fitzgerald Kennedy, the great-grandson of Irish emigrants, was made a Freeman of Galway in Eyre Square.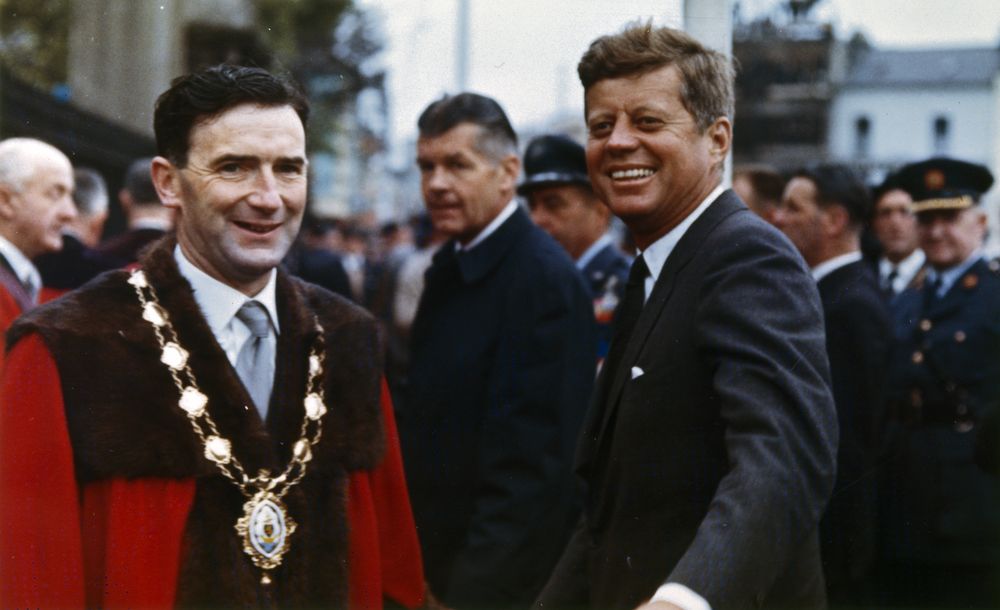 US President John Fitzgerald Kennedy (1917–1963) undertook a ten-day tour of Europe in the summer of 1963, and the President of Ireland, Éamon de Valera, took the opportunity to extend an invitation to visit Ireland.
President Kennedy arrived in Dublin on 26 June 1963, having earlier addressed a mass rally in Berlin, where he delivered his famous 'Ich bin ein Berliner' speech. His Irish schedule was hectic. On 27 June, he flew to Wexford, where he visited the Kennedy ancestral home. The following day, he travelled by helicopter to Cork where he was made a freeman of the city. Later that same day, he addressed both Houses of the Oireachtas in Dublin. On the final day of his visit, President Kennedy flew west to visit Galway and Limerick before departing from Shannon Airport. Thousands lined the streets to catch a glimpse of the President and for those who missed out, Ireland's fledgling television station, Telefís Éireann, broadcast over fourteen hours of the visit live, while Radio Éireann provided similar radio coverage for listeners.
President Kennedy's visit to Galway was brief but memorable. He was scheduled to arrive at the Sportsgrounds on College Road at 11.30am, receive the Freedom of the City at a reception in Eyre Square, and depart from Salthill at 12.30pm. Although the day was overcast and unseasonably cold, crowds began to converge on the city centre from early morning. They were joined by 600 Gardaí who took up positions along the route.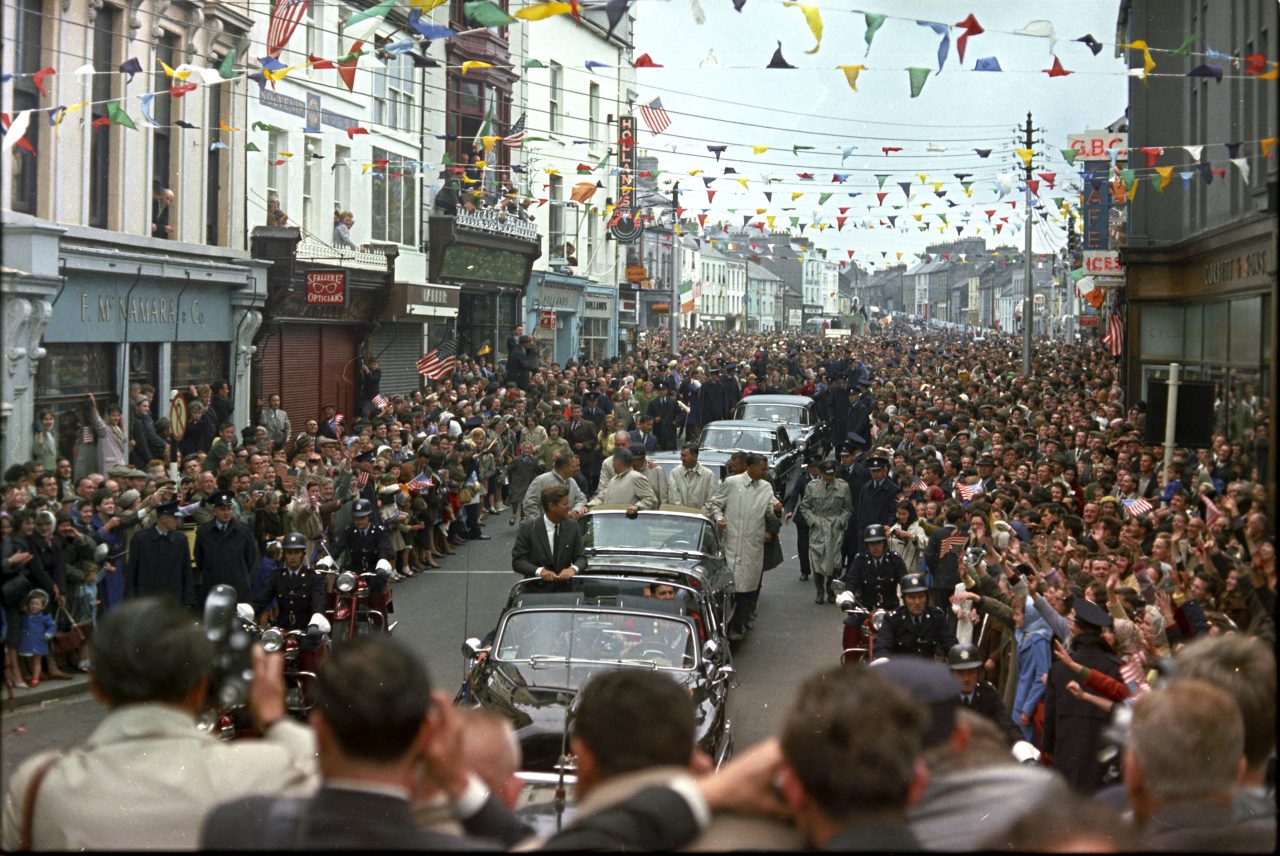 At 11.15am the helicopters carrying the Presidential entourage appeared over the city. On arrival President Kennedy – accompanied by An Taoiseach, Seán Lemass (1899–1971) – was greeted by the Mayor of Galway, Patrick D. Ryan (1920–2004). He also met pupils from the local Convent of Mercy and members of the American Legion. At the Sportsground, a fledgling photographer named Stan Shields managed to get a now-famous snap of the President for the Connacht Tribune newspaper.
Enthusiastic crowds lined the route to Eyre Square, where the President was met with a rapturous reception. Sweeping aside protocol and security, President Kennedy shook hands with dozens of locals. At the Browne Doorway, the Borough Council presented him with several gifts, including a replica of the Great Mace of Galway, and bestowed the Freedom of the City upon him. The President then delivered a light-hearted speech, which referenced the large numbers of Galway people who had emigrated to Boston:
"Mr. Mayor, members of the County Council, Prime Minister, Ambassadors:
If the day was clear enough, and if you went down to the bay, and you looked west, and your sight was good enough, you would see Boston, Mass. And if you did, you would see down working on the docks there some Dohertys and Flahertys and Ryans and cousins of yours who have gone to Boston and made good.
I wonder if you could perhaps let me know how many of you here have a relative in America, who you would admit to – if you would hold up your hand? I don't know what it is about you that causes me to think that nearly everybody in Boston comes from Galway. They are not shy about it, at all.
I want to express – as we are about to leave here – to you of this country how much this visit has meant. It is strange that so many years could pass and so many generations pass and still some of us who came on this trip could come home and – here to Ireland – and feel ourselves at home and not feel ourselves in a strange country, but feel ourselves among neighbors, even though we are separated by generations, by time, and by thousands of miles.
You send us home covered with gifts which we can barely carry, but most of all you send us home with the warmest memories of you and of your country.
So, I must say that though other days may not be so bright as we look toward the future, the brightest days will continue to be those in which we visited you here in Ireland.
If you ever come to America, come to Washington and tell them, if they wonder who you are at the gate, that you come from Galway. The word will be out and when you do, it will be 'Céad Mile Failte', which means in Gaelic 'a hundred thousand welcomes!' Thank you and goodbye."
Afterwards, thousands of well-wishers lined the streets as the presidential motorcade travelled via William St, Shop St, Mainguard St, Dominick St, Fr Griffin Rd, and Lower Salthill, before arriving at the Salthill Promenade. On the way, the President asked An Taoiseach about their destination; Seán Lemass would recall: "As we were driving out of Galway to Salthill, it was the end of June, and we had rather unseasonable weather. The weather was fine, but the wind had turned north, and there was quite a bite in the wind. And he [JFK] said to me, "What's this place Salthill that we're going to?" … I said, "It's a seaside resort." He said, "What people would bathe in the sea when …" This was a rather cold morning. He shivered at the prospect and said, "Only the Spartans would do it."

From Salthill, the US President departed by helicopter for Limerick. On 22 November, 147 days after his Galway visit, John F. Kennedy was assassinated at Dallas, Texas.
All-day Event
To mark the anniversary, on Thursday 29 June, Galway City Museum will host a screening of a short documentary entitled JFK – The Three Miles. Directed by Pamela Finn and co-funded by Galway City Council, the 24-minute film tells the story of JFK's visit to Galway through the eyes of those present on the day. The film will be shown on repeat between 10am and 4.30pm. There is no charge, and booking is not required.
Photo Gallery