On 12 January 1922, Dublin Castle issued a statement on behalf of King George V granting 'a general amnesty in respect of all offences committed in Ireland from political motives prior to the operation of the Truce on July 11 last'. This article brings you some historic photographs of released political prisoners from Galway Jail during this turbulent period of Galway history.  At that time, there were more than 1,000 such prisoners held in Irish and English jails.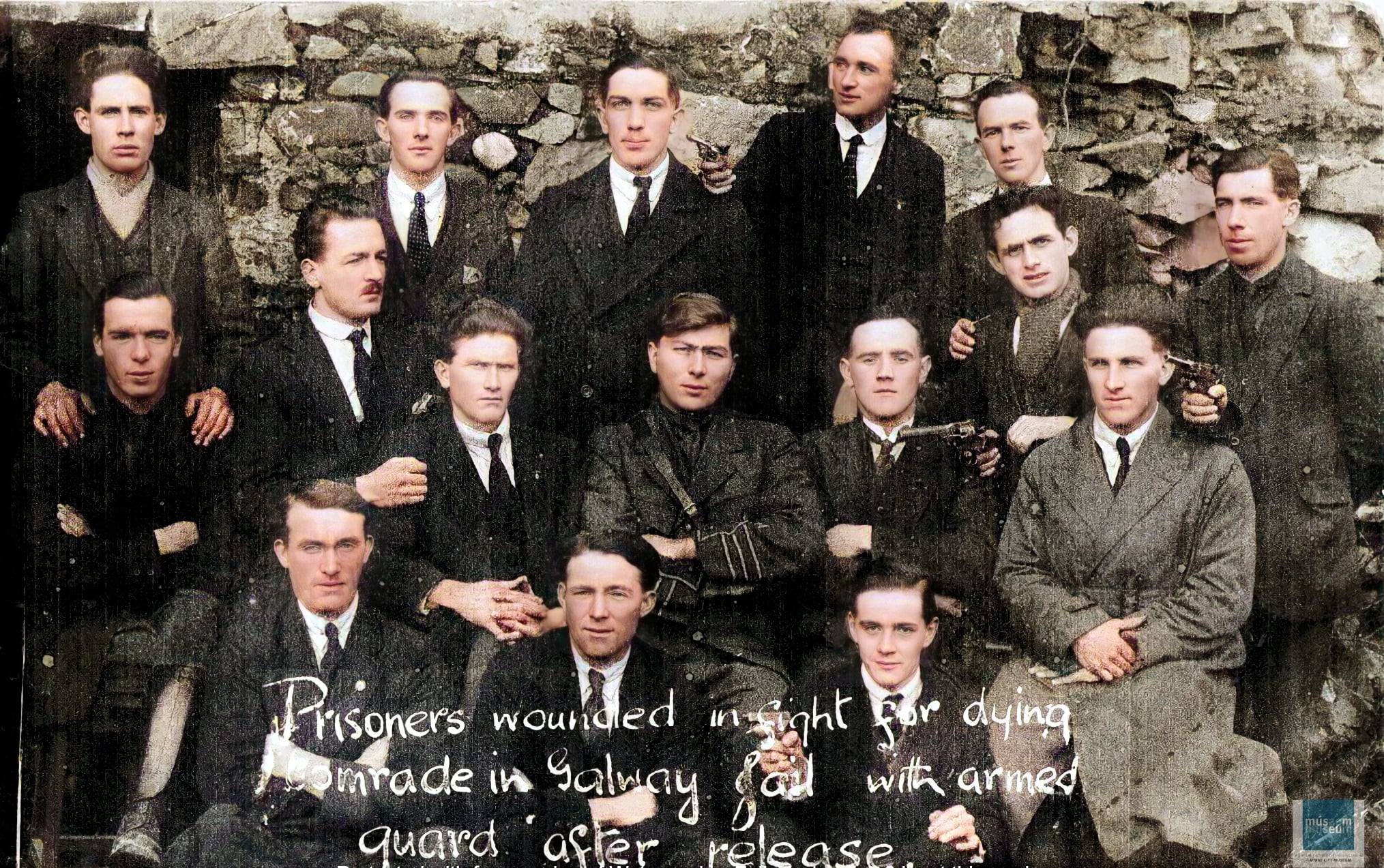 On the afternoon of 12 January 1922, 370 prisoners – some of whom were serving life or death sentences – were released from Mountjoy, Cork, Limerick, Waterford and Galway jails. Only eight men were released from Galway jail. There had been a far greater number of political prisoners held in Galway jail. However, on 24 November 1921, they rioted and set the jail alight – while singing 'The Soldier's Song' – in protest at the treatment of their fellow internee, Diarmuid Crowley (1875–1947) from Cork, who was ill and had been refused a private medical doctor. Ten prisoners from Galway and Mayo were injured in the subsequent affray with the police (Anthony Farrell, Lacken; Patrick Burke, Tuam; Patrick Leahy, Loughrea; James Doohry, Loughrea; James Henry, Swinford; Patrick Coleman, Ballina; Thomas Kilroy, Caltra; John Ryan, Caltra; Thomas McEllin, Balla; and James Henry, Ballina) and were taken to hospital. Afterwards, twenty-four prisoners went on hunger strike and were transferred to English prisons, so that only sick and injured political prisoners were left behind (Freeman's Journal, 28 November 1921).
One Galway inmate wrote to the Editor to the Irish Independent to describe the conditions in the prison, which he referred to as a 'death trap': There is scarcely a window in it that is not broken, The breeze, frost, and rain are inside in the cells whenever they are outside. The sunshine is practically debarred. Whenever a ray of sunshine enters the cells, which, indeed, is very seldom, a thick cloud of dust can be noticed floating about […] The cells are burrowed with mice, and we are often awakened by them trotting about and eating the food we get from our friends. Sometimes they run across our faces when we are sleeping. We have to spend nearly 20 hours in those cells every day. We did 21 hours a day solitary confinment since the truce was declared, and would be doing it still only for we fought against it. The lavatories are old and not working. They get out of order every second day. The result is that those parts of the prison are flooded' (22 November 1921).
On 12 January 1922, Burke, Coleman, Doorhy, Farrell, Kilroy, Leahy, McEllin, and Ryan were released and met at the gates of the jail by Mary Teresa 'Minnie' Lenihan on behalf of the Prisoners' Committee, a number of IRA officers and members of Cumann na mBan, who escorted them to a reception held at O'Connor's tearooms on Mainguard Street. The Freeman's Journal reported that they 'all appeared to be in excellent health and spirits' and that they were were given 'a hearty welcome by the people' (13 January 1922).
The main featured photograph at the top of this article (minus the added handwritten caption) appeared in the Connacht Tribune on 21 January 1922 under the heading 'Prisoners released from Galway jail photographed with their friends'. The details given – which contain a few small errors – were as follows:
Top Row: P. Doorley; P. Burke; J. Ryan; M. Nohilly; J. Burke.
Middle Row: T. Fleming; J. McEllin; A. Farrell; T. Duggan; F. Kilroy; P. Coleman; J. Leahy and John Turke.
Bottom Row: P. O'Connor; M. Fitzpatrick; and P. J. Mahon.
Having carried out some research, the following is a more comprehensive and accurate account of those in the photographs
Back Row (left to right): James Doorhy, Dalystown, Loughrea, Co. Galway; Patrick Burke, Moylough, Co. Galway; John Ryan, Castleffrench, Co. Galway; M. (possibly Martin Joseph?) Nohilly, Tuam, Co. Galway; J. Burke.
Middle Row (left to right): Thomas Fleming, Bohermore, Galway; Thomas Joseph McEllin, Balla, Co. Mayo; Anthony Farrell, Lacken, Co. Mayo; Thomas 'Baby' Duggan, Castlegar, Co. Galway; Thomas Kilroy, Rathbaun, Caltra, Co. Galway; Patrick Coleman, Ballina, Co. Mayo; Patrick Leahy, Killeen, Loughrea, Co. Galway; Seán Turke, Galway.
Front Row (left to right): P. O'Connor; M. Fitzpatrick; P. J. Mahon.
Here are some details about the eight men who were released from Galway Jail on 12 January 1922.
The son of a well-to-do merchant, Thomas Joseph McEllin was born at Balla, Co. Mayo on 13 December 1893. He was educated at St Gerald's College, Castlebar and Blackrock College, Dublin. McEllin was a volunteer in the Balla Company, 4th Battalion, South Mayo Brigade IRA. On 12 April 1921, his home was raided by the RIC, and a letter addressed to OC of Brigade was discovered in his coat. He was court martialled on 15 June, and sentenced to twelve months imprisonment with hard labour. He died on 12 October 1961 at the County Hospital, Castlebar, Co. Mayo. His obituary in the Irish Independent (13 October 1961) read: 'A noted athlete, he was the holder of an All-Ireland handball medal and was actively associated with the G.A.A. for many years' and that 'he was the inventor of the first egg grading and packing machine in Europe'. He is buried in the graveyard attached to St Cronin's Church, Balla. His brother, John Edward 'Eddie' McEllin played Gaelic football with Mayo, was a Fianna Fáil Senator, chairman of the Irish Press Group of newspapers, and founder of the Irish Sugar Company.
Patrick Coleman was born at Abbey Street, Sligo town on 18 April 1895, but was raised in Ballina, Co. Mayo. He was an active volunteer in the Ballina Company of the 1st Battalion, North Mayo Brigade IRA (see BMH.WS 1638). He was captured by the RIC at Beckett's Sawmills, Ballina in January 1921 and sentenced by court martial to two years with hard labour on 22 June 1921 for having a fully loaded revolver in his possession when arrested (Freeman's Journal, 9 July 1921). During the Civil War, he was active with the anti-Treaty IRA and imprisoned at Tintown No. 1 Internment Camp in the Curragh. Known as Pappy, Coleman died at St Mary's Hospital, Castlebar, Co. Mayo on 8 January 1970, and is buried at Leigue Cemetery, Ballina, Co. Mayo.
Thomas Kilroy was born at Killosolan, Co. Galway on 1 October 1893, and raised at Rathbaun, Caltra. Kilroy was Captain of the Caltra Company, Mountbellew Battalion, South East Galway Brigade IRA, and served as treasurer of the Caltra Sinn Féin Club (Galway Express, 4 September 1920). He was tried by court martial on 18 June 1921 for the attempted murder of two RIC men at Caltra fair on 14 July 1920, and was sentenced to penal servitude for life (Irish Independent, 18 June 1921). On 20 May 1921, while a prisoner in Galway jail, Kilroy married Mary Devine of Caltra at the Old-Pro Cathedral on Middle Street. While in Galway jail, Kilroy served as Camp Commandant. Following his release, he was persuaded to get involved in the establishment of the new unarmed police force, the Civic Guard – as An Garda Síochána was first known – and was posted to Co. Kilkenny. Kilroy retired from the force in 1952, having served as a sergeant for thirty years. He died on 19 February 1976 and is buried at Kilbride Cemetery, Callan, Co. Kilkenny. He is the father of the award-winning Kilkenny playwright and novelist Thomas Kilroy.
Along with Thomas Kilroy, John Ryan (possibly born on 24 September 1894 at Cornananta Beg) of Castlefrench, Co. Galway was tried by court martial on 18 June 1921 for the attempted murder of two RIC men at Caltra fair on 14 July 1920, and was sentenced to penal servitude for life (Irish Independent, 18 June 1921).
Anthony Farrell was born at Castlemagee (Castlenageeha), Lacken, Co. Mayo on 26 March 1894. He served in North Mayo Brigade IRA active service unit (flying column), and was captured by RIC in the village of Clydagh, near Ballycastle, Co. Mayo on 26 June 1921; US-born IRA Volunteer Thomas Nealon of Ballycastle was killed in the same incident (see O'Halpin and Ó Corráin's The Dead of the Irish Revolution, p. 494). Farrell emigrated to the US in 1926, settling in New York. In 1936, he married Elizabeth Agnes McGovern from Co. Roscommon. Known to friends as Tony, for many years, Farrell ran a successful travel agents at 519 Nostrand Avenue, Brooklyn. He died at St Joseph's Hospital, Ballina, Co. Mayo on 28 March 1967.
Along with Anthony Farrell, Patrick Burke of Moylough (Tuam), Co. Galway, was arrested at Clydagh, near Ballycastle, Co. Mayo on 26 June 1921.
A volunteer attached to the Leitrim Company IRA, Patrick Leahy of Killeen, Leitrim, Loughrea, Co. Galway was arrested at his home by the RIC on 22 June 1921. He was charged with having seditious material in his possession, including a document headed 'H.Q. S.W. Galway Brigade' and addressed to 'O/C Leitrim' referring to the raiding of mails, which implicated him in the attempted raid of the Loughrea-Woodford mailcar, near Killeen, that morning. On 14 July, he was court martialled in Galway and declined to recognise the court (Freeman's Journal, 16 July 1921). He was sentenced to twelve months imprisonment with hard labour.
Born in New York around 1903, James Doorhy returned to Ireland as a boy. He was arrested on 6 July 1921 and sentence of twelve months in connection with raid on mail-car; his given address was Dalystown (Leitrim), Loughrea, Co. Galway. He served as a sergeant in the Free State Army and was posted at Ballinasloe, before returning the US.
The man in the volunteer uniform in the centre of the photograph is Thomas 'Baby' Duggan (1899–1925) of Castlegar. Known as 'Baby' – an ironic name on account of his large stature or, possibly, because his father was also named Thomas – Duggan was a veteran of the 1916 Rising in Galway and served as Quartermaster of the Mid-Galway Brigade during the War of Independence. He was on the anti-Treaty side during the Civil War. He died at St Bride's Hospital, Galway on 12 February 1925.
The first man on the left in the middle row is Thomas 'Tom' Fleming (1901–1960) from Bohermore, who won an All-Ireland hurling medal with Galway in 1923 (City Tribune, 15 December 1989). Fleming was 'an old I.R.A. man' and 'life-long trade-unionist' who served as President of the Galway Branch of the ITGWU (Connacht Tribune, 21 May 1960). He died at 33 Bridget's Terrace, Prospect Hill, on 19 May 1960 and is buried at Bohermore Cemetery.
The first man on the right in the middle row – holding the revolver – is John Joseph 'Seán' Turke (1893–1979) from College Road, an active volunteer during the War of Independence. A month after the photo was taken, on 13 February, Captain Turke was one of the IRA officers involved in the takeover of Renmore Barracks from the British Military. He took the anti-treaty side, commanded irregular forces in Galway, and was imprisoned in Galway and the Curragh during the Civil War. He emigrated to Boston in 1926, but returned in the mid-30s. Turke had a keen interest in rowing and the GAA and was life President of the Liam Mellows hurling club. He died on 22 December 1979 and is buried at Forthill Cemetery, Galway.
The caption 'Prisoners wounded in fight for dying comrade in Galway Jail with armed guard after release' seems to be a later addition. It is true that several of the men who were wounded in the prison riot of November 1921 appear in the photograph, but those posing with revolvers – Nohilly, Coleman and Turke – were IRA volunteers and not prison guards.
This post is part of a series researched and written by Brendan McGowan as part of the Museum's Decade of Centenaries series. If you have any further information about these photographs please leave a comment or contact Brendan by email at brendan@galwaycity.ie
To learn about Galway's revolutionary period click on Revolution in Galway, 1913-1923 or book your free ticket HERE and visit today!
---
Sources
Freemans Journal
Connacht Tribune
Jackie Clarke Library
Further reading
Caltra's Connections to Ireland's Revolution 1916-1921 by Mattie Kilroy