As part of its outreach programme, Galway City Museum has curated a series of educational events, which will take place at Westside Resource Centre, on Seamus Quirke Road, throughout the darker months between October 2023 and February 2024.
The series has been specially developed in response to the interests of the local community and covers a wide range of topics from the history of the Claddagh fishing village to St Gobnait and the folklore of bees.
These events are free of charge, and all are welcome, but please book in advance by contacting Westside Resource Centre at (091) 528325.
Address: Westside Resource Centre (next to Westside Library), Seamus Quirke Road, Galway, H19 C1KX.
Directions to Westside Resource Centre
TALK: The Claddagh – A Triumph of Unconscious Beauty
Tuesday 3 October, 11am to 12pm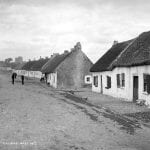 The Claddagh village, which lends its name to the famous ring, developed on the western shore of the mouth of the River Corrib, outside the walls of medieval Galway. This village of small, thatched houses occupied by Irish-speaking fishermen and their families, and headed by an elected mayor or king, played an important role in the maritime culture of Galway. Join Damien Donnellan, Education and Exhibition Assistant at Galway City Museum, as he shares the history of this former fishing village.
Image: Fairhill Road, Claddagh village, c. 1900. Courtesy of the National Library of Ireland.
TALK: St Gobnait and the Folklore of Bees
Tuesday 7 November, 11am to 12pm

St Gobnait – who, legend has it, once lived on Inis Oírr (Inisheer) – is the patron saint of bees and beekeeping. Unlike most Christian saints, there is no hagiography written on St Gobnait, and so much of what we know comes from folklore. Learn about the miracles, places and objects associated with St Gobnait and the folk history of bees in everyday life with Tiernan Gaffney, folklife curator with the National Museum of Ireland.
Image: St Gobnait, Patron Saint of Bees and Beekeeping, by Harry Clarke (1889–1931), c. 1915.  Courtesy of the Corning Museum of Glass, New York.
TALK & DEMO: From Sheep to Shawl – traditional woolcraft in the West of Ireland
Tuesday 5 December, 11am to 12.30p
m
Join weaver Seamus Kirwan as he guides you through a living history of wool fibre and its uses, keeping alive the ancient crafts of wool spinning and handweaving. Come along and try your hand at it, you'll really enjoy this hands-on experience.
Image: Seamus Kirwan spinning wool into yarn. Courtesy of Seamus Kirwan.
TALK : Galway in Old Photos
Tuesday 9 January, 11am to 12pm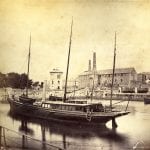 Join Brendan McGowan, Education Officer at Galway City Museum, as he shares and discusses some late nineteenth and early twentieth century photographs of Galway from the Lawrence Collection at the National Library of Ireland and from Chetham's Library in Manchester.
Image:  The Claddagh Basin, with Fisheries Tower and Burke's Distillery in the background, c. 1880. Courtesy of Chetham's Library, Manchester.
TALK: Medieval Pilgrims from Galway to Santiago de Compostela
Tuesday 6 February, 11am to 12pm
One of the major pilgrimages of the medieval Christian world, the Camino de Santiago (the Way of St James) is a network of routeways that lead to the shrine of St James the Apostle in the Cathedral of Santiago de Compostela, Galicia in northwest Spain. Join Dr Bernadette Cunningham, author of Medieval Irish Pilgrims to Santiago de Compostela (2018), as she shares the story of Galway's Margaret Athy and other pilgrims from the West.
Image:  'Medieval Irish Pilgrims to Santiago de Compostela' by Bernadette Cunningham.