MONUMENT was developed in partnership with Galway 2020 former European Capital of Culture as part of the cultural programme.
With a primary focus on the stone forts of Aran, and on Dún Aonghasa in particular, this innovative exhibition investigates some of Europe's most impressive stone monuments located on some of Europe's smallest islands.  MONUMENT is a multidisciplinary exhibition platform. It represents a collaborative process that brings together agencies, institutions and individuals representing the archaeology, architecture, craft and design, cultural landscapes, tangible and intangible heritage, construction, sustainability and the social history associated with the monuments and the islands.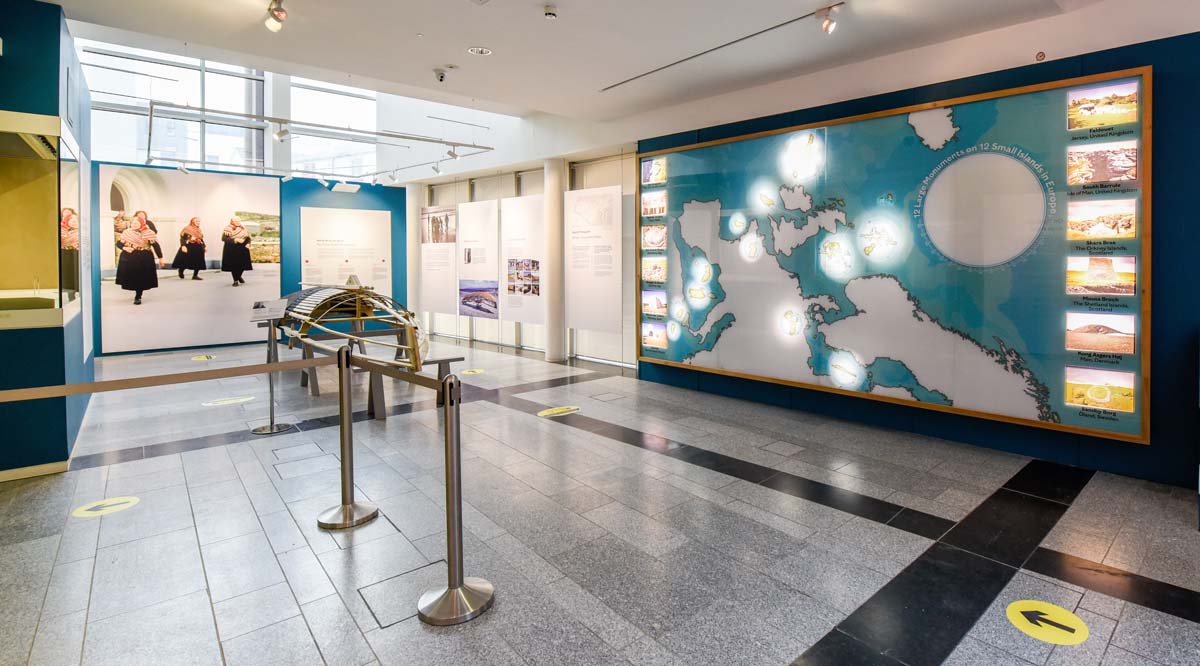 The National Museum of Ireland have installed a selection of artefacts found during excavations at Dún Aonghasa, Inis Mór, into the MONUMENT exhibition at Galway City Museum.  The archaeological excavations of the fort at Dún Aonghasa were undertaken between 1992 and 1995 as part of the Discovery Programme's Western Stone Forts Project.
Dún Aonghasa is one of the best-known archaeological monuments in the west of Ireland and stands at the edge of Inis Mór, Aran Islands, Co. Galway. It has been a National Monument in state care since the late nineteenth century. The fort proved to have a long history, beginning in the Late Bronze Age around 1000 BC and continuing into the early medieval period around 1000 AD. During the excavations the remains of prehistoric and early medieval houses were uncovered, as were human remains and a bronze casting workshop.
A varied selection of finds, now on display in Galway City Museum, were discovered on the site reflecting the everyday life of the people who lived there. They include parts of Late Bronze Age cooking pots, a late Bronze age tweezers, amber beads which probably formed part of a necklace, an early medieval comb used for grooming and delousing hair, bone pins and needles for making clothing and stone tools.
MONUMENT will also feature specially commissioned craft pieces by some of Ireland's most respected makers.  They include textile artists Áine & Tarlach de Blácam of Inis Meáin Knitting Company, glass artist Róisín De Buitléar; silversmith Cóilín Ó Dubhghaill; ceramicist Katherine West; basket-maker Joe Hogan; knitter Elain McBride; graphic artist Maeve Clancy; woodturner Alan Meredith; currach-maker Patrick Flaherty, designer Sarah Joyce and film-maker Colm Hogan.
Curated by Eithne Verling, Director of the Galway City Museum and Sybil Curley, the project has been inspired by the three themes of the Galway 2020 European Capital of Culture programme – Landscape, Language and Migration.
'Our vision for the exhibition blends digital, physical and tactile experiences to tell this story in a manner that we hope will entertain, inform and delight audiences of all ages.' Eithne Verling and Sybil Curley, Co- curators of MONUMENT.
Galway City Museum is open Tuesday to Saturday on four daily timeslots; 10am, 11:30am, 2:00pm and 3:30pm.  Admission remains FREE but visitors will now require a ticket for their visit. Tickets can be booked online by visiting galwaycitymuseum.ie and will need to be presented either in printed format or on mobile phones at the main entrance to the museum.  The number of visitors will be strictly controlled and those attending will have to adhere to correct social distancing and health and safety protocols so that everyone can enjoy the exhibitions in a safe and comfortable environment.
FILM
The following spectacular aerial film footage featuring the stunning fort of Dún Aonghasa on Inis Mór as it has never been seen before, was captured by award-winning photographer Colm Hogan. It was commissioned by Galway 2020 European Capital of Culture in partnership with Galway City Museum for MONUMENT. Visitors to the MONUMENT exhibition can view the full 15-minute film in the gallery's purpose built cinema.
For any further information contact museum@galwaycity.ie or phone +353 (0)91 532 460. Stay posted on future developments by following Galway City Museum on Facebook, Instagram and Twitter or go to the museum website and subscribe to the monthly e-newsletter.
---
Photos: Boyd Challenger
About Galway 2020 European Capital of Culture
Galway is European Capital of Culture in 2020.  Due to the impact of Covid 19 the cultural programme has been reimagined, with local and national artists and cultural organisations that won Galway the European Capital of Culture designation remaining at its core the programme will run from September 2020 to March 2021.
From Galway International Arts Festival, Druid, MACNAS and many more.  The ambitious programme comprises both digital and live events which take place across the villages, towns, islands and the city of Galway and offers theatre, music and sport, to poetry, film, visual art and much more.