The Irish Free State executed thirty-four anti-treaty republican prisoners in January 1923; to put this figure into context, the British authorities executed twenty-four Irish republican prisoners between November 1920 and June 1921 during the war of independence. On one day alone, 20 January, the Irish Free State executed eleven men at Tralee (4), Limerick (2) and Athlone (5). Of the five men executed at Custume Barracks, Athlone, four were from Co. Galway:
Martin J. Burke (aged 25) of Manusflynn, Caherlistrane
Hubert Collins (aged 23) of Keekill, Headford
Stephen Joyce (aged 29) of Derrymore, Caherlistrane
Michael Walsh (aged 26) of Derrymore, Caherlistrane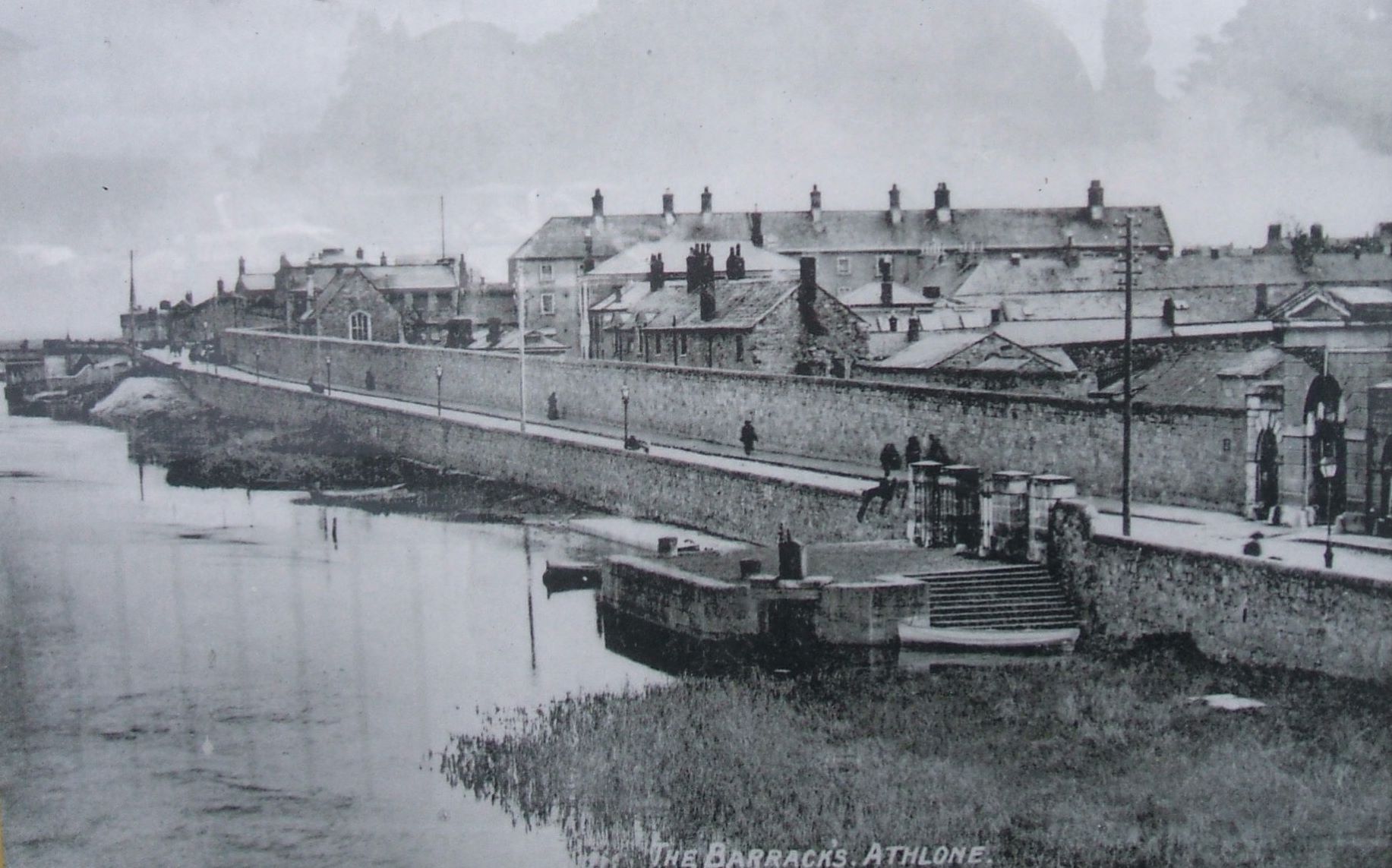 The fifth man was Thomas Hughes of Bogginfin, Athlone; all five were members of the North Galway Brigade IRA and had been found guilty by a Free State Military Court of the unlawful possession of arms and ammunition. Their respective families were not informed until after the executions had taken place and their bodies were withheld, which caused additional hurt and anger. When questioned in Dáil Éireann, General Richard Mulcahy – both Minister for Defence and Commander-in-Chief of the Free State Army – responded: "It is not the practice nor is it the intention to address communications to the relatives of men who are arrested, with the exception that, in the cases of men executed, formal notification is after execution at once sent to the next-of-kin or nearest relative, where any such are known. Also, it is not the intention to hand over to relations or friends the remains of men executed."
Martin J. Burke
Martin Joseph Burke, son of William and Ellen (née Greany), was born on 20 November 1897 at Manusflynn, south of Caherlistrane. He worked on his on his elderly father's farm at Manusflynn. Burke joined the Irish Volunteers (later IRA) in 1918 and was First Lieutenant of the Caherlistrane Company IRA at the time of the Truce, 11 July 1921. During the civil war, he was Captain of Caherlistrane Company IRA and a member of the Caherlistrane ASU (flying column).
Before his execution, Martin wrote to his brother, Jim: 'Just a few lines before I pass away from this world forever. I suppose my time has come. So don't cry for my sake. Life is sweet but we are getting a good chance at preparing for tomorrow.  Poor Tom Hughes is by my side, a soldier to the last. Stephen Joyce, Mick Walsh and Hubert Collins are going before God in the morning. I think with God's help I am prepared to die. I don't know where this will find you but I will direct it to Ballinapark, the spot I loved best. Poor old Dad, this will give him a blow, but it's a chance for a happy death. So Goodbye until we meet in the happy land beyond the skies.'
Hubert Collins
Hubert Collins, son of John and Celia (née McDonagh), was born on 1 February 1899 at Keelkill, on the eastern shore of Lough Corrib. His brother, John, had fought with the Connaught Rangers, and died in Mesopotamia in 1917. Another brother, Thomas, was killed by Crown forces on 18 January 1921, following the Kilroe Ambush. Hubert, who worked as a stable hand, joined the Irish Volunteers in 1918 and was a member of the Clooneen Company IRA. Arrested around Christmas 1922, he was charged with the possession of a bandolier and 50 rounds of ammunition without proper authority.
Hubert wrote the following note to his brother, Joe: 'As I write you these few lines it is drawing nearer to my death. As I am about to die shortly for loving my country, I am proud of it. It's just one short month since I saw you all. How happy we were then. But I am happier now when I know I shall be in a few short hours with the great God who made us all. How happy I shall be when I see our dear brother Thomas who died for the same cause as I am dying for. But Joe this world had no earthly charms for me now, as I am ready to meet my God. Don't worry Joe after me as we will all have to go and might not get the chance of preparing for death as I did. Wish all the boys luck and success for me. I must conclude by sending my best to you, Joe, Manny, James, and Cissie. Goodbye now and pray for me and God bless you all.'
Stephen Joyce
Stephen Joyce, son of John and Mary (née Durdon), was born at Derrymore, north of Caherlistrane, on 3 January 1894. Stephen, who worked on the family farm, joined the Irish Volunteers in 1918 and was Captain of the Caherlistrane Company IRA at the time of the Truce, 11 July 1921. When arrested at Headford, on 19 December 1922, he was found in possession of loaded revolver.
Shortly before his execution, he wrote the following lines to his older sister, Julia: 'Just a few lines bidding you the last farewell. On tomorrow morning myself, M. Walsh, M. Burke, H. Collins and Thomas Hughes will meet our death at the hands of Irishmen. Still we are quite happy and contented. We have been to see a Priest. We will hear Mass in the morning and receive the body and Blood of our Saviour. Tomorrow morning at 8 a.m. will be the happiest hour of my life. I know this will come as a terrible shock to you. I fear your heart will break. I ask you not to grieve for me for it must be God's holy will that I should sacrifice my life for Ireland. It has been the dreams of my earliest youth, the music of the rifles have always been ringing in my ears since the day Ctd. L. Darcy [Commandant Louis Darcy, 1897–1921] handed me his revolver and said hold this. Rather than part [with] it, lose your life first. This I was determined to do as you know the consequences now. Tell mother and father not [to] grieve for me, for all I ask now is to pray for me. I would not like to hear ye crying when I am among the dead. Tell all my companions to pray for me. Julia I ask you to wear those medals in memory of your dead brother. God bless and protect you from all danger, goodbye now until I meet you in Heaven.'
Michael Walsh
Michael Walsh, son of John and Honor/Norah (née Cunningham), was born at Derrymore, north of Caherlistrane, on 19 December 1896. He worked on parent's smallholding and did casual work for local farmers. Walsh joined the Irish Volunteers in 1918 and was Quartermaster of Caherlistrane Company IRA at the time of the Truce, 11 July 1921. During the civil war, he was Quartermaster of Caherlistrane Company IRA and a member of Caherlistrane ASU (flying column). When arrested in December 1922, he was found with a fully loaded short Webley revolver and ten rounds of .45 ammunition.
His final letter to his parents read: 'Parents dear, do not be overcome at this, for I am quite resigned to my fate. We had a priest in to hear our Confessions and we are to hear Mass in the morning and receive Holy Communion.'
Postscript
Shot by firing squad at 8am on 20 February 1923, the four men were initially buried at Custume Barracks, Athlone. At the end of October 1924, the four coffins were handed over to their relatives at ten-minute intervals. After Mass at Headford Church, they were reinterred at nearby Donaghpatrick Cemetery. The four original coffin plates can be seen at Galway City Museum.
Overall, the Provisional and Free State governments executed eighty-one anti-treaty republicans between November 1922 and May 1923, which caused great resentment and weakened support for the Irish Free State.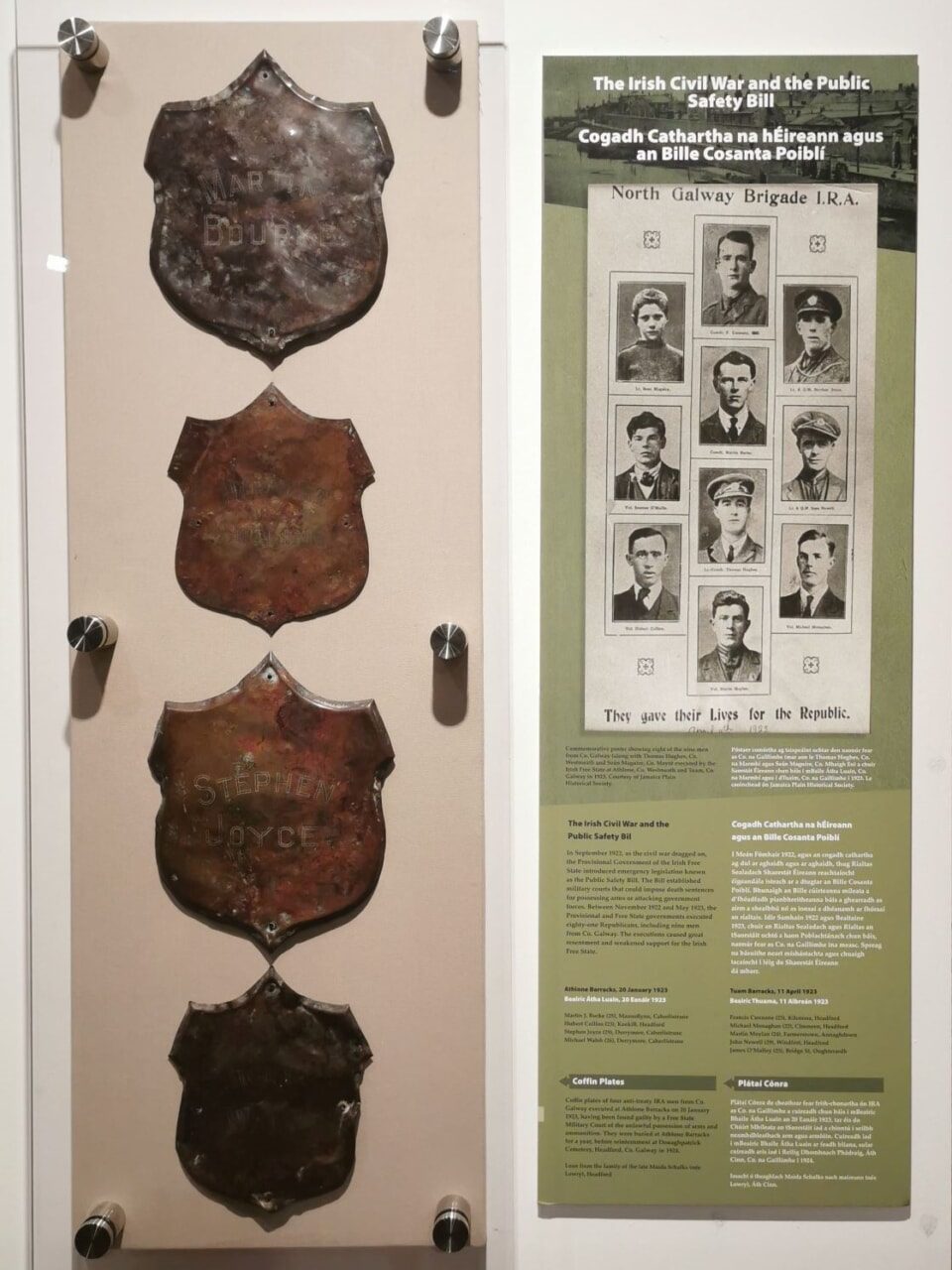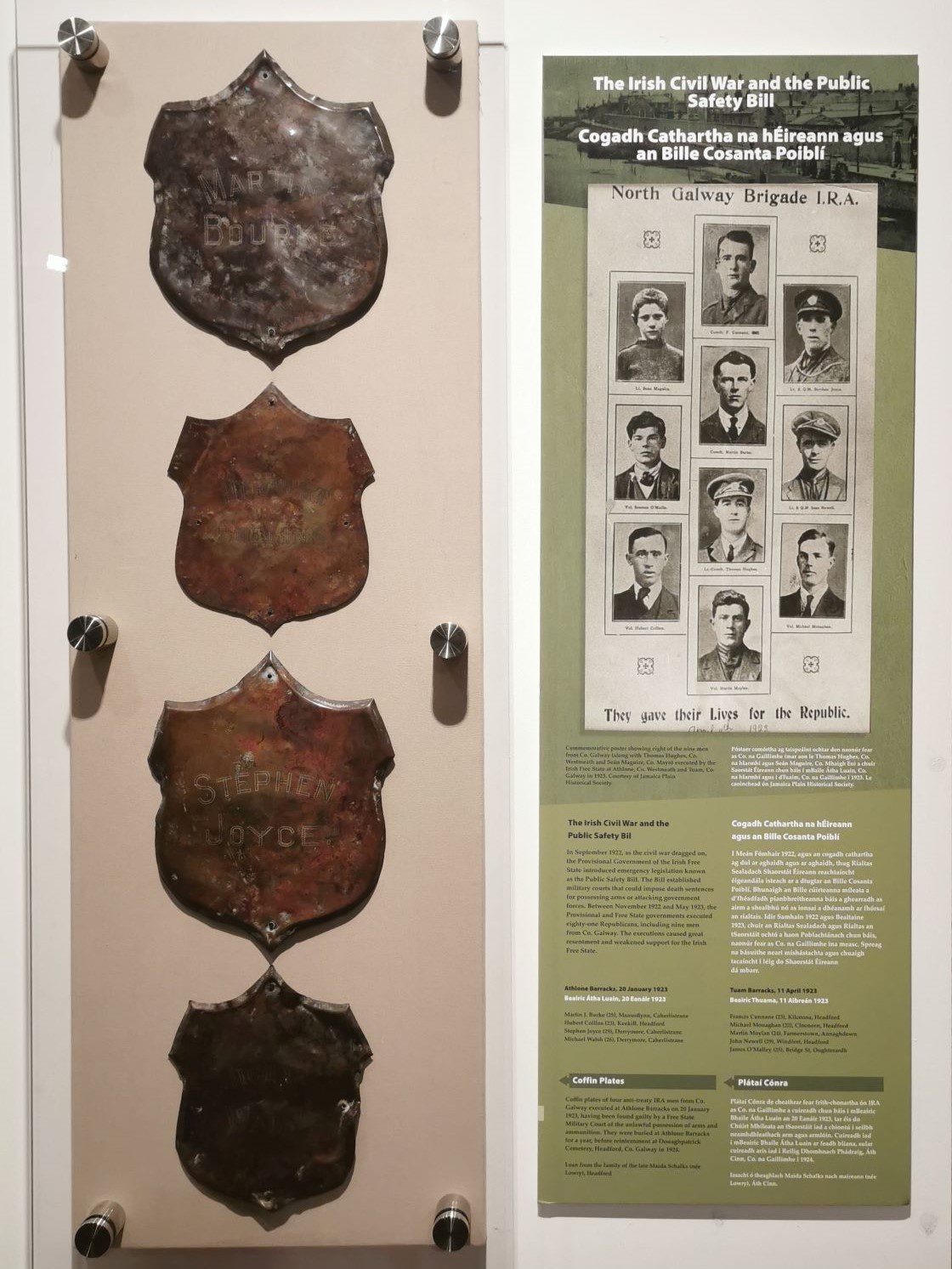 ---
Sources:
Martin (Bob) O'Dwyer, Seventy-Seven of Mine Said Ireland (Cork, 2006)
Nollaig Ó Gadhra, Civil War in Connacht, 1922–1923 (Cork, 1999)
Anon., Eleven Galway Martyrs (Tuam, 1985)
General Register of Births, Deaths and Marriages: www.irishgenealogy.ie
IRA Nominal Rolls: www.militaryarchives.ie
Military Service Pension Collection (1916–1923): www.militaryarchives.ie
1901 & 1911 Census of Ireland: www.census.nationalarchives.ie
For more on the civil war in Galway see 'War of Friends, 1922-23: the civil war story of Pádraic Ó Máille and Liam Mellows' and 'Revolution in Galway, 1913-23'.