Over the weekend of 22 and 23 April 1922, Éamonn de Valera, accompanied by Harry Boland and Cathal Brugha (both of whom would soon be killed in the Civil War), addressed a number of anti-Treaty public meetings across Co. Galway. They arrived in Galway city on Sunday morning, 23 April, and lodged with Fr T. Burke at the presbytery at Montepellier Terrace, from where Fr Griffin was abducted on the night of 14 November 1920.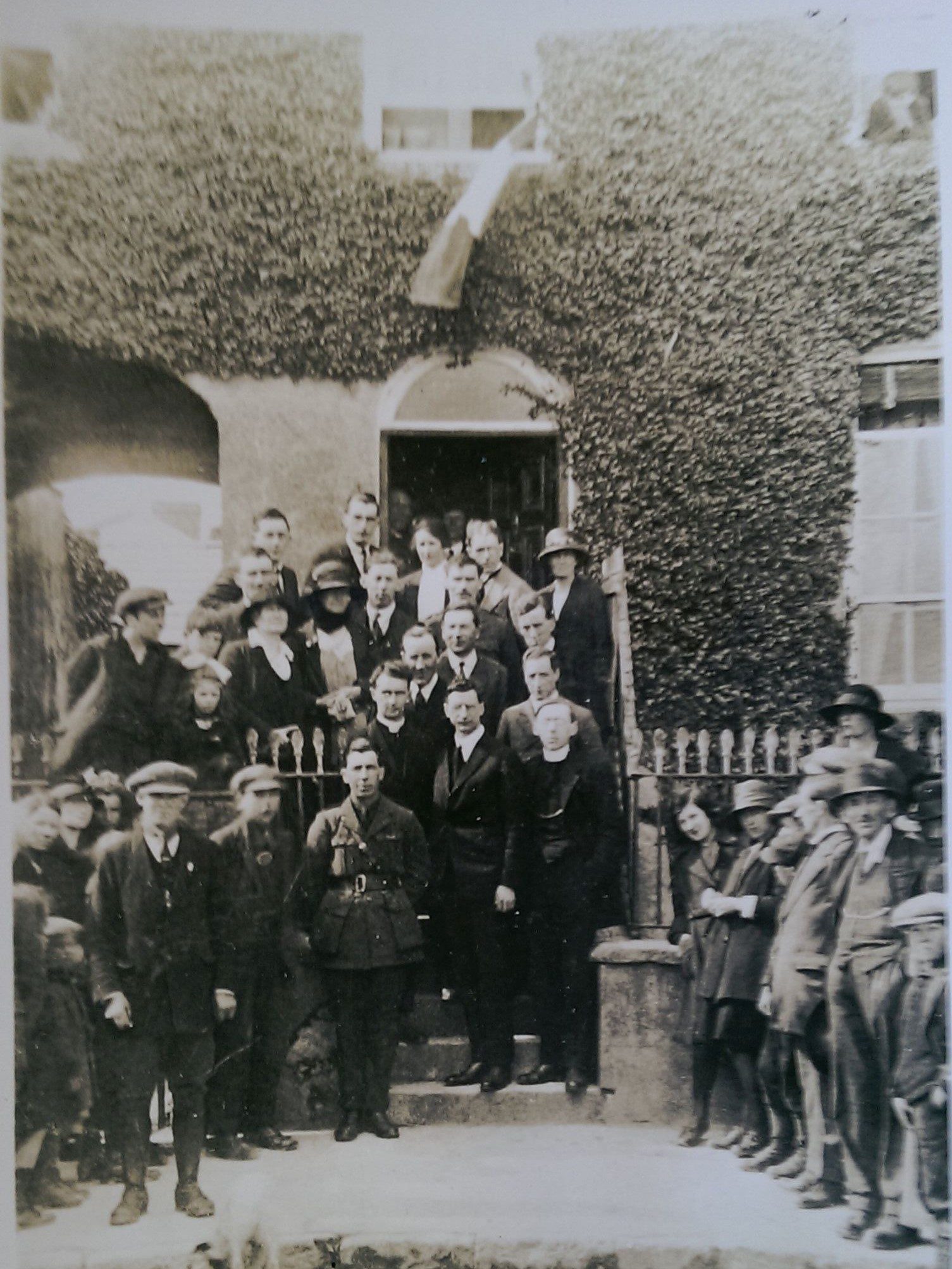 Around noon, a detachment of anti-Treaty IRA (irregulars) from Renmore Barracks, carrying rifles and fixed bayonets, and headed by the Salthill Industrial School band, escorted de Valera from the Royal Hotel on Eyre Square to a nearby platform, where he was joined by Cathal Brugha; Harry Boland; Dr Ada English; author (and later Fianna Fáil TD) Helena Concannon; the Oxford-born Gaelic Leaguer Claude Albert Chevasse; Laurence Griffin, brother of Fr Griffin; Larry Lardner and Stephen Jordan of Athenry and other republicans.
Galway County Councillor Eamon Corbett – veteran officer of the Eater Rising – presided and told the crowd: "Today you are honoured by a visit from  our fearless chieftain , who, despite all that has been said to the contrary by our corrupt Press and otherwise, has not let down the Republic abroad (hear, hear). Many have changed, but our noble de Valera has not changed (applause). He stands as he stood when he faced you before several years ago, and through many weary years he has steered the barque of the Republic through many stormy waters; and were it not for the action of some he would have steered it to port which would mean for and all of you freedom for Ireland, glory and freedom for ever (applause), and in the name of the people of Galway, and in the name of the Republican members of the County Council of Galway, I bid a hearty cead mile failthe , and I am sure you with me bid a hearty  cead mile failthe , to President de Valera, Cathal Brugha, Harry Boland and the other Republicans who came to address you to-day (applause)."
Following a speech by Cathal Brugha, Éamon de Valera addressed the crowd of about 2,000 people in Eyre Square. Referring the Anglo-Irish Treaty and the forthcoming election, the Connacht Tribune reported that de Valera said "those who ask you to assent to the Articles of Agreement tell you […] – some of them – that these Articles mean freedom for you and others say they mean freedom to achieve freedom. I tell you they do not mean either the one or the other. I will prove to you that they do not mean freedom or independence. You will easily agree with me when I ask you if you were independent, if your independence was acknowledged, do you think you would destroy the Republic which you set up as a symbol of that independence (applause and cries of "Never") – which would be the first step? Do you think you would, as I said, destroy that Republic, and set up a monarchy in its place, and go to England for your monarch ("No") – and choose King George V, his heirs and successors for your king? You know you would not. ("We never will.") If we had independence, do you think you would go and make of yourselves or your nation a subordinate province in the British Empire – ("No") – and take upon yourselves the burdens and obligations of being a part of that Empire? If you were independent would you cut off six counties of your country and hand them over so that they might become a British shire ("No") – and hand over those who are as Irish as you are, those who have the same national feelings as you have, to be governed by Westminster? If you were independent, or if this was independence, do you think you would give away to England four of your principal ports to be used as fortresses, or what Lloyd George recently called the first trench of the British Empire? You know you would not. […] And if you were independent do you think that you would give England the right whenever she wanted it by saying that she had strained relations with some foreign power, would you give her the right to bring in all the troops she wanted into this country? You know you would not. If you were independent would you take over, willingly, a portion of Britain's war debts, and burden yourselves with an annual sum to pay off the interest on these debts? ("No"). You know you would not. Therefore, they lie […] when they say that you have your independence."
In summary, de Valera stated that "If you accept this Treaty you will be putting shackles on your own limbs with your own hands." Despite his compelling arguments, eight weeks later, 67.7 per cent of Galwegians who voted in the general election favoured pro-Treaty candidates.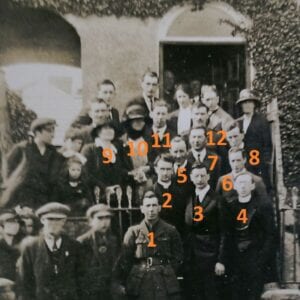 IRA Commandant Seán Turke (1893–1979) of College Road, Galway.
2. Fr Tom Burke.
3. Éamon de Valera (1882–1975), leader of the anti-Treaty faction of Sinn Féin.
4. Fr Robert F. 'Bob' O'Reilly.
5. Harry Boland (1887–1922), TD for Mayo South-Roscommon South. Boland was shot and mortally wounded by the National (Free State) Army at Skerries, Co. Dublin on 1 August 1922, weeks after being re-elected to Dáil Éireann.
6. Cathal Brugha (1874–1922), TD for Waterford-Tipperary East. Brugha was shot and mortally wounded by the National (Free State) Army on 7 July 1922 in Dublin city centre, weeks after being re-elected to Dáil Éireann.
7. Larry Lardner (c. 1884–1936) of Athenry, veteran officer of the Easter Rising and prominent member of the GAA.
8. Fr James 'Jimmy' O'Dea (1894–1971), secretary to the Bishop of Galway and close friend of Fr. Michael Griffin. Fr O'Dea was appointed parish priest of Clarinbridge in 1947, and served as President of the Connacht Council GAA.
9. Dr Ada English (1875–1944), psychiatrist at Ballinasloe Asylum and TD for the National University of Ireland constituency.
10. Alice Cashel (1878–1958), vice-chairperson of Galway County Council.
11. Captain Patrick Kilkelly, IRA volunteer and member of Gort Rural District Council and Galway County Council.
12. Pádraig Ó Fathaigh (1879–1976), IRA volunteer and Gaelic Leaguer from Lurgan, near Gort in South Galway.