The republican daily, Poblacht na h-Eireann (sic) was first published on 28 June, the 'Seventh Year of the Republic', the first day of the Free State attack on the Republican garrison in the Four Courts – the start of the civil war.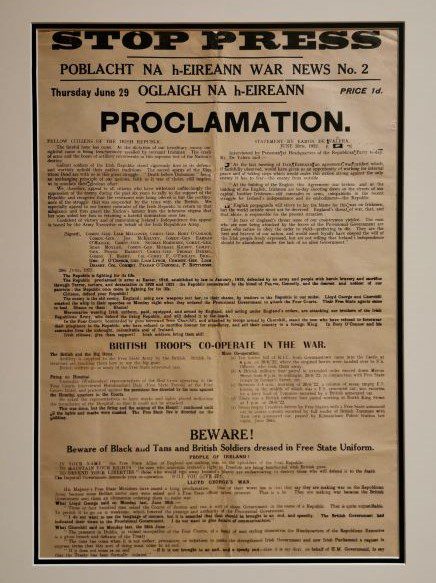 In this second 'stop press' issue, dated 29 June, the IRA's Army Executive published the following proclamation:
"FELLOW CITIZENS OF THE IRISH REPUBLIC. The fateful hour has come. At the dictation of our hereditary enemy our rightful cause is being treacherously assailed by recreant Irishmen. The crash of arms and the boom of artillery reverberate in this supreme test of the Nation's destiny.
Gallant soldiers of the Irish Republic stand vigorously firm in its defence and worthily uphold their noblest traditions. The sacred spirits of the Illustrious Dead are with us in this great struggle. "Death before Dishonour" being an unchanging principle of our national faith as it was of theirs, still inspires us to emulate their glorious effort.
We, therefore, appeal to all citizens who have withstood unflinchingly the oppression of the enemy during the past six years to rally to the support of the Republic and recognise that the resistance now being offered is but the continuance of the struggle that was suspended by the truce with the British. We especially appeal to our former comrades of the Irish Republic to return to that allegiance and thus guard the Nation's honour from the infamous stigma that her sons aided her foes in retaining a hateful domination over her.
Confident of victory and of maintaining Ireland's Independence this appeal is issued by the Army Executive on behalf of the Irish Republican Army.
Signed, Comdt.-Gen. Liam Mellowes , Comdt.-Gen. Rory O'Connor, Comdt.-Gen. Jos. McKelvey, Comdt.-Gen. Earnan O'Maille, Comdt.-Gen. Seamus Robinson, Comdt.-Gen. Sean Moylan, Comdt.-Gen. Michael Kilroy, Comdt.-Gen. Frank Barrett, Comdt.-Gen. Thomas Derrig, Comdt. T. Barry, Col.-Comdt. F. O'Faolain, Brg.-Gen. J. O'Connor, Gen Liam Lynch, Comdt.-Gen. Liam Deasy, Col.-Comdt. Peadar O'Donnell, P. Ruttledge."
This second edition is one of six copies (dated 28 June to 2 July 1922), which are in fine condition, recently and kindly donated by Ronnie O'Gorman to Galway City Museum.
---
Visit the Revolution in Galway, 1913-23 exhibition for more on this period of Galway's history.  The exhibition is open for visitors on the first floor gallery, Tuesday to Saturday, 10am-5pm and admission is FREE!