During the first weeks of the Covid-19 Pandemic the Museum saw its doors shut to the public. We moved towards an online platform and focused our efforts on bringing the museum into people's homes. Museum-from-home initiatives began springing up across Ireland and although the Galway City Museum website already let people browse the collection online, we wanted to do something more to reach our visitors and keep them engaged during this difficult time.
One of the new initiatives we launched at Galway City Museum was 'My Covid Creativity'.  This ran for the duration of the lockdown period and got an amazing response locally from Galway people, as well as from people all across Ireland.
My Covid Creativity
"My Covid Creativity" was chosen to highlight the creativity of the people of Ireland during the pandemic, with the aim of showcasing the objects or photographs in an exhibition down the line.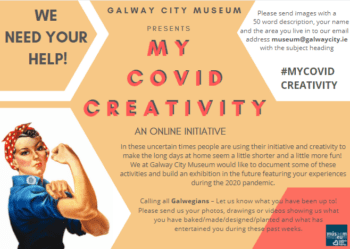 We decided to launch a poster on our social media and website as a sort of 'call to action', an ode to the 'We Can Do It!' 'Rosie the Riveter' or the 'Your Country Needs You' poster campaigns during World Wars I and II. This time however, we were not being called to enlist in the army or workforce, but simply stay at home.
The response was extraordinary, and we received many contributions, from people of all ages and abilities, and using a variety of art mediums.
The first creation received was from Rine Philbin, an artist from Headford, Co.Galway. The original watercolour named 'Bog Cotton by Moonlight' is a beautiful piece.
Rine wrote "I painted this one day as I longed for the bog cotton which I see every year along the Curraghline and back in Maam, Connemara. It heralds the summer and reminds me of playing on the bog in Maam as my parents saved the turf. Each year as I drive from Headford to Galway, I watch out for the people on the bogs and recall the picnics I enjoyed as a child. Muddy wellies getting stuck in the water as I chased after butterflies, dragonflies and frogs."
With such a beautiful piece we were off to a flying start, and over the next weeks we received many more wonderful pieces. The ones which really stood out were those which fostered a particular community spirit. At a time when most community activities were halted and friends and families couldn't see each other, there were many people who thought outside the box and created their own Covid experience – bringing communities together, while apart.
Jaqui Ryan from Killeenaran, Kilcolgan set up a socially distanced Pottery Studio. She wrote "I had an idea to leave sanitised blocks of clay in a box in our village so people in my locality could avail of this lovely material.  I photocopied and laminated instructions on how to make a very ancient form of pottery called a pinch pot.  I invited neighbours from within a 2 km radius to use the clay and instructions and to leave the finished pieces back in the box so I could fire them to the necessary 1060 decrees with a glaze to make them proper pottery pieces.  We've a village WhatsApp group so the project was easy to share."
 What an absolutely terrific idea, and one which really struck a chord with Jacqui's neighbours, resulting in some fabulous pottery pieces.
Michelle Greaves from Barna, during the 2km restriction set up a photography project called 'Looking Out'. Michelle wrote "During this global pandemic life continues behind windows. In this project 'Looking Out' we are trying to capture what life is like looking out into a seemingly abandoned outside world". Her project features families and businesses who were trying to find their new normal, highlighted on her website 'Wonky Eye Photography'.
This is an example from the project 'Looking Out' "When a family live five doors apart but can't visit like they used to, a new routine forms. "Elevenses" have become a thing between Attracta and her three grandchildren. Every day the girls appear at eleven and wait until she appears with treats, they then have a chat through the window. Attracta's daughter, Aoife, recently moved into the area with her husband Amar, and daughters. While this isn't what they had hoped for when moving closer to Attracta and Edel, they are grateful they can still see each other, even if it is through the window."
These are just a few of the Covid Creations we received here in the museum. We loved every single one of them, and applaud everyone who rose to the challenge, thought outside the box, and reached out during a difficult time for everyone. Thank you for sharing your Covid Creativity with us,  and if you would like to see more, head over to our website, Instagram or Facebook page, where they have all been posted.
Míle buíochas, agus coinnigh slán!
Article by: Harriet Dundon