Corrib Beo have collaborated with a number of different community groups to create the new exhibition, Corrib Shores: These Are Our People, which will be on display in the museum Education Room from 13 August 2023 until 20 September 2023.  This community-led exhibition celebrates eleven men and women from around the Corrib shores who have made a significant footprint in society during their lives, maybe not setting the world on fire, but creating a spark that mattered, be it locally, nationally or internationally. Today we feature fisherman and gille, Tom Conneely (1872-1941).
Tom Conneely (1872–1941)
Fisherman & Gille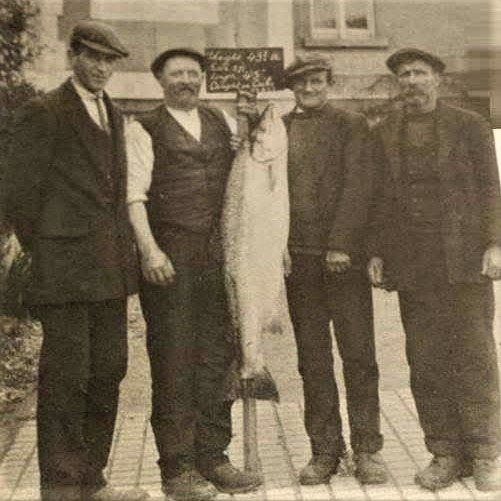 Born in Galway city, Tom Conneely worked all his adult life on the river as a salmon fisherman for the owners of the Galway Fishery. He also worked as a gillie, bringing visiting anglers upriver to show them where the best fishing grounds were located on Lough Corrib.
One of Tom's many work duties was to check the fish traps (or cribs) at Queen's Gap, between Salmon Weir Bridge and O'Brien's Bridge, where most of the salmon were caught. In April 1937, Tom noticed a very large salmon in the crib. It weighed 43 pounds and was 4 feet in length, and 27 inches in girth. The salmon was donated to the Zoological Department of University College, Galway.
Galway Civic Trust