Every week we shine a light on a different object from our collections that you may not have seen before.  This week we have a card game called The Counties of England. This boxed set of the game was published in England by John Jaques & Sons Ltd in the 1920s. The Counties of England card game was based on Happy Families and was first published by Jaques in 1866.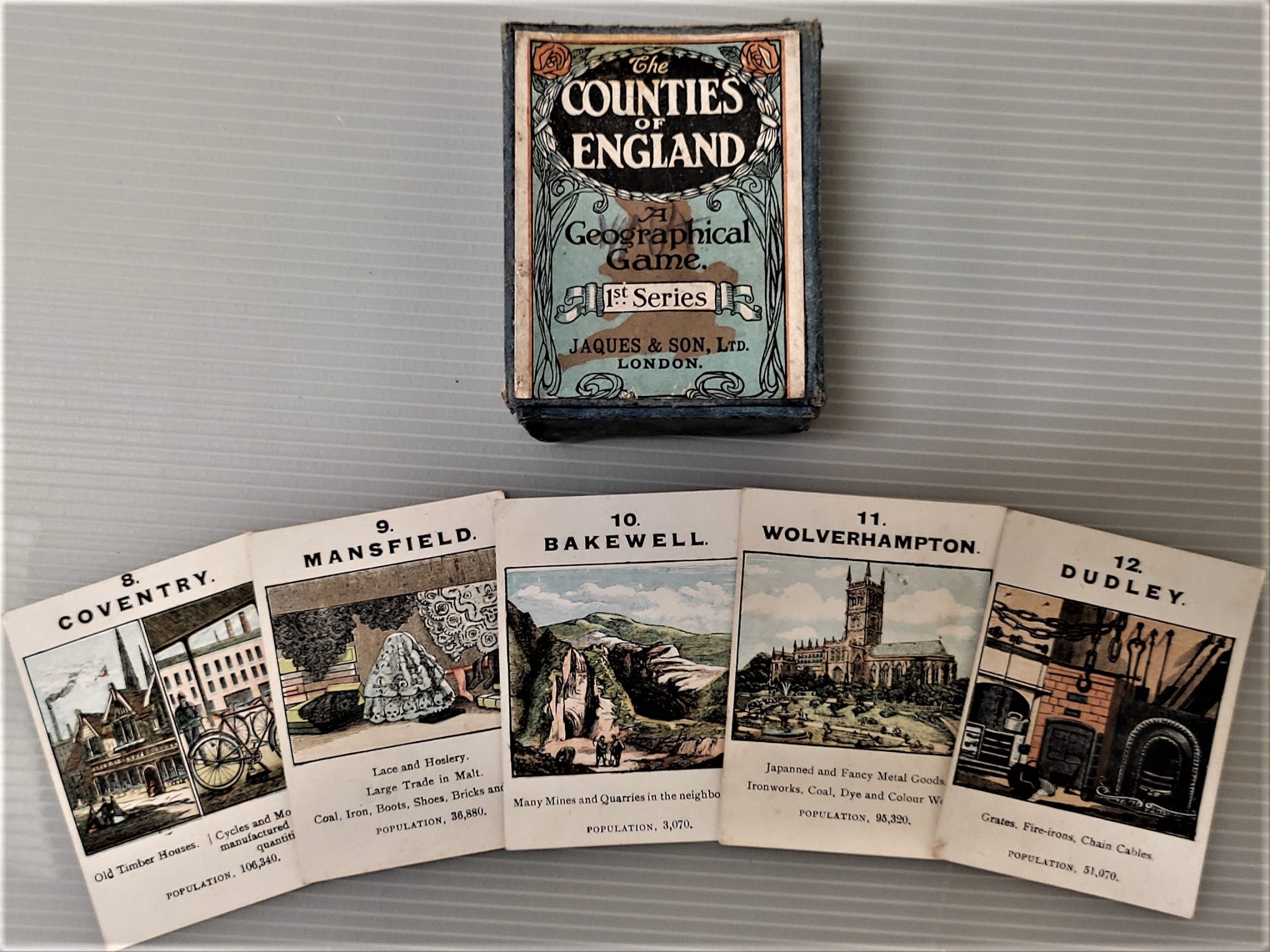 This is a 1st series version of the game and covers the Midlands area of England including London within Middlesex. Other series featured the Midlands, South of England and East of England. The game was designed to educate as well as to entertain. Each of the place-name cards have a picture and some interesting facts about that particular place. The game proved very popular and Jaques & Sons Ltd produced it over several decades.  The pictures on the cards changed occasionally but the information such as population figures changed more often.  The set had 65 cards in total.
Jaques & Sons Ltd is the oldest games company and sports manufacturer in the world. Passed down from father to son for over eight generations, Jaques have been responsible for inventing many well-known games, such as Snakes and Ladders, Ludo, Tiddly Winks, Happy Families, Snap and many more. The founder was Thomas Jaques, a farmer's son of French Huguenot descent. His family are said to have found refuge in England sometime after 1685 when the Edict of Nantes forbade Protestantism in France. Thomas was born in 1765 and through marriage took over his uncle-in-law's business when he died after nine years working for him. It is from this date in 1795 that John Jaques & Sons Ltd marks its official beginning as the company who produced this card game.
This particular game set forms part of the Ardfry Collection at Galway City Museum.  It would have featured among the pastimes of the landed gentry of Ardfry House at Oranmore which dates to c. 1770 and was built by Joseph Blake.  Blake was later granted the title, Lord Wallscourt and the Blake Family who made their home at Ardfry House would famously become known as one of the fourteen 'Tribes of Galway'.  The house was occupied up until the mid-20th century and has been left in ruins since then.
Click HERE to explore more from the Galway City Museum collections.