Every week we shine a light on a different object from our collections that you may not have seen before.  This week we have a funeral pall donated to the Museum by the Dominican Sisters, Galway in 2011. The Dominican Sisters have been present in Galway since 1644, leaving for a number of years for their own safety during the siege of Galway by Cromwellian forces in 1651-2, but returning to Galway in 1686.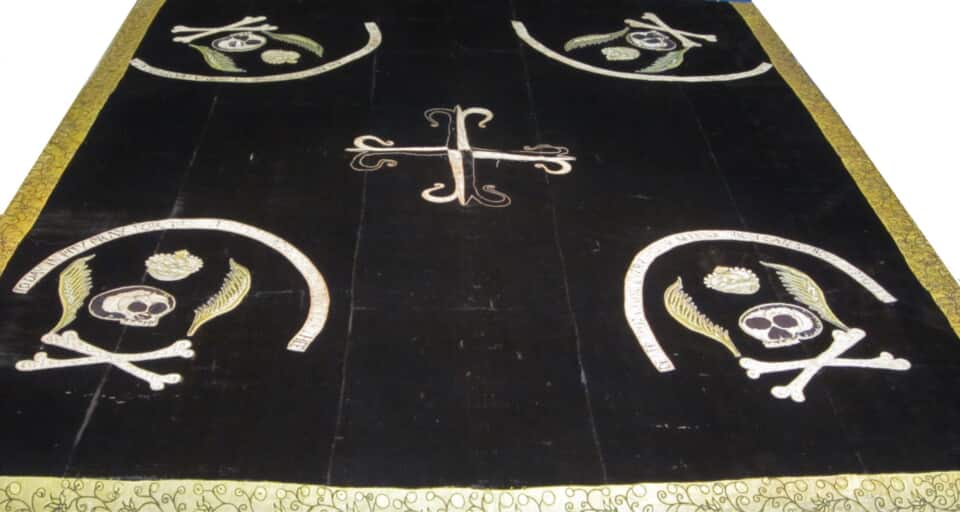 The pall, which was used to cover the coffins of the sisters during funeral ceremonies, dates from the late 1600s/early 1700s and was used up until the 1960s. It comprises a dark brown or black silk velvet material, edged on all sides with a wide border of a fine gold coloured silk, decorated with foliate designs using metal covered threads couched down with silk threads. In the centre is an appliqued cruciform design made using silks, black velvet and couched metal covered threads. In each corner of the pall, the same materials have been used to create a skull and cross bone motif with accompanying leaf and heart/crown motifs. Above the skull and cross bone motifs are silk banners with stitched mottos with varying levels of preservation. Two of them read 'Today in pity pray for me for tomorrow I will pray for thee' and 'Deaths approaching every hour no monarch can subdue its power'.
Funeral palls were in use from medieval times and were usually black – the colour associated with death and mourning. Following the Second Vatican Council in the early 1960s, palls were changed to white, to focus on the hope of resurrection rather than death.