St Patrick is famous for driving snakes out of Ireland, and he is commonly depicted in art with his foot on a snake or pointing snakes in the direction of the sea. Yet, the Roman geographer Solinus noted – some two hundred years before Patrick – that there were no snakes in Ireland. So where does the story come from?
The islands of Lérins, off the south coast of France, are composed of two islands: Saint Marguerite, where the fabled Man in the Iron Mask was imprisoned, and Saint Honorat, a once-renowned centre of religious learning. The latter island is named for St Honoratus, who settled there in the late fourth century. According to tradition, the island had no fresh water and was infested with poisonous snakes when he first arrived. Undeterred, Honoratus prayed and a spring of fresh water gushed from the rock, and then he set about driving all the snakes into the sea. It seems that Patrick's Anglo-Norman biographers first borrowed this motif in the twelfth century.
St Patrick, it was said, spent nine years studying under St Honoratus on the Mediterranean island. When he was leaving on his missionary trip to Ireland, his tutor presented him with the staff that he had used to expel the snakes from the island.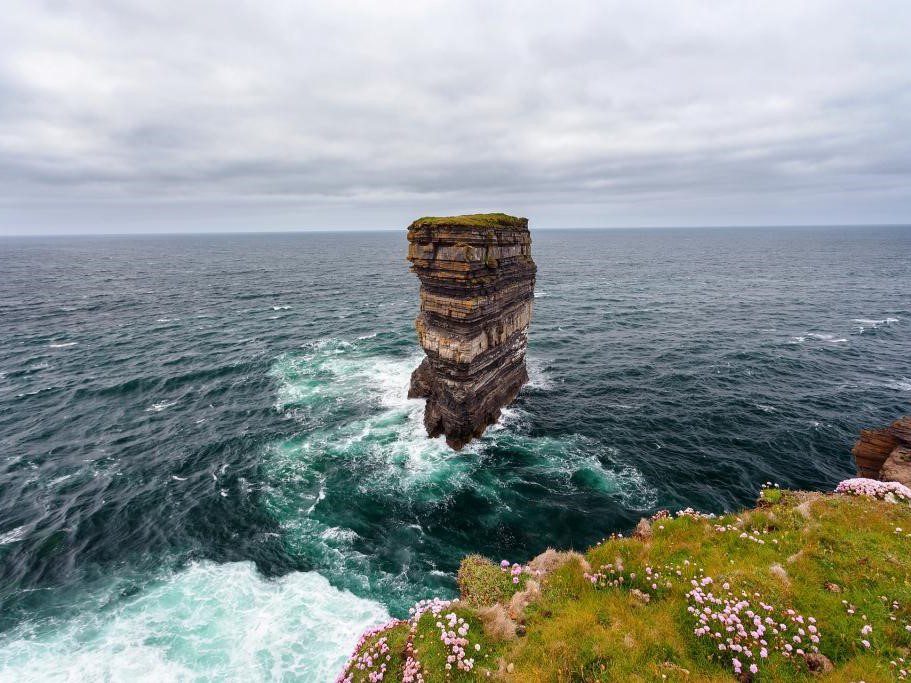 According to one tradition, St Patrick drove the snakes over a sea-arch in North Mayo. He then stuck the arch with his staff, causing it to collapse, and leaving the snakes stranded on the newly-formed sea-stack – the stunning Dún Briste, off Downpatrick Head.
In the 1930s, one Galway schoolchild recorded the following story about the origin of the River Shannon:
"When St. Patrick was in Ireland there were snakes in it. They knew St. Patrick was going to banish them out of Ireland. There was one big snake and he said he would be gone before St. Patrick would come. So he made his way out to the sea. The water began to run along the line that the snake left after him. That is the cause it is called the Shannon. So it was the snake that made the Shannon"
(Killeeneen NS, Co. Galway).
---
Sources
Marion Mulhall (1889) 'St. Patrick and the Monastery of Lerins,' in The Irish Monthly, Vol. 17, No. 194, pp. 395-399;  'A Story' (told by Michael Forde, Killeeneen, Craughwell, Co. Galway), School's Collection